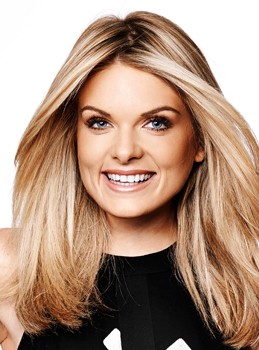 Erin Molan Australia In 2017 Is Still A Man's World Interview
Celebrating 20 years of supporting the global initiative, the Australian Institute of Management (AIM) is proud to announce its annual International Women's Day Great Debate series will return to Brisbane, Sydney and Melbourne on Wednesday, 8th March 2017. Celebrating the importance of gender diversity in Australian society, specifically in the Australian workplace, the event will see six debaters, in three locations, tackle the provocative topic of -Australia in 2017 is still a man's world'.

Two hand-picked teams of highly qualified speakers will share witty arguments, powerful leadership insights and offer a refreshingly raw look at the debate topic. Overseeing the debates will be equally interesting and opinionated MC's, Gretel Killeen (Sydney), Erin Molan (Brisbane) and Jane Caro (Melbourne), who will keep things on track and on time.

AIM's 2016 Gender Pay Gap report found gender bias, in terms of pay, continues to exist within Australian organisations. On average, male staff are paid 8.2% more than their female counterparts for undertaking the same role, with the widest pay gap existing at Senior Executive level or within the Administration and Other Specialists job families.

Said AIM Chief Executive, David Pich; 'At AIM, we are proud of our history in advocating for increased diversity in the Australian workplace and have supported the global International Women's Day initiative since 1997, as part of our Diversity Matters portfolio.

'The AIM International Women's Day Great Debates have become institutions in their respective states and I'm sure this year's topic will prove to be a popular point of discussion, as we have made progress as a country over the last few decades, but reports still show we have some way to go before we realise true equality in the workplace."

Each International Women's Day Great Debate event is a long-lunch style event, offering lots of laughs, networking with like-minded professionals and the chance to support the event's partner charity Project Futures (http://projectfutures.com/#whoweare).

The AIM 2017 International Women's Day Great Debate series will be held simultaneously on Wednesday 8th March 2017 at the Brisbane Convention Centre in Brisbane, RACV City Club in Melbourne, and Doltone House - Hyde Park in Sydney. All events are expected to sell out so those interested should get in quick. Tickets are available from the Australian Institute of Management's website.



Interview with Erin Molan
Erin Molan is a sports reporter and presenter for the Nine Network. Her focus in jour¬nalism has always been sport and she has covered this for over 10 years as a television, radio and print reporter. She is a co-host of the hugely popular and Logie-award winning NRL Footy Show - the first full-time female panellist and co-host in the show's 22 year history - and host of 'Summer Saturday' on 2GB/4BC/2CC.

As a strong female icon within Australian sports culture, Erin is committed to mentoring and engaging with young women. Outside of work and sport, she maintains an interest in fashion, politics and the Indonesian language and affairs.

Erin is also a very proud ambassador for a number of charities - including Save Our Sons, Defence Care and Bowel Cancer Australia.


Question: What inspired you to get involved in the International Women's Day Great Debate?

Erin Molan: Advocating for gender equality is a topic that needs to constantly be on the agenda. Until it's no longer considered unique to be a woman in a particular leadership position, there's a need to continuously advocate for progress in all aspects of gender equality.


Question: What do you hope to achieve by your involvement in the International Women's Day Great Debate?

Erin Molan: As the facilitator my role is to adjudicate and ensure a fair representation of both sides of the debate, regardless of whether I agree or not.


Question: Can you share with us your thoughts on the provocative topic of -Australia in 2017 is still a man's world'?

Erin Molan: It really depends on how you look at it. If we're talking equal pay and the percentage of women in executive positions, then yes it's definitely still a man's world. I feel its derogatory however to says 'it's a man's world" when considering many phenomenal accomplishments made by women. It's important we celebrate the progress we've made, are continuing to make and to not take away from the successes of women.


Question: Who are you interested in hearing from at the Brisbane Debate?

Erin Molan: I'm looking forward to hearing from all the esteemed speakers and am particularly interested in hearing from Julie McKay. Julie spent almost a decade as the Executive Director of UN Women NC Australia, is currently a Partner at PwC leading their Diversity and Inclusion Practice and also serves as the Gender Advisor to the Chief of the Australian Defence Force. My dad is a former Commander in the Australian Army, so her background resonates with me.


Question: Can you tell us about the importance of supporting Project Futures?

Erin Molan: Slavery is the fastest growing crime industry with 45.8 million enslaved people living in our world today. That is far too many and frankly unacceptable. We have a duty to take notice and act. I'm proud to be part of the AIM International Women's Day Great Debate, supporting Project Futures worthy cause.


Question: What advice do you have for females who struggle in male-dominated workplaces?

Erin Molan: Work incredibly hard, make the conscious decision to not to be the victim and play to your strengths. Being a minority can in fact work in your advantage. I got my break at Nine because they wanted a female even there were better, more experienced reporters out there.


Question: What's next for you?

Erin Molan: I'm very happy to keep on keeping on with where I'm currently at – presenting sport on Nine News, co-hosting the NRL Footy Show, being a regular on Sydney and Brisbane radio, writing weekly columns for the NRL Official Website and the Western Weekender, and last but not least being a very proud ambassador for a number of charities – including Save Our Sons, Defence Cares and Bowel Cancer Australia.


Interview by Brooke Hunter