New Emergency Pod Empowers Australians To Become First Responders
In the event of a household fire, would you know exactly where your fire extinguisher or fire blanket is and how to use it?

For at least 75 percent of Australians, the answer to that question is no, impacting their ability to bring small problems under control before they become life-threatening issues.

Less than five per cent of Australians are educated enough to handle an emergency and 200,000 people are hospitalised with serious burns each year3. In light of these alarming statistics, Melbourne-based company, dFENCE, has developed a home emergency kit with the aim of saving lives.

Housed in a compact unit, the dFENCE ePOD contains an Australian made fire extinguisher, fire blanket, torch, first aid kit and a mesh bag for EpiPens, and other personal emergency equipment, so that key response items are on hand when time is critical.

Created by two Melbourne mates after a neighbour's house caught fire during a family barbecue, the ePOD empowers Australians to become first responders in their own home – potentially saving lives and valuable property.

Co-Founder and General Manager, Sam White, said the product is designed for homes, apartments, cars and even boats.

"Every Australian wants to be prepared, but the fact is, many of us aren't," he said. "When my neighbour's house caught fire, they couldn't locate their fire extinguisher, so the MFB were called, wasting valuable time.

"In a stressful situation, such as when faced with a fast-moving blaze, the solution needs to be easy and accessible. That's why we have designed the ePOD to be small enough to mount on the wall, door or in a cupboard, with all the tools at your fingertips.

"Whether you're a homeowner, renter or landlord, knowing that the right equipment is easily accessible provides peace of mind."

Ex-Commander of Operations at Metropolitan Fire Brigade (now retired) Jonathon Manders said thousands of people are impacted by fire each year, many of whom are ill-prepared to act effectively when a fire occurs.

"By far the majority of fire-related fatalities and injuries occurring in the urban environment do so, not in places of work or public spaces, but in dwellings. The domestic kitchen is particularly fire prone," he said.

"Today, with the extended use of synthetics in household fittings and furnishings, once a fire takes hold it can be only a matter of minutes before the room of origin becomes untenable. Hence early intervention is critical in mitigating the damage and threat to life caused by fire in a home.



"Millions of dollars in property loss together with injuries or deaths could potentially be avoided every year if the occupants of a house had ready access to some basic first aid firefighting equipment and the knowledge on how to use it effectively," he said.

More than 50 percent of people who deploy a fire extinguisher during an emergency do so incorrectly or dangerously4, so the ePOD comes with a free augmented reality app to train users on how to use its contents. The app also reminds users to replace key items when needed, as seldom do people replace their fire extinguishers after the three-year lifespan.

With Fire Prevention Australia data showing that 95 per cent of all fires could have been extinguished if a fire extinguisher had been applied properly, the ePOD could dramatically reduce injury, death and property loss.

The ePOD is available online at dFENCE.co for $149.95 (postage is free). For a limited time only, it is available for $119.95. Replacement items can also be ordered from https://www.dfence.co/


Interview with Sam White, dFENCE ePOD's co-founder
Question: What is the dFENCE ePOD?

Sam White: The dFENCE ePOD is an all-in-one emergency response kit which is designed to enable Australians to become first responders in their own homes. It contains all the emergency equipment required in one location, so you aren't left running around trying to find what you need when time is critical. This includes: an aerosol fire extinguisher, fire blanket, first aid kit, LED torch and detachable mesh bag for personalised emergency medicines.

It's compact and light (weighing less than 4 kilograms) and can be wall mounted or placed in a cabinet to ensure houses, apartments, cars and boats have everything they need to respond to an emergency.


Question: What inspired you to create the dFENCE ePOD?

Sam White: Most people don't think about the emergency equipment they need to protect their home until after they've been faced with an emergency (or friends or family have).

The dFENCE ePOD was conceived by a mate and I after a neighbour's house caught fire at a family barbecue. Although they owned a fire extinguisher, they couldn't find it in time to extinguish the fire and the fire brigade had to be called to put it out. But, significant damage to the property had already occurred.

When this happened, we thought , 'How could this family have been able to manage the situation better?' Not only did they need the right equipment, they needed to be able to locate it quickly and they needed to know how to use it.

They were actually in the minority of homes that own a fire extinguisher (only about 20% do) but the fact that they couldn't locate it to use it places them in the 95% of us who aren't equipped to handle an at-home emergency.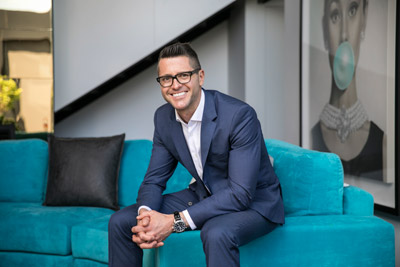 Question: How can Australians use the dFENCE ePOD in the case of a fire or other emergency?

Sam White: Not only do we want to make sure all homes have the right safety equipment, we want to make sure they know where to find it and how to use it, ultimately helping to improve safety and save lives. The dFENCE ePOD contains everything you need to become a first responder in your home and the app will ensure you have the right information to use it.


Question: What type of fires call for the use of a fire extinguisher?

Sam White: The dFENCE ePOD's fire extinguisher is suitable for wood, paper, petrol, oil, diesel and electrical fires.


Question: And, what fires would require a fire blanket to be used?

Sam White: The dFENCE ePod would typically be used in the kitchen. It can be used on small cooking oil fires and clothing fires. It can be used to cover a vessel containing a fire or wrap around a victim whose clothes have caught alight.


Question: Can you talk us through the research you conducted to ensure the dFENCE ePOD will fit every Australian home?

Sam White: The stats are pretty alarming - they say that just one in five Australians own a fire extinguisher and at least 75% would not know how to use it. But, we know that 95% of all fires could have been extinguished if the right fire extinguisher had been used properly and early enough. Emergencies can come in different forms and having the equipment to be prepared for anything is important - the ePOD is designed with aesthetics, portability, ease and functionality. The kit contains the (compact) equipment to deal with a range of in-home emergencies.


Question: Where can we buy a dFENCE ePOD?

Sam White: The dFENCE ePOD is available online at dFENCE.co for $119.95 (for a limited time only) and is normally $149.95. Postage is free. For now, the dFENCE ePOD is only available online.


Interview by Brooke Hunter