Empire by Spiegelworld Review
EMPIRE by Spiegelworld is currently wowing audiences in Sydney during its return season under the spiegeltent. Melbourne thrill-seekers only have five weeks to wait until the show returns to the Rooftop at Crown where it will play from March 11th, 2014.

Since EMPIRE was last in Melbourne, several new artists have joined the cast. Contortionist Lucia Carbines has taken over the role of Miss A in a Bubble, performing the iconic aerial sphere act as well as a brand new, specially-created contortion act. Growing up in Queensland, Carbines is the only Australian performer in the international cast. American singer Victoria Matlock has taken over the role of Miss Purple, while Ukrainians Vlad Ivashkin and Aiusha Khadzh Khamed are now performing the beautiful hand-to-hand adagio act in their roles as Carrot Man and Lime Green Lady.

Presented in Spiegelworld's 700-seat antique spiegeltent, EMPIRE smashes the boundaries of circus, cabaret, vaudeville and burlesque, reinventing the genres for a 21st century audience. Featuring the sexiest, most daring artists from across the globe, the show had its world premiere season in New York City during the summer of 2012, where it was the first tented show ever seen in Times Square.

Since EMPIRE opened its Australian tour in Sydney in January of 2013, it has been seen by over 170,000 people around the country, with rave reviews, sold out performances and standing ovations. EMPIRE was created by the Melbourne born and raised Ross Mollison with an all-star Australian creative team including director Terrence O'Connell (numerous Australian comedy greats at The Last Laugh in Melbourne through to Circus Oz), choreographer John -Cha Cha' O'Connell (Strictly Ballroom, Moulin Rouge, The Great Gatsby), and costume designer Angus Strathie (Academy Award for Moulin Rouge).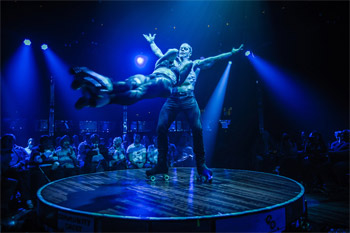 Spiegelworld is also currently presenting Absinthe on the forecourt of Caesar's Palace in Las Vegas, where it is now in its fourth sold-out year. Spiegelworld's latest creation, Vegas Nocturne, recently opened at The Cosmopolitan of Las Vegas.

Review: I didn't know quite what to expect from EMPIRE by Spiegelworld before attending but after leaving I was well and truly blown away by each and every performer – the show certainly exceeded every one of my expectations!

As soon as you step foot into the Spiegeltent on the Rooftop at Crown you are transformed into a creatively constructed performance. Before the show begins we are cleverly reminded that this is no Cirque du Soleil; EMPIRE by Spiegelworld is far more sexy, engaging and breathtaking.

These daring performers showcase their unbelievable skills without missing a single beat right in front of your eyes (literally, they're basically in the crowd, with you); they're strong, superb and of course, sensual. Entertaining is an understatement especially as I found myself holding my breath, numerous times throughout the show.

I don't want to give too much away because I really think EMPIRE by Spiegelworld is best left as a surprise… but do keep in mind EMPIRE by Spiegelworld cannot be missed.
- Brooke Hunter
EMPIRE by Spiegelworld
From March 11th, 2014
Under the spiegeltent on the Rooftop at Crown, access via Level 3, Whiteman Street, Southbank.
Tuesday, Wednesday, Thursday 7:30pm Tue/Wed/Thu: $59.00 - $129.00*
Friday & Saturday 7:30pm & 9:30pm Fri/Sat/Sun: $69.00 - $149.00*
Sunday 7:00pm
*A special VIP Ticket is available which includes seating in the front two rows, and a complimentary beverage.
Bookings: www.ticketek.com.au