Sometimes You've Just Gotta Have Faith
Cast: Emma Thompson, Emilia Clarke, Michelle Yeoh, Henry Golding
Director: Paul Feig
Genre: Comedy, Romance

Synopsis: Kate (Clarke) harrumphs around London, a bundle of bad decisions accompanied by the jangle of bells on her shoes, another irritating consequence from her job as an elf in a year-round Christmas shop. Tom (Golding) seems too good to be true when he walks into her life and starts to see through so many of Kate's barriers. As London transforms into the most wonderful time of the year, nothing should work for these two. But sometimes, you gotta let the snow fall where it may, you gotta listen to your heart … and you gotta have faith.

Set in London during the 2017 holiday, Last Christmas features the music of George Michael and Wham!, including the bittersweet holiday classic of the film's title. The film also premieres brand-new unreleased material by the legendary Grammy Award-winning artist, who sold more than 115 million albums and recorded 10 No. 1 singles over the course of his iconic career.

Last Christmas
Release Date: November 7th, 2019


The Backstory
Praying for Time
Last Christmas Begins

Approximately 10 years ago, producer David Livingstone began the development of a romantic comedy based on George Michael's song "Last Christmas." Livingstone says that it all originated with his obsession with a Jimmy Stewart classic: "I love It's a Wonderful Life, and I was trying to think of a brand that would give me an opportunity to create something that had that everlasting charm and was a Christmas comedy." It dawned on the filmmaker that the biggest holiday brand he could think of was the Wham! song "Last Christmas." "It is played on repeat absolutely every year," Livingstone says, "in every store"on every radio station"again and again. I thought it would be marvelous to turn that into a movie."

In turn, the producer would bring the premise to the legendary songwriter and performer Michael, who was interested in the project…on the proviso that multihyphenate Emma Thompson would become involved in its development and execution. Fortunately, Livingstone's long history with the writer/producer/actor during his time as an executive at Universal Pictures meant that he had an in with her team. Livingstone reached out to the Oscar® winner and asked if she would be interested in penning the script based on the lyrics of Andrew Ridgeley and Michael's smash.

"I'd worked with Emma before on Nanny McPhee and on Love Actually, so I sent her a note," Livingstone says. "We had a meeting and Emma put together a few ideas, and off she went to meet with George. I was incredibly excited when I thought of them together: two British icons, both absolutely top of their game in terms of acting talent and musical talent. That meeting was a success and marked the start of the process."

Thompson admits that when she reconnected with Livingstone, she wasn't sure how big of a story his idea was. "At first, I told him I'd think about it," Thompson says. "I kept thinking about the song, how I've never written a proper romantic comedy, and how I could interpret this. I had an idea and I mentioned it to my old man, Greg Wise. I said, 'Do you think this might work?' He said, 'I do, actually.' We started talking about it a lot when we were out on walks in Scotland, where we live. This version started to shape up into something quite good, but it was very complicated. We were trying to tell the story backwards."

Once Thompson and Wise put a treatment together, they felt that stars were aligning. "David said, 'There's something here,'" Thompson says. "He called me again a few years ago and said we need to go back to this because it's definitely a good story. We met again, and I said, 'Why don't you get someone to do a first draft for us because I can't do it now. Why don't we just put the flame underneath it in some way?' So, we hired this wonderful performance artist called Bryony Kimmings."

The creative team walked Kimmings through the logic of their premise, and off she went. "We had a meeting and said, 'This is the story, these are the characters, and this is the family dynamic,'" Thompson says. "Bryony went away, and she did a blueprint draft that was full of such great images. She's very imaginative, very visual, and she had wonderful ideas. That was the inception of what we've made now, which I then worked on with Greg for another two years."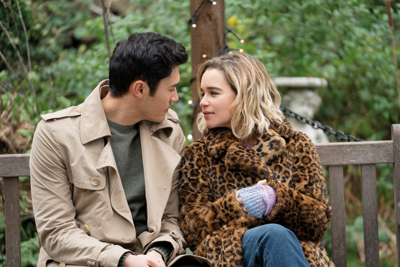 Early on, during Thompson's conversations with Michael, they discussed what she was considering and where she hoped to go with his classic music as inspiration. "I went and talked to George about it, and I had a wonderful afternoon with him; this was at least two years before he died," Thompson says. "He was a very kind man who loved the idea of the story…and elements of it that were socially conscious because he was always very involved in that. I loved him, and I thought I'd love to work with him and be part of this."

During the development of the screenplay, on Christmas Day 2016, Michael tragically died. Not only was the world devastated to lose such an epic voice, but the creative team developing Last Christmas also wondered if the premise was meant to ever come to fruition. "George knew the outline for the story, but he never had the opportunity to read the script," Livingstone says. "It felt like we had something that was quite magical, but we had nowhere to go with it"until one day Greg, Emma's other half, bumped into David Austin, George's friend and manager. David reignited the project. We set up a meeting with Emma, and he played us some new music from George that no one had ever heard. It was incredibly exciting; it gave us all impetus. We had a great script, and it was something that honored him."

Thompson received this moment as a chance to tell the ideal Christmas tale, and she felt that they had a guardian angel looking out. "When George died, and we had a lot of death in our family as well, we were all at our wits' end," Thompson says. "We did another draft, and then one day in June 2018, David came over and said, 'I've just heard from George's manager and boyhood friend, Dave Austin, who would love to talk about this project because it was so important to George.'" The filmmaker found Austin to be the passionate keeper of the artist's legacy. "Dave came over and played us some wonderful new songs George wrote," Thompson says, "and it was very exciting."

Thompson felt that Michael's revelatory music dovetailed perfectly into the latest version of what she and Wise were crafting for the story's star-crossed lovers, Kate and Tom. So much of that revolved around the incarnation of a particular kind of curiosity. "Tom's catchphrase is 'Just look up,' because you'll see something unexpected," Thompson says. "Looking up is a very important part of this story, because it's looking away from the stuff as well. Consumer capitalism surrounds us with this relentless 'You have to buy this, otherwise you will not be happy.' This all happens at a particular eye level"in the streets and the windows. You need to raise your eyes to disengage from it. You forget to say, 'What? This is all crap!'

"Tom lives in an almost-alternative universe, because his mind is open," Thompson continues. "I'm not saying he's saintly; he's not at all. He's quite smug, actually, and a bit judgmental. Kate's response to him, and quite right, too, is 'I know you're a marvelous person, and you see everything and you're curious. It must be so great to be so perfect.' Tom's journey is quite a different one. I didn't want to write a story where some perfect dude teaches a woman how to live, which is hilariously common. He's interesting and peculiar in many ways, and he doesn't have a phone, which is, in our world, just bizarre."

Considering the wider implications, it was likewise crucial that Thompson weave in elements of the world's increasingly suspicious landscape. "This story is about how to use your heart, how to live and how to love yourself," Thompson says. "It's also about how to take responsibility for yourself, which is not often achieved. Very few people achieve adulthood at the moment; we're so intent upon being young all the time. The narcissism of our age is very clear."

It was also key to the filmmaker that she eschew any oversimplification of the human condition, which is too often present in romantic comedies. "Everything I ever wanted to write about is in this story"how we behave, how we look after each other, how to love, and how to live in a modern world where it's so hard for people not to get sidetracked," Thompson says. "We absolutely have to stop this and look at what we're doing…because we aren't going to survive if we don't."

That also dictated the stranger-in-a-strange-land elements woven throughout. "Our protagonist's refugee parents are immigrants," she says. "Their response to the birth of Brexit and the birth of the presidency of Trump"and all of those things, which are in the background because it's set very firmly in the year 2017. The world we've created is real, as well as being obviously heightened dramatically and romantically."

Livingstone was pleased to see that an idea he'd hatched so long ago was finally starting to see the light, in an elevated way he never could have fathomed. "This is a romantic comedy, but it's not just that," Livingstone says. "There's more beneath the surface and behind the twinkly lights. Audiences will feel completely entranced, recognizing this is a bigger story than what it seems."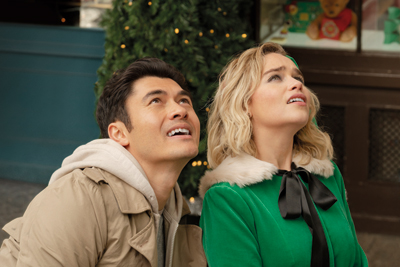 Fastlove
Thompson Meets Feig

With Austin's contribution to the final pieces of the development puzzle, Thompson and Livingstone were primed to consider ideal directors to helm their passion project. "I remember where I was sitting when I said to David Livingstone, 'I'm going to send it to Paul Feig and [agent] Bryan Lourd to see what they think of it,'" Thompson says. "A couple of hours later, I got a phone call from them saying, 'We have to make this movie this year.' With me, Paul, George" all of us" attached, Bryan wrapped the script in a box with Christmas wrapping and tinsel and sent it to Donna Langley at Universal saying 'Happy Christmas.' Donna read it and said, 'We like this very much indeed.' A month later, we were in pre-production. It never happens like this."

Sharing one of the many reasons why she wanted to work with a filmmaker whose signature style is to empower actresses with characters that don't fit inside a box, Thompson says: "Paul is such a proper feminist, and not afraid to say it. He is such an activist in that sense, and I love how he works with women in all his films. Americans are good at epic, and we're good at a particular kind of ironic tonality."

Livingstone agrees with Thompson's reflections on kismet, speaking as to why he feels the director of Bridesmaids and Spy was ideal for the job. "Paul is the comedy expert, and it was imperative we got a director like him," Livingstone says. "He also loves London; it completely appeals to his sensibility, and so he wanted to make a love letter to London. If you look at London with eyes that aren't those of a Londoner, you see everything anew. You appreciate the beauty in Albert Bridge; you notice how gorgeous everything is on Jermyn Street, Regent Street, Brixton and Brick Lane."

What spoke to the director/producer was the premise of a talented young woman who has lost her way because of a medical condition that altered her entire family's future. When the film begins, we soon learn that Kate has recently undergone a life-saving operation. "Since then, Kate has felt incomplete and we find her on a self-destructive path," Feig says. "Everyone's putting up with her and trying to get her going in the right direction, but her friends and family's patience is worn thin. Then, into her life comes Tom, this oddball, handsome, nerdy guy who takes an interest in her."

Discussing Kate's love interest, and how he contributes to our protagonist's journey, Feig offers that Tom is this creature from another era. "It's like he has walked out of a 1930s musical," Feig says. "He's light on his feet. He's got this joie de vivre and he sees the world through rose-tinted glasses. Tom is always telling Kate to look up. He's the guy that sees things the rest of us miss because we are going through our lives looking at our phones. Tom teaches Kate to get out of her own head and to appreciate the world around her. He also works at the homeless shelter, and he takes her there to get her involved; that perspective starts to turn things around for her."

Working with Thompson was a welcome educational experience for Feig. "Emma is the greatest partner you can ever have making a movie, especially a movie she wrote, because this is something she has been working on and developing for more than eight years," Feig says. "Emma obviously has won Oscars® for both writing and acting; she is so respected by everybody she meets. When she has a thought or a note everyone listens, and you realize you are in the presence of a master. Emma knows what she wants, and she is so collaborative."

Alongside his production partners, Feig aims to make Last Christmas a holiday classic. "A great Christmas movie should be about love, family, redemption and happiness," Feig says. "Our film is so emotional in places, then really funny; it's also charming and beautiful. Our DP, John Schwartzman, has shot this movie like you've never seen before"making London look so gorgeous. London is a city I just have such a love for and have my whole life. I wanted to show the city the way I see it and the way I appreciate it. All these elements go together to create this fully immersive, emotional experience that is what I think to be the ultimate Christmas tale."

For the director, what adds to the magic of this world capital are the timeless sounds of George Michael. "The power of George's music is breathtaking," Feig says. "His songs are so well written and arranged that we can take them, rearrange and give them a secondary life. On top of that, we have an unreleased song that nobody has ever heard; this movie is just as much a love letter to George as it is to London. It is exciting for fans because they will get to re-experience his music in this new way. I'm also excited for people like myself who are aware of George but didn't fully appreciate how amazingly talented he was."

Regardless of his accomplishments, the filmmaker admits that he was the biggest fanboy on set. "I honestly had to pinch myself sometimes," Feig says. "I had a fantastic script by Emma Thompson and Bryony, an amazing cast, music from the great George Michael, and we filmed in London!"

With parts in place, now joined by Feig's then-production partner Jessie Henderson as the final producer, Livingstone believes this almost decade-long labor of love has been worth every minute. He commends his partner-in-crime for taking it to the goal. "Emma is somebody who cares about every aspect of the production," Livingstone says. "She'll be checking that all the background artists are happy, they've had enough to eat and they're warm. She will, without any shadow of doubt, know every single person's name; if she's met them once she'll go and see them again later. Emma never leaves anybody behind and that is the sign of a great producer, a great collaborator and creator."

Thompson reflects that the mystical confluence affected the production in myriad ways. "We've had losses, and then we've had extraordinary gains," Thompson says. "If we had made it when George was still alive, Emilia would not have been available. It's as though I wrote it for her. It meets her right in the center of herself, her wonderful personality, her clown-like soul. She's a wonderful artist, and this is the first time she's been able to do something like this. Henry wouldn't have started in his film career.

Film's funny like that: Nanny McPhee, nine years; Sense and Sensibility, 15 years from the moment where the producer decided to do it to the moment we brought it out. But, good ideas don't come along that often and, God forgive me, this is a good idea."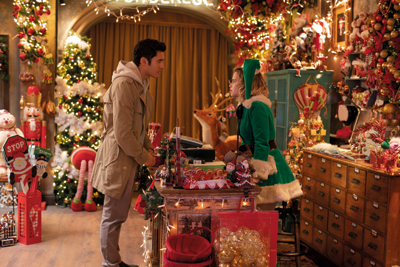 Casting The Film
Everything She Wants
Emilia Clarke as Kate

We meet our protagonist, Kate, during the supposed-to-be happiest time of the year, where she works at a year-round Christmas shop. Ironic, as Kate is trying to avoid everything and everyone in her life who causes her to feel. "For Kate, Christmas is hell because it's where all the tensions, the tectonic plates that make up all of family life [intersect]," Thompson says. "You can't get through it without somebody saying the wrong thing or giving someone the wrong look. Just one sniff can set it off."

To play Kate, the production looked to Emilia Clarke, who had recently wrapped the final season of the HBO award-winning series Game of Thrones. While her role of Daenerys Targaryen, the Mother of Dragons, lives in infamy, from Broadway to television, stage to screen, Clarke continues to expand her repertoire. The producers were instantly drawn to her for the film's lead role. Clarke lights up the screen in the role of Kate, the director muses. "Every day on set, I was blown away by Emilia," Feig says. "She's such a great actress and comedian as well as looking so gorgeous on camera, and I cannot imagine anybody else in the role."

Discovering Clarke could sing was a bonus for the filmmaker. "I lucked out on that one," Feig says. "She has got such a pure voice, and it's been so fun to see her explore it. She has an absolutely beautiful voice, but in our movie, she plays it down. This is not about Kate becoming a pop star; it's about her getting back the one thing that made her truly happy."

Livingstone raves about Clarke's talent, believing she hit the bulls eye comedically on any line given, any improv thrown her way. "She manages to be this slightly frustrated and frustrating character, but she does it with such charm that you can't help but love her," Livingstone says. "Emilia will make you cry and make you laugh; I can't imagine anyone else playing this role."

What drew Clarke to the role was the pure-of-heart spirit of the holiday tale. "Emma wrote this story with such care and truth," Clarke says. "She understands the complexity of human nature and has intertwined that knowledge throughout. This story celebrates the uncertainties, scary moments and beauties of being a human being." She pauses. "This film is a love letter to anyone who has ever felt confused or lost at times in their lives," Clarke says. "It lends a hopeful message that it's alright to feel this way and that you'll soon come to know yourself."

The performer introduces us to where we find her character. "Kate is a young woman living in London who's a bit confused, lost and anchorless," Clarke says. "As the story develops, the turbulent journey that she's been through becomes clear. Although there were a few boulders along the way, she ultimately meets someone who helps her see a new perspective of life."

Regarding the juxtaposition of Kate and the character's love interest, Clarke says: "Tom and Kate have a classic meet cute. Tom embodies someone who just has it together. Kate is quite the opposite"constantly drunk, hungover, falling over and breaking things. Kate is, as my best friend would say, a 'spiller.' You don't give a spiller a glass of red wine when you've just put new carpets in."

The actress admits that some of the scenes made her feel vulnerable and a bit like someone turned her inside out. Still, it was her trust in Thompson and Feig that guided her through moments deeply personal and comic ones alike. "Paul was such a gracious and talented director," Clarke says. "He made everyone feel welcome. He truly knows his comedy, and it was a delight for me to lean into some physical humor under his guidance."

It was a bit of life imitating art for Clarke when she learned of Last Christmas' message. As a child, her granddad reminded her to "look up," and take blinders off to see the world so many of us just take for granted. "One of the central themes of this film is the idea of 'looking up,'" Clarke says. "It speaks to the importance of opening up, being aware of your surroundings and taking a moment to smell the roses of the world you're living in."

Being on set allowed her the chance to experience her beloved city in a wholly new way. "We filmed all over London during Christmastime," Clarke says. "The city is already so beautiful at that time of year, but we added more lights and sparkle to every location, which made it look even more magical."

The cherry on the production cake for the performer was the all-important contribution from the inspirational source of the material. "We are so incredibly lucky to have some of George Michael's music in this movie of ours," she says. "It is amazing and has been fun for me. I never thought in a million years I would do a movie where I got to sing and do a bit of comedy, so it's a dream come true."

Clarke's co-star concludes with the deep respect he feels for the film's Kate. "Emilia is full of energy and has a spark in her eyes," Golding says. "She's incredibly hardworking and balanced the humor and heart in her character beautifully."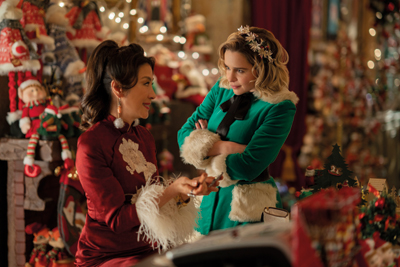 Freedom! '90
Henry Golding as Tom

The director, who last collaborated with Golding in A Simple Favor, was more than pleased to be working with his leading man once again. "Henry is Tom," Feig says. "I wanted to show that funny, charming side of him. When Henry came onboard, I told him to just be himself. It was that lightness of spirit that he has in real life that I wanted to shine through in Tom, and he has just done an incredible job."

"Henry has to play an enigmatic character," Livingstone says. "Tom is somebody who has an air of mystery about him, and he's got interesting aspects to his personality. Henry does it incredibly well and with enormous charm. He and Emilia got on like a house on fire as well, so when you put them together, there's a chemistry that makes everything feel right."

Clarke talks about their characters' interplay, as well as sharing the screen with Golding. "The relationship that Kate has with Tom is not love at first sight. These two are butting heads a bit; it's very witty," Clarke says. "It's only toward the end of the film that you start to see both have an objective, and we understand how that has brought them together. Henry is incredibly open as an actor, generous and funny, so it has been a pleasure."

From the moment he stepped foot on set, the performer felt supported by his team on screen and off. "Emma had a very nurturing and conceptualized sense of production," Golding says. "She and Paul worked closely on set to balance the humor, emotions and the feel of the music to make it feel just right. Paul orchestrated the many moving parts of the entire production. He had a wonderful sense of humor behind scenes, which definitely translated to our characters on screen."

Set in December 2017, in the wake of the Brexit vote, the film touches on the deeply human element of the turmoil, and the price strangers pay. "Emma is clever at highlighting all these social aspects within her script," Golding says. "Like the struggles with homelessness and how we can play our part in helping; the fact that sometimes they just need a chance and a helping hand. Everyone has their strengths, and sometimes you just need somebody to shine that spotlight."

The screenwriters crafted a character who refuses to be contactable in the ordinary ways"and Tom tends to find Kate unexpectedly and just when she either doesn't or does need him. "Tom is wonderfully portrayed by Henry, who is an unusual young actor in that he is completely devoid of any self-absorption," Thompson says. "It's fantastic to find someone who is not only professional and enthused but uninflected with the 'I'm too cool to be enthusiastic.' He was perfect for Tom, who's an ordinary guy. Okay, he's beautiful, but other than that…he's fantastically useful to Kate, as she's clever and can sense his covert judgment."

Thompson happily inserts elements of her own family life into her work. "It's a bit of me and Greg in there, because I've always thought of Greg as essentially a better person than I am," Thompson says. "He'll say something, and I'll go 'He's judging me, and he's right to judge me.' But that doesn't make me feel good, so I behave badly. That's what happens with Kate and Tom all the time."

Not only was Golding interested in working with Thompson for the first time and re-joining his director for another project, the performer related to this tale of passion and loss. "This story is layered with comedy, love and colorful characters," Golding says. "It dives into the importance of being present, taking in your surroundings and interacting with those around you."

The actor appreciated the chance to play an enigmatic man"one who is charming, but also frustrating to the woman falling in love with him. "Tom is the kind of guy who everyone wants to hang out with," Golding says. "He's present and enjoys walking around London, looking up at the architecture and the history. He's a breath of fresh air and has a joyous spring in his step. When Tom enters the story, he helps Kate reach her potential. He teaches Kate about loving herself and to 'look up.' He shows her the importance of being present, opening up and living the best life she can.

"Tom and Kate are like yin and yang," Golding continues. "As the story progresses, they come together and see each other within themselves. They both develop a much deeper understanding of one another. Tom understands Kate's pain and struggles with her family and tries to guide her in finding the good in the world."

It was impossible not to get into the spirit of the holidays while filming in England, and Golding agrees with Clarke that they were buoyed by the magic of the season. "Shooting in London was the most 'Christmassy' I had felt in years," Golding says. "We shot in Covent Garden, on Regent Street, at Alexandra Palace, The Strand and on Piccadilly Circus. Christmas in London is magical, and to encapsulate all the beautiful parts of the city brought even more festive spirit to the film."

Reflecting upon his hopes for the audience experiencing the film that's been a labor of love, Golding says: "Everybody in front of the camera and behind the scenes has put so much heart into this. The script itself is beautiful in so many aspects"from teaching life lessons to giving you a slap around the face. The big message is to be present, be here, be nurtured, be loved."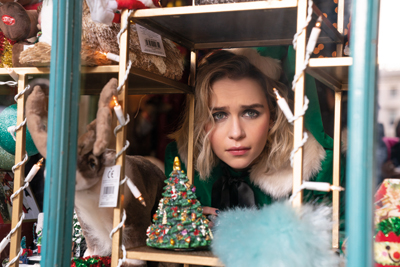 Fantasy
Michelle Yeoh as Santa

"Santa" is Kate's firm-but-fair boss at the Yuletide Wonderful store. Whatever her birth name, "Santa," is the name she has taken for herself, at least in her store. "Santa is Kate's boss at a year-round Christmas shop," Clarke says. "Santa is a bit sly, sarcastic and has a very particular taste in Christmas decorations. She looks out for Kate but doesn't let her get away with anything. They have a tough-love relationship."

"Santa is frustrated with Kate and her inability to show up for work," Livingstone says, "causing havoc within the shop and the lack of attention she gives to the customers. She does fundamentally care about Kate and, although she's gruff, she certainly means to try and get the best out of her."

Santa is based on Thompson's daughter-in-law, Bao, whom Thompson describes as a woman who "speaks perfect English with a very strong Chinese accent and is completely brilliant…but also just out there and different." Bao was the inspiration for this character who has had to focus her entire life on making what she wants to happen happen. "She comes from Shenyang, China, and the single-child generation," Thompson says. "What was placed upon their shoulders was the burden of carrying the desires and dreams of parents to fulfillment. Santa has this place that she loves, and she's a wonderful character. During this story, we see her fall in love. This subplot love story was great fun to create"finding the most unusual and bizarre person that she could fall in love with."

Feig is a huge fan of Michelle Yeoh and was thrilled to learn she'd accepted the role. "Honestly, the first person I cast when I read this script was Michelle. I was 10 pages in reading the Santa role and realized it was the perfect fit. What is great is I get to show Michelle being funny. She never plays that on screen, so I was delighted. Santa is a wonderful character. She is a hard-working woman who absolutely loves Christmas, and she has turned it into this amazing business. The Yuletide Wonderful shop is so overblown, but it's still classy. She sells junk, and she sells beautiful stuff. She is Santa."

"When Paul read the screenplay, he immediately saw Michelle," Thompson says. "I was thrilled because I think she's the most fantastic actor, but I don't know whether I have ever seen her do this. Then Michelle said, 'Do you mean I get to have a boyfriend?' She's so game and clearly so funny. In Crazy Rich Asians she plays the mother-in-law with such a stiletto-sharp-knife performance, but it's also funny. This role is even the more comedic side of her nature."

After their work on Crazy Rich Asians, Golding was delighted to be in another film with Yeoh. "This is a side to Michelle that no one has ever seen and it's so nice, given how many wonderful films she has done," Golding says. "Michelle is amazing in this. As Santa, she has all these backhanded comments for Kate, and her comic timing is spot on. I'm eager for everybody to see what she's got."

Yeoh had met Feig several years ago in Toronto when the director was last shooting with Golding. She found him to be just as charming on set as she did off. "Paul is a dapper and warm man," Yeoh says. "He worked precisely, yet quickly, while making everything seamless for the cast and crew. He made it feel like we were all working with a longtime friend."

Likewise, the opportunity to join Thompson on a production appealed to the performer known for mastering every genre. "There are few people who act, write and produce a single film, and Emma is at the top of that list," Yeoh says. "I had always wanted the opportunity to work with her and was completely starstruck when I met her."

Much like Kate, Santa is a survivor, and that "can-do" attitude quite spoke to the actress when she was considering the part. "Santa wants to make a good life for herself, no matter where she's working," Yeoh says. "When she worked at the pet store, she called herself 'Kitty.' At the health-food store, she was 'Miso.' When she worked at the bakery, she went by 'Muffin.' Now, working at a Christmas shop, it seems appropriate that she call herself 'Santa.'

"Santa is devoted to her shop and has little time for anything else, but she has a soft spot for Kate or, whom she calls her, 'Elf,'" Yeoh continues. "Kate is lazy, forgetful and doesn't take responsibility for anything, but she can sell things off the shelf like no one's business. Santa is like a big sister to Kate, and she won't let her get away with anything," Yeoh says. "They have quite a heartwarming relationship and watch each other's backs."

Almost at her wit's end with the world's worst employee, Santa is willing to give Kate one final chance. Santa notices a change in her formerly worthless No. 1 elf when Kate meets a mysterious stranger. "Santa thinks that Tom is a good guy," Yeoh says. "She thinks he's wise and sensible and feels like that's the type of person that Kate needs in her life. Ultimately, Tom helps Kate feel good about herself and to see the wonderful things that surround her every day."

Yeoh also appreciated that her character has a whirlwind love story of her own"when she meets the enigmatic Dane (Peter Mygind) whom she simply calls "Boy""and wasn't simply relegated to uplifting the romantic leads. "Santa is very pragmatic, single-minded and focused on her Christmas shop," Yeoh says. "She's very 'by the book,' career wise, but when she meets a man who excites her, she doesn't quite know how to react. Luckily, Kate comes to the rescue and pushes these two unlikely characters together; that helps their love blossom."

Feig's passion for London is being captured in Last Christmas, and Yeoh likewise feels the city to be magic during the holidays. In fact, she attended school in London years prior. "Christmastime is special because it revolves around family, love and giving," Yeoh says. "This film illustrates Kate's journey in finding the value of loving others and, most importantly, learning to love herself."

Sharing most of her screen time with Clarke was an enjoyable experience for Yeoh, and she was surprised by her fellow star's hidden talents. "Emilia was charming to work with and full of energy," Yeoh says. "I knew she was a great actress, but I had no idea she had such a wonderful singing voice, too!"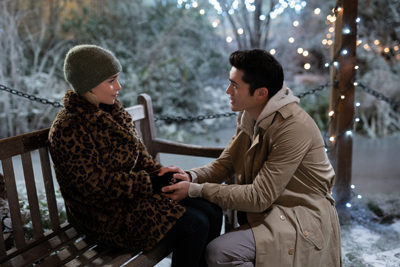 Heal the Pain
Emma Thompson as Petra

In addition to co-writing the film and serving as one of its producers, Thompson plays Petra, Kate's old-world mother. "Emma is incredibly funny in the way that she portrays this character, but it is also authentic," Livingstone says. "You know she is not making caricature; she's one of those people we all recognize. Of course, she plays it exceedingly well and is very funny, as well as brings deep emotion to the role."

The pressure Kate's mother puts upon her stems from the fact that she sees so much of herself in her daughter. "Petra was a big star back home in [the former Yugoslavia] and has been quite troubled since her family has moved to England," Clarke says. "She spends most of her time incredibly anxious about Kate's whereabouts and is constantly trying to get in touch with her."

Petra's anxiety has crippled her communication with her daughter, but that doesn't stop Mum from trying to reach Kate 24/7. Santa has also grown weary of the constant calls and texts that distract her only employee. "Kate has a complicated relationship with her mother and sister," Yeoh says. "Petra is a bit of an overwhelming control freak. They have a very dysfunctional family, which is part of the reason that Santa has a soft spot for Kate. She wants Kate to accept the love that she's being given, instead of constantly pushing it away."

Thompson plays Petra based on a woman her husband, Greg, knows. "I can say no more, or she might come over and have us killed," Thompson says, dryly. "This is someone deeply passive aggressive who has suffered a lot. The fact of the matter is that Petra's got PTSD. You come away from your country, away from your tribe and you've suddenly landed in the middle of somewhere you don't speak the language. You have no friends and become isolated and frightened. That's what Petra actually is, but she covers up. Her daughter's ill, and that's given her a real modus operandi."

The actor reflects that her character was given such identity and purpose during Kate's illness, but now that her daughter has recovered, Petra isn't sure where she belongs…nor what her role is. "She's had all of that, and then it's taken away," Thompson says. "Then, her daughter disappears because she's living her life unwisely, but there's nothing she can do. Petra is in this web of doubt, anxiety, terror, resentment and fury that she cannot get out of."

She gives that this change in power dynamic often happens in families. If one member changes in quite a radical way, in a positive way, it often means that other people shift. "As Kate changes, the constellations start to change, and Petra suddenly sees something from a different angle," Thompson says. "Kate reconnects her with the world through food, and then you suddenly see that this woman could be happy. The nice thing about this story is that nothing is tied up neatly. I don't believe in happily ever after because it's all bollocks. One of the things we've tried to do with this film is give it a life in your imagination when you leave. It always retained its muscularity, like the heart itself. It is a strong muscle."

One More Try
Supporting Cast of the Film

When we meet Kate, we find a young woman who has been given endless chances by friends and family, yet someone who is still struggling to put the brutal past behind her. The various and sundry characters who enter her life offer not simply valuable life lessons, but the chance for her to be a better steward of the world.

The invaluable contribution of the supporting players to the film was not lost on Thompson. "Every little part in this is so well cast and so well played," Thompson says, "and all of the small parts are based on people that my husband and I know. It's this remarkable combination of confluences and congruencies. We all feel very privileged and blessed, and it's very much as though George is about the place. I'm not a wee-spooky person at all, but there's something in the air."

Kate's Family

Petra and Kate's clan is completed by Lydia Leonard as Marta, Kate's older sister, who bears the familial responsibility her sister lacks, and Boris Isaković as Ivan, their father and Petra's husband, who avoids going home as much as humanly possible.

Kate and Marta have a love-hate relationship, in which one sister blames the other for the family discord. "Marta has, in many ways, carried her family's hopes and dreams on her sturdy shoulders," Clarke says. "That responsibility hasn't come without resentment, so Marta and Kate's relationship is fraught, to say the least. It's an incredibly honest depiction of a dysfunctional, yet loving, relationship."

Petra and Ivan brought their daughters to England from the war-torn former Yugoslavia in the 1990s, and with them their hopes, dreams"and terrors"from their former country. For Thompson, this story line offered the filmic chance to explore 2017, in the year after the Brexit vote, and the fears that her fellow countrymen were experiencing. Thompson says: "When Brexit was happening, I remember friends of mine from Croatia saying that this is exactly how our wars started"this rise of tribalism in their country when Tito fell and when everyone said, 'But, we're the best…' I have learned to try to understand the need for identity in the tribal way better because my son is a refugee. I have had to learn about identification with certain things to do with your country and understand how valuable it is. There's a kind of nationalism that is very baleful, and that causes mutual hatred to emerge. We're not good at controlling those, and we're very, very good at finding them."

The writer offers that she has grown to know a lot of these families, ones in which members have come from far away because of terrifying war. "They don't choose to get on a boat in the middle of nowhere; they're coming out of the jaws of death, as Kate's parents have," Thompson says. "I've talked to a lot of people about that era in Serbia and Croatia. Because Kate and Marta's father was a lawyer, he's looked at the way things are going; they had the example of Nazi Germany previous"only 40 years before. 'This is not going to end well. We've got to get out.'"

Ivan has sacrificed everything on the altar of family; his sense of self is transferred automatically into his eldest daughter, Marta, who didn't want to be a lawyer but is one because that's what they wanted for her. "Everything he has done has been taken and run with by his eldest daughter, Marta," Thompson says. "She is a girl who's got to contend with the fact that she's a lesbian, which in her country, at that time, is impossible. She's very dedicated, and she's got this younger sister who has always come first because she's been ill. But what happens when that family is put under extreme stress is that it just gets more and more deformed and ossified and difficult, and no one talks about it. We meet Marta, and she's so angry with her sister for getting all the attention.

"Kate can't quite deal with the recovery, with the way in which the world's changed around her," Thompson continues. "All of this pinned-up, built-up tension and resentment suddenly explodes onto the screen, enabled by the wonderful actress Lydia Leonard. She's embodied this young woman who's done so much to try to conform to her parents. She knows not to tell them of that sexuality because she thinks that they'll be upset. When we played the family scenes, many on the set said, 'It's just like my mother.'"

Other members of Kate's extended family are her sister-from-another-mother Jenna, played by Ritu Arya. Kate's childhood best friend, the very pregnant Jenna will put up with Kate's antics until her usually patient husband Rufus, portrayed by Ansu Kabia, can no longer tolerate the woman-child sharing their home.

Players at the Mission

When Kate meets Tom, she learns that he spends a good deal of his off hours at a mission serving others. Kate rolls her eyes at this, repeatedly, until she begins to admit that meaning is what's missing from her life. "Tom volunteers at a homeless shelter, and in her journey with him, Kate finds herself wanting to help the community more, too," Henry Golding says. "She ends up organising a Christmas play at the shelter and highlights the fact that everyone has something they're good at…sometimes they just need the opportunity to shine a light on it."

Principal players at the mission include David Hargreaves as Arthur and Joe Blakemore as Army Tom, two homeless men on either side of the coin. Arthur has lived a life on the streets, and Army Tom has recently escaped the horrors of war, only to find himself grappling with PTSD. When Kate first enters the mission, she meets Nathan, a smitten volunteer played by Calvin Demba, as well as Danny (Ben Owen-Jones), the mission coordinator who has seen do-gooders like Kate before, and who has no time for her brand of privileged guilt.

For Thompson, a very important part of Last Christmas takes place in and around the issue of homelessness. "Not only because we have a family of people who had to leave their home," says Thompson, "but also because it's occurring during a year where people were finding"and are still experiencing in our country"a rise up of xenophobia and a death of hospitality and normal, decent human responses to people who've lived with us for decades."

Both Thompson and George Michael spent a great deal of time working with the homeless over the years, and the singer made attention to those in need his life's work. "Something like one in 50 people in London are homeless now," Thompson says. "It's a vital part of our national discussion, and it's shameful. We're a rich country, and there's no reason for anyone to be homeless."

Many of the characters in this film are drawn from those men and women met at a mission in White Chapel. "Arthur is based on a conglomeration of homeless people that I've met over the years"many from the armed forces"PTSD sufferers whose family lives are broken down," Thompson says. "Over the age of 25 it's very difficult for them to find access to help. They've suffered so much that it's unbearable. One of our actors, Joe Blakemore, is representing those boys from the army and David Hargreaves, who plays Arthur, has spent his life on the streets. Homelessness can happen to anybody; sometimes there's a safety net, and sometimes there just isn't. One of the things that Kate helps us to do is gain entry into that world and recognize those people for who they are, people like us, for whom just a couple of strokes of bad luck or judgment can land on the streets."

To populate these amazing background artists, it was important that Paul Feig and his team represented the range of humanity, and the casting choices reflect that. "We have a fantastic actor called Ben Owen-Jones playing the guy who runs the shelter," Thompson says. "He said he took the job because it wasn't a disabled role. It wasn't because he's in a chair; his character had nothing to do with that. It's about the larger human family. When you see all these incredible disparate, different people in the room…that's the world. That's London. That's humanity. Everyone has a story, and often those stories are extremely hard."


The Music
Last Christmas
Soundtrack of the Season

Empirically, "Last Christmas" is an absolute benchmark holiday song. "Nobody can take away from the fact that George was somebody with enormous integrity and immense talent," producer David Livingstone says. "The opportunity to even get somewhere near any of his work, let alone songs nobody's heard before"let alone Wham!'s Christmas classic"is such an opportunity. We've taken seriously the responsibility of dealing with this great artist's work."

The George Michael and Wham! songs that populate the romantic comedy"and punctuate key scenes"include "Last Christmas," "Too Funky," "Fantasy," "Praying for Time," "Faith," "Waiting for That Day," "Heal the Pain," "One More Try," "Fastlove," "Everything She Wants," "Wake Me Up Before You Go-Go," "Move On," "Freedom! '90" and "Praying for Time" (MTV Unplugged).

The final song that the estate brought to the production is the never-before-released song "This Is How (We Want You to Get High)," which perfectly encapsulates what Kate and Tom have taught one another over the course of their journey. A forever fan of Michael's music, Emma Thompson reflects on what it means to have previously unreleased music be a part of her decade-long passion project. "George's new song is so perfect," Thompson says. "I find it spooky how perfect his poetry is for the film. 'This Is How (We Want You to Get High)' couldn't express the center of the film better. And 'Heal the Pain' is more or less the whole message. If you can't love yourself, you can't love anyone else."

Another welcome surprise for the soundtrack"and the production, frankly"was the power of Emilia Clarke's vocals. "We didn't know when we cast Emilia whether she could sing," Thompson says. "It's not vital that she could because Kate has another aspect of our modern life, which is this dream of stardom that's been pedalled in so many shows. Stardom itself is quite an unpleasant, toxic by-product of our profession. Kate has these visions of stardom because that's the world that she's grown up in; her mom sang in folk clubs back in the homeland. When we came to recording the last section of the film, where Kate's putting together a benefit, Em opens her mouth and she has this fantastic, ridiculously attractive, beautiful singing voice. The film was waiting for her. She sings so beautifully and with such heart. It's incredibly moving, and everything you hear is Em. We were very lucky."

Film Composition

Theodore Shapiro, who has partnered with Paul Feig since 2015's Spy, was recruited by the director to create the composition of their fourth movie together. Echoing the sentiment of his fellow heads of department, Shapiro says: "I've admired Paul's work for a while, and we've had a fantastic collaboration over the course of several films. The job I'm in is in establishing a creative connection, and Paul is someone with whom I've felt very lucky to establish that kind of connection."

Discussing their process, the composer says that he and Feig have long eschewed the common-practice use of temporary scores, preferring to find their compositions organically. "We have always worked in a way that I start very early on in Paul's process," Shapiro says. "We try to find the tone and the theme as close as possible to the beginning of his postproduction. That allows me to write music that lives in the film before there is a temp score. That way, the musical language never consists of anything other than what will be the final score. On Last Christmas, there never was any temp music. It was always my original demo."

While production music supervisor Becky Bentham and David Austin worked with Feig and Thompson to curate songs from George Michael's songbook that would drive the narrative, the composer knew it was vital to have the film themes stand on their own. "The fundamental question was how to handle the score in relation to George Michael's music," Shapiro says. "This was a big challenge to tackle. It was obvious that those songs would be the musical-focal point of the film, but at the same time, this isn't a jukebox musical. The movie had to have a score that supports the songs but also one that stands on its own. Finding that balance was the real trick."

Shapiro felt it quite freeing to let the story direct his artistic choices and, as he has his entire career, he went with gut instinct. "The songs stand on their own, and my job wasn't to measure up to those songs," Shapiro says. "'What was daunting was creating a tapestry that is in-balance. If it felt like the song palette and the score palette were doing something completely different from one another, that wouldn't be pleasing. But at the same time, you can't go in the completely opposite direction and have every queue based on a George Michael theme. That would've felt like overkill."

It was crucial to director and composer that they not downplay serious elements of Last Christmas by making the film feel as if it were simply a musical comedy. "It had to be finely crafted so that the score feels like it's in a similar language of the songs and living in that world"hinting at the themes from the George Michael songs while having its own life," Shapiro says. "That was the daunting challenge," he pauses, "and what I spent my many insomnia hours thinking about."

Perhaps one the most interesting character themes for the composer to pen was Santa and the Dane's theme. The romance between the burgeoning lovebirds feels, as Kate puts it, "like a short Scandinavian film." Discussing the theme, Shapiro says: "We had the most fun with this, where we wanted to find a strange match of sounds"something as weird as their relationship. We ended up smashing together this Nordic musical palette with instrumentation that didn't match the harmonic language at all. We came up with this weird amalgamation of sounds that somehow brought that whole theme to an interesting place. Such that when Kate says this line to Santa, the audience really grasps what she's talking about."

As passionate about London as his director, Shapiro worked with Feig for a great deal of time to perfect the city's theme. "He wanted this film to be a love letter to the city and discussed that a lot," Shapiro says. "We called the main-score theme"one that isn't based on a George Michael song"'The Londontown Theme.' It's a simple piano melody. Rather than playing a character, it plays the magic of London in winter. Coming up with that theme was our jumping-off point in tackling the score."

It's impossible to pinpoint, but perhaps the ultimate London moment for Kate and Tom is their time in Tom's garden, when Kate begins to realize just how deeply she's fallen for her mysterious stranger. Form following function, Shapiro looked to those images as musical inspiration. "One of the first things I got from the picture department was some shots they had of the secret garden," Shapiro says. "With no dialogue, shots of snow falling helped me to dial in that tune and that sound."

For Shapiro, the ultimate musical challenge of Last Christmas was a scene with Kate and Tom in Tom's flat, where they long to hold one another. "This is a long and very quiet scene, and Paul and I both originally thought it wouldn't have any music at all," Shapiro says. "We discovered that it needed something, and writing a long piece of music for a quiet dialogue scene like that is a huge challenge. But we found a way of doing something subtle that helped support the characters and didn't get in their way. It covered Kate and Tom's theme in an unobtrusive way. We were both surprised to be going in a completely different direction than our original impulse."


The Locations
Too Funky
Looking Up in London

Last Christmas was filmed entirely in the U.K. and features a number of London's iconic locations. Filming kicked off in Covent Garden, where production fitted the Yuletide Wonderful shopfront into one of the arched walkways in the famous piazza.

Reflecting upon his magical backdrop for the film, London at Christmastime, Paul Feig says: "I've been coming to London for years, and I just love it. There is something about the place that makes me happy. I wanted to have all my favorite London spots featured, but then I also wanted to show off how diverse the city is. We all know Regent Street, Covent Garden, the Strand…but not a lot of us are so familiar with Electric Avenue or Brick Lane. That is where all these diverse wonderful communities are centered. We started shooting the movie in Covent Garden, which is the center of the universe for me, especially during the holidays, because the decorations are gorgeous. I feel like this is a complete résumé of London for the world. I'd defy anybody to watch this movie and not feel like they have to get to London to see it all."

Emma Thompson agrees. "We've shot in the most extraordinary places," Thompson says. "We wouldn't normally get to shoot in places like Covent Garden, and it's difficult on Regent Street. You just don't get permission, not from the council from London. London looks extraordinary because of the places we've been allowed to shoot"shooting in Covent Garden over Christmas"because we started at 2:00 in the morning. It was so beautiful, because we had all the trees and decorations that Covent Garden had put out."

Covent Garden, in the City of Westminster, lies just northwest of the Strand. For more than 300 years it was the principal fruit, flower and vegetable market of the metropolis. Originally a convent garden owned by the Benedictines of Westminster, the site was developed by the Fourth Earl of Bedford as the cities of London and Westminster grew together along the north bank of the River Thames. It was laid out in the 1630s as a piazza, or residential square, the first of its kind in London.

Covent Garden Market operated informally for many years before it was established by Charles II in 1670. It was rebuilt and reorganized in 1830, and in 1974 it moved to a new, more spacious market site in Wandsworth in South London. The 19th-century Flower Market building was refurbished in the early 1980s and now includes a variety of shops and attractions, including the London Transport Museum.

St. Mary's Church in Wyndham Place served as the exterior of St. Jude's Hostel for the Homeless, where Tom volunteers and Kate finds her voice again. The joyous Christmas concert was also filmed here.

St. Mary's Bryanston Square was built as one of the Commissioner's churches in 1823-1824 and was designed to seal the vista from the lower end of Bryanston Square. It is a grade-1 listed building, with a stone portico and tower. The church cost £19,955 (approximately $25,000) when it was built, which is the equivalent to £1,610,000 (approximately $2 million) in today's money. The interior of the theater, where Kate has a disastrous audition while dressed as an elf, was filmed at The Savoy Theatre in London.

The Savoy Theatre is a West End theater situated on the Strand WC2. The theater opened on October 10, 1881, and was built as a showcase for the popular series of comic operas of Gilbert and Sullivan, which ultimately became known as the Savoy Operas. This theater, when it was rebuilt and modernized in 1929, was the first public building in the world to be lit entirely by electricity. It was rebuilt again in 1993 following a fire and is now a grade-II listed building.

The opening scene of the movie showing young Kate singing like an angel in a beautifully ornate church was filmed at St. Sophia Cathedral, the Greek Orthodox church on Moscow Road in Bayswater. It was consecrated as the Church of the Holy Wisdom on February 5, 1882, as a focus for the prosperous Greek community that had settled in London, particularly around Paddington, Bayswater and Notting Hill.

During World War II, London became the seat of the Greek government in exile. St. Sophia therefore became the cathedral of the Greek nation. It was bombed during the blitz but was subsequently repaired. From the outside the Cathedral appears relatively modest, only hinting at its style through the domed roof and arched windows. However, inside it is elaborately decorated with polychromatic marble and mosaics.

Tom's Secret Garden, which he shares with Kate on their first walk together, was filmed in The Phoenix Garden in the center of London's Theatreland. The Phoenix Garden was created to provide a green retreat from London's West End and a vital habitat for urban wildlife. The garden is managed by volunteers and maintained using sustainable techniques with an innovative approach to wildlife gardening. It is filled with plants that grow reliably in dry conditions, that look good all year long and that will be of maximum benefit to wildlife.

The magical ice rink in which Tom and Kate practice skating ahead of her Frozen on Ice audition was filmed at Alexandra Palace. First opened as "The People's Palace" in 1873, Alexandra Palace provided the Victorians with a great environment and recreation center. After certain financial difficulties, an Act of Parliament in 1900 created the Alexandra Park and Palace trust. The Act required the trustees to maintain the park and palace and make them "available for the free use and recreation of the public forever." With its beautiful setting, panoramic views of London and stunning architectural features, Ally Pally, as it is lovingly known, has built a reputation as one of London's premier venues.

The scenes in which Kate enjoys the flavors of the multicultural market with her mother were shot at Leather Lane. Despite the name of the market, its 400-year history was not based around the leather trade. The name was derived from that of a local merchant, Le Vrunelane. After many other derivatives it changed from Lovrelane to Liver Lane, then to the current branding Leather Lane.

Running parallel to the jewelry trade hub of Hatton Garden, it is a haven for food lovers. Its down-to-earth weekday market, which has been operating for four centuries, is one of the city's best and is constantly evolving"these days feeding the suited lunchtime worker crowd.


Production Design And Set Decoration
Waiting for that Day
A Winter London-Land

Production designer Gary Freeman and his long-time collaborator, set decorator Raffaella Giovannetti, were tasked by Paul Feig to showcase Jolly Old London as both an exciting fairyland and deeply intimate. As Tom's "Look Up" mantra is a call for those around him to experience the wonders they are ignoring, the director hoped to create a setting that gave life to Santa's catchphrase: "Time to sparkle!"

Production Design

Bringing a craft he honed during his years on such epic productions as Maleficent, Everest and Mowgli: Legend of the Jungle, production designer Gary Freeman was duly impressed with what Feig and Emma Thompson aimed to accomplish. "In these troubled times, it's quite nice to do something positive, and Emma's energy is intoxicating," Freeman says. "Also, it was interesting that we were shooting in London. We tend to shoot other places for London all the time, so it was nice to highlight what is so great about the city. We shot the whole spectrum. As a Londoner, you are often walking from A to B, head down, and you never really take in your surroundings. During Christmastime especially, it is stunning.

"Paul wanted to show London as the beautiful city that it is, and we spent a lot of time finding places that would look spectacular," Freeman continues. "He wanted to give London a slightly fairy-tale look. He loves fairy lights, sparkle and shimmer. Wherever we went, we were always looking for beauty."

Regarding the design of St. Jude's Hostel for the Homeless, Freeman says: "The learning process was quite enlightening. I was conscious that we had to get the shelter right because you can't whitewash over the problems, particularly in London. We went to a homeless charity, and it put everything into perspective. There are people earning minimum wage, and a lot of them are giving up their time to look after people for free. We talked to them and found out the protocol of the shelter. Paul sucked in all the information, textures and character of the place."

While the exterior of the hostel was filmed at St. Mary's Church in Wyndham Place, the interior was created within the Swedish Church in London in Marylebone, which had both a cinematic quality and the intimacy and character of the homeless charity the team had visited. "We didn't want to glam it up," Freeman says. "Even from the outside, when you go to these homeless drop-ins, they don't have big signs so they won't embarrass the visitors. It's always a very small sign with a little buzzer, and everybody waits in perfect line. There is no disorder or rowdiness, and we wanted to reflect that in the way we presented the film."

The designer recalls preparing the exterior of the Yuletide Wonderful set in the center of Covent Garden two weeks before Christmas. "The biggest challenge for our department was prepping that set in Covent Garden," Freeman says, "with the public trying to buy all the props and dressing. Part of the deal with Covent Garden was that we didn't shut them down, especially given the time of year. We had one weekend to get the set together before the crew started filming on Sunday night. It was quite brutal, but the team did really well."

Discussing his director's vision, the production designer explains that Yuletide Wonderful had to be a believable shop, so they kept the frontage quite conservative. All bets were off when it came to inside. "Paul wanted the interior to be obscene in terms of the quantities and the craziness," Freeman says. "We dressed it with layers upon layers of decorations. He wanted it to be an enchanting kaleidoscope of Christmas. When we open the store, the lights pop on and there is a magical quality in there."

Set Decoration Raffaella Giovannetti, an Italian-based set decorator whose skill set is shown in her work alongside Freeman on Tomb Raider, Allied and Everest, served in this role for director Feig. Bringing the lush sensibilities that she provided to the look of Eat Pray Love, Giovannetti immersed herself in all things Christmas, even if that meant shooing away would-be buyers to her gorgeous shop throughout the production.

"The set of Yuletide Wonderful is based on a Christmas shop in York, which is a kaleidoscopic experience," Thompson says. "It's like walking into the spirit of Christmas, but the spirit of a person suffering from a bad anxiety attack. Kate can deal with it, and Santa keeps her on because she is a good salesperson; she knows how to sell because she knows how to charm. I have never had so much fun as trying to think of bad Christmas ideas like the Christmas gibbon. There are strange festive ideas out there, but the unusual abattoir worker gives me particular pleasure."

The set decorator introduces us to her process. "When I started to prep the film in September 2018, I started with the shop that was the last set to be shot, even though the entrance of the shop was shot at the beginning of the film," Giovannetti says. "Luckily, I did it immediately. Even if it seems unusual to look for Christmas decorations at that time of the year, it was almost late!"

As she contacted various companies that sell holiday fare and visited showrooms across Europe, the designer was as astonished as Santa herself to see the limitless options available to her. "It was amazing to see the Christmas showrooms," Giovannetti says. "It felt like entering into a fairy tale, as there were some beautiful pieces and some other very weird ones. From that moment, I had in mind the shop that I wanted: one full of colors, baubles, Santa Clauses, elves and weird decorations. I wanted to have the shop completely full of items, where not even a piece of wall of the two-floor shop was visible."

For the designer, dressing the Yuletide Wonderful shop was one of the most exciting sets she's crafted in her career. "I felt like a child," Giovannetti says. "We created shop bags with the shop name, small personalized presents, boxes, tags and shop labels. Everything was real and very funny. I've never bought so many Christmas decorations and fairy lights as I did for Last Christmas."

Echoing the production designer, Giovannetti was pleasantly surprised to find that the public didn't know the items weren't for sale. "When we prepped a small portion of the shop, built in one of the archways in Covent Garden, people who passed through didn't realize that the shop was fake," Giovannetti says. "They thought it was a new shop that had opened for Christmas. We had to put security barriers in front of the entrance doors because the public wanted to come inside to purchase items. They were fascinated by the items in the display windows and wanted to know when the shop would open."

For key scenes in which Petra and Kate bond over a day of shopping and eating in Covent Garden, the crew dressed 16 market stalls all related to Christmas. "We used the stalls from the market and replaced all the dressing," Giovannetti says. "Covent Garden Market is an open area, and we had to work around people who were shopping for Christmas." She laughs: "It was a nightmare!"

Although they began dressing sets very early in the morning, around 4:00 a.m., the square was packed with people. "Everybody was asking the price or touching and moving the dressing," Giovannetti says. "It was a continuous reply of, 'Sorry! It's not for selling! We are doing a film. Please don't touch it.'

As fastidious as she was about Covent Garden-based dressings, Giovannetti was just as painstaking throughout production. "The other sets were easier to prepare, even as I wanted to be very specific with all of them," Giovannetti says. "Jenna and Rufus' flat was young, fresh, alternative. I wanted to put a lot of green plants, as well as yellow and red colors. Kate and Marta's family house had an eastern European touch to it, keeping the color more monochromatic and with some classic style. The homeless shelter was full of art. I wanted to offer that residents created some of the paintings. The streets outside were full of fairy lights and festoons. It was a film full of joy."


The Cinematography
Faith
Finding Light in the Darkness

Academy Award®-nominated director of photography John Schwartzman and Feig have known one another since 1982, when they first met as friends and production partners at USC's School of Cinematic Arts. Schwartzman has shot blockbuster features from Seabiscuit and Meet the Fockers to Jurassic World, and recently partnered with Feig on his hit thriller A Simple Favor. For the DP, the almost four decades of shared stories means that collaboration is quite facile. "Having that history makes collaborating much easier," Schwartzman says. "There's a lot of water under the bridge."

When it came to the lighting restrictions of lensing in London during the peak season, the cinematographer and director worked in lockstep to capture the distinct holiday look their picture demanded. "The most challenging aspect of photographing Last Christmas was dealing with the restrictions imposed by the city when we shot in central London," Schwartzman says. "For the first three weeks of night filming, I was only allowed to use small battery-operated lights. No generators, cables or lighting machines were allowed to be used during the Christmas holiday shopping season. As a production we picked our locations very carefully, and we were very clever in how we incorporated holiday lighting put up by the city of London to get an exposure at night."

Likewise, Schwartzman has worked with Thompson, serving in the same cinematographer capacity on 2013's Saving Mr. Banks. Like the rest of his team, he acknowledges that the filmmaker/talent was first class on set. "It was my second film with Emma, who's the smartest person in whatever room she's in," Schwartzman says. "That makes life much easier."

As Golding co-starred in A Simple Favor, the DP was pleased to see the growth of the young thespian in such a short period. "This was my second film with Henry," Schwartzman says. "It was great to see his evolution as an actor. He has developed more depth and skill since I first worked with him several years ago."

While the cinematographer hadn't collaborated before with Clarke, he was equally as happy to see the film's leading lady step into her own on set. "Emilia was a delight," Schwartzman says. "Years of Game of Thrones has honed her mechanics. I have never worked with an actor who'd do anything you ask…without any push back at all."

Still, no matter how seasoned a vet Schwartzman is, he admits it was impossible not to fanboy out a bit when it came to the "Mother of Dragons." "She constantly reminded me that it was pretend," Schwartzman says, "and that there were no dragons in Game of Thrones, just a green barrel."


The Choreography
Move On
Secrets of Tom's Agile Grace

Choreographer Jennifer White, who created the movement for Elizabeth Olsen for her work as Scarlet Witch in all her Marvel films"and most recently worked as assistant choreographer on the magical Rocketman"was brought aboard the production to show Golding how to dance and move on the silver screen.

As Tom is just as likely to spin and twirl through London as Kate is to stumble through it, it was vital to show a dashing charmer who moved with the greatest of ease. One of the things that Kate first notices is just how deftly Tom bobs, weaves, slides and glides through the streets of their shared city…avoiding structures, navigating benches and bus-shelters, and making Kate begrudgingly swoon all the while.

"Emma, Paul and I had early discussions about Tom and about his movements," Golding says. "Tom has a grace and fluidity in the way he moves, so I suggested we have a movement coach to help me get a real feel for Tom. That's where Jennifer came in and helped me with learning to move with a lightness in my feet. In my sessions, I would climb up stairs or walk along embankments with a sort of cat-like prowess. I think the sessions helped me find who Tom is as a person."

Feig highlights how the movement of Tom and Kate speaks to their different attitudes towards life. "Tom's physicality is so wonderful and opposite to Kate, who schleps round with her suitcase dressed as an elf. You can see the weight of the world on her. Then you have Tom, who gracefully dances around people. It is the difference between somebody who loves life and somebody who's trying to run down the clock."

White says that Golding is a natural. "It was such a joy to work with Henry," she says. "He is a very smooth mover: Gene Kelly meets James Bond. He loves tap, so we played with some simple tap sequences. He made it all look effortless and improvised. He would try everything and find out what feels good for him…and keep those bits that stay well within his body."

Golding took like a duck to water in dance class, the choreographer says. "We had fun putting ideas together in the studio and using whatever we could find to create certain situations," White says. "Like those fitness step-up boxes"they helped us work out some moves to dance on and off the curb smoothly…up and down and turning around without tripping up."

By placing different obstacles in the studio"to act as, for example, pedestrians or lamp posts that Tom could maneuver around"White and her team allowed Golding to experience the constant flow of energy needed for certain movements, all while delivering his dialogue. "The timing of the movement"doing the sliding, turning, jumping, waltzing"just in time to miss a collision with someone or something, was key," White says. "Henry seamlessly moved from being pedestrian to a movement magician. He had to be on point, as did our supporting artists. Luckily, we didn't have any bumps."

While teacher and student hoped to take their act on the road, Golding's professor was mindful of the attention the Crazy Rich Asians heartthrob would assuredly draw from passers-by. "We wanted to try it all on the streets, but it would've pulled attention if it was Henry 'Cool' Golding dancing around…" White says, laughing.


The Costume Design
This Is How
Kalfus Dresses the Holiday

BAFTA-nominated costume designer Renée Ehrlich Kalfus, whose stunning work on films from Chocolat to Hidden Figures and A Simple Favor shows a period-spanning range of talent, recalls her first impressions on reading the screenplay. "I loved the script; it is just so moving and beautifully written," Kalfus says. "The idea of doing a Christmas story, told in such a particular way with every human element involved, was incredibly compelling to me."

The reunion with Feig was a joy for the costume designer, who appreciates that her director is impeccably, and nattily, ensembled. "It is wonderful working for Paul because we have built a trust," Kalfus says. "Paul's taste level is intense and amazing; he is always dressed beautifully, and he sets that bar pretty high. However, when you work with somebody over again, there's a certain language that develops and it's highly collaborative. Paul wants you to bring your best; everyone on this project wanted to bring their best game because of the calibre of the people involved."

Kalfus knew that the differences in the two principal characters' disposition and outlook had to be evident in her costumes. "When we had our first fitting with Emilia, she had just flown in," Kalfus says. "She kept picking up these pieces of costumes and clothing and saying 'Oh, I know this girl. I know this girl.' When Emilia put her faux fur coat on, she looked incredible. What is interesting is you don't often keep people in the same coat these days in movies"every scene is a different costume"but we've done a lot of old-school repeating." Considering that our leading lady has been through a life-altering medical event, it's understandable. "Kate's jacket is like her blankie," Kalfus says. "It is her creature comfort, and she needs it."

One of the biggest production challenges for Kalfus was the elf outfit that Emilia wears for much of Last Christmas. "We tried this costume out tirelessly; we camera tested it, and we went through many iterations of the hat," Kalfus says. "'What kind of hat would be funny? How funny should it be? Would Kate have different hats for different scenes?' It was a lot of fun in terms of design, but the best bit is Kate's elf shoes. We came up with the idea of making spats that snap on and off. Kate has these very high-heel chunky Doc Martins, and the elf shoes snap on around those so that she can maintain that comic balance. Emilia is wonderfully physical in her world."

While Kate's elf outfit is the one she wears for her job working with Santa in the year-round Christmas shop"and the costume she is constantly changing in and out of throughout London"her boss's clothing is chic and sophisticated. "Santa is a very interesting character," Kalfus says. "She is a self-made woman who is so clever and street-smart. She calls herself 'Santa' as that is her stage name. Likewise, her look is quite theatrical."

It's nearly impossible to make Yeoh look unfabulous, and Feig and Kalfus weren't about to try. "Paul wanted Michelle to be striking," Kalfus says, "so we decided that we would make this entirely fantasy, very glamourous wardrobe for her. The Yuletide Wonderful shop is Santa's stage. She has her elf Kate and all the decorations and lights, but she is always center stage, looking fabulous."

Not to be outdone, Golding received just as much attention from Kalfus and her design team as did the ladies. "Tom has an ethereal presence," Kalfus says. "He is aware of his surroundings, and he guides Kate on her path. His look is slightly nostalgic. We bumped up the style but kept it classical; our references for him were Steve McQueen and Paul Newman. I called Ralph Lauren and asked if they could make a trench coat, a short one that flipped up a little, with suede in the back. This detail gave him a swish when he danced, and it's very light. Everyone else is covered up in wintery clothing, so it helps Tom to stand out as different."

Working throughout the night on location during the Christmas holidays was an unusual experience for every team, including costumes. "It was surreal because we were shooting from 2:00 in the morning until noon the next day," Kalfus says. "At first, we were all in a panic. Usually, costumes are held on a large truck and everything is together, but because we were in central London, the hair, makeup and costume departments moved from hotel to hotel"setting up in a new location every couple of nights. It was worth all the effort, though. It was beautiful to be in Covent Garden and the surrounding areas during this quiet time."

The designer recalls being slightly nervous about her first meeting with one of her producers. "Dame Emma Thompson is coming into the fitting room, and I'm going to be putting her in thrift-shop, used clothing," Kalfus says, laughing. "The clothes are totally appropriate for her character, but I was not sure how she would respond. Thankfully, she came in, looked at the rack of costumes and said it was perfect. She put on the clothes and transformed into Petra; she is just extraordinary."

In addition to clothing the stars, Kalfus' team had to dress an entire homeless mission full of characters. To achieve authenticity, the costume designer and her team went out and visited a number of shelters. "We took a lot of pictures, and we all talked about to what extent people were in those shelters," Kalfus says. "We didn't want it to feel stereotypical. We wanted to show that anyone can be a single step away from being unable to pay their bills and falling into poverty."


The Hair And Makeup
Wake Me Up! Before You Go-Go
Giving the Cast a Seasonal Look

Oscar®-nominated hair and makeup designer Daniel Phillips, known for stunning transformations in such films as Victoria & Abdul, Florence Foster Jenkins and The Queen, captained the team that was tasked with bringing the holiday spirit to the entire cast of the production.

"After my initial consultation with Paul to discuss our characters, my direction for Kate was to create a 'chic-grunge' style," Phillips says. "This is a young modern woman, strong-willed and independent but also with a self-destructive mode."

With Clarke, Phillips created a canvas for Kate that portrayed her desire to be somewhat anti-establishment. "We wanted Kate to be going off the tracks whilst retaining a loveable, endearing quality," Phillips says. "It is important that the audience empathize with her. This is a feel-good Christmas movie, and a key factor of that is that all of the key protagonists should look appealing to the eye." He pauses. "This is, after all, a love story."

Considering that Clarke was wrapping her role as Daenerys Targaryen in one of the most iconic series of modern history, it wasn't surprising that there was nary a long tress to be found when she arrived on the set. "Emilia came to us with a very short, boyish haircut," Phillips says. "By dyeing her hair very bleach blonde"with added dark roots and hair extensions along with cutting the style to a 'smashed bob'"together we were able to create a dishevelled, messy, 'bed-head' effect… with perhaps a little too much eye makeup." Even bleary eyed, Clarke is stunning. "We wanted to make her the type of character that likely slept in makeup and just added more the next day! This all helped to bring Kate to life," Phillips says.

The hair and makeup designer knew that he wouldn't have to fuss much to imbue classic beauty Yeoh with an elegance that belied the character's hidden longing for a love of her own. Describing his inspirations with the actress, Phillips says: "Michelle as Santa is classic glamour. This is a wealthy, strong single businesswoman whom we knew would be impeccably dressed"probably by her latest designer circle of friends. She visits the hair salon a few times a week."

This provided Phillips and Yeoh an opportunity for whimsy in exploring the character. "Santa's various hairstyles are somewhat overstated, but always expensive," Phillips says. "Her first appearance can be a little stern, but there's a soft, motherly side to her. I actually fashioned her on the Chinese woman who purchased my house. She always looked so glamorous."

While Phillips and Golding provided Tom the handsome, boy-next-door look"the kind of man that every mother would love"the other love of Kate's life proved to be a bit more challenging. When it came to Petra, whom Phillips says is "wrapped with guilt and worry for Kate...and life in general," the designer worked with Thompson to drab down the character, giving her a look that was "unfussy, motherly and stressed in appearance," according to the artist. "Emma and I thought that Petra wasn't taking the time to look in the mirror and take care of herself."

Last Christmas
Release Date: November 7th, 2019