Jangle Rock Outfit Eaglemont Releases New Single Hound
Melbourne jangle rock project, Eaglemont, is the brainchild of Bridgitte Jessop, who's back and baring all in her angsty new rumbler, 'Hound', due for release Friday 3 May. It's been a year and a half since Eaglemont cut her teeth on Melbourne's live scene with the release of her debut 7" 'Mediocre at Best/Uppercut', plus two sold-out shows at Melbourne's Gasometer Hotel in 2018. Eaglemont has crafted an insatiable brand of indie rock that delivers hooky guitar lines with emotionally intelligent and introspective lyricism. Eaglemont invites listeners into her corner of the world relating to audiences through stories of love, friendship and identity.

'Hound' reflects on mental health and the desire to protect your loved ones from your shortcomings. Brandishing a velvety tone with crashing drum beats, Jessop's distinct vocals are reminiscent of an androgynous tone. Producer, James Seymour (Merpire, FEELDS), worked closely with Eaglemont on the single, backed by the powerhouse that is Eaglemont's live band. With music and lyrics written by Eaglemont herself, the compelling lyrics remind us all to respect that everyone has their own race to run.

Listen to 'Hound' here.

"The song represents the potential desperation of not wanting to burden the people around you with the need for help or the admittance of personal dysfunction. The overarching theme of "Hound" though, is to always seek help when required, to support the people in your immediacy and to be kind as a general rule." – Bridgitte Jessop

Beginning her musical career at age 5, Eaglemont was trained classically in violin before moving onto acoustic guitar inspired by artists, Missy Higgins and City and Colour. Early songs, 'Texas' and 'Swept Away' feature an acoustic sound whereas Eaglemont's newer releases feature the fuzz of an electric guitar. Translating her classical violinist teachings to self-taught acoustic guitar, Eaglemont began penning songs in the hopes of articulating the unique challenges of growing up and constantly relocating. Eaglemont to most is a leafy suburb situated in Melbourne's inner north, but to Eaglmont, it is a symbol for home regardless of geographical realities.

Now, an undeniable up and coming talent commanding attention, who magnetically draws you in with the relatability in her songwriting, and in her live sets, don't miss your chance to see Eaglemont perform during May when she supports Ceres live nationally or at her Melbourne launch for 'Hound' at Melbourne's Old Bar.

Eaglemont 'Hound' Single Launch
Friday 14 June - The Old Bar, Melbourne Vic
Supports: TBA
Doors: 7.30pm
Tickets: $10 presale, $15 on the door via www.theoldbar.com.au


Interview with Bridgitte Jessop
Question: Can you tell us about Eaglemont?

Bridgitte Jessop: With an upbringing consisting of perpetual relocation, a tiny, leafy suburb in Melbourne's inner north called Eaglemont will always be my home regardless of geographical realities. Trying to embody this feeling of home, I decided to perform under the name of the suburb itself, in hopes of capturing and expressing all the sentiment and feeling of home through the medium of the thing I love the most, music.

Eaglemont started and continues to be a solo project but has grown and developed from an acoustic singer-songwriter based project to the jangly rock, band backed, electrified version you see today!


Question: What inspired the single, Hound?

Bridgitte Jessop: The crux of 'Hound' is empathy and mental health. Like most people, especially creatives, the reality of the highs and lows of living can have an effect on mental health and I wrote the song in a panic, trying to prioritise not burdening the people I love with my own shortcomings. 'Hound' also serves as a reminder that everyone is fighting their own battles and how important it is to just be kind.


Question: What can audiences expect ahead of the national tour with CERES and headline show in Melbourne?

Bridgitte Jessop: A socially conscious rock show based on a foundation of experiences of growing up as a queer female, day jobs, love and heartbreak. A good time with a conscience!


Question: Which is your favourite song to perform live and why?

Bridgitte Jessop: I love playing 'Hound.' Aside from it being fresh and brand new, the driving nature of the song and the way the band and I play it live makes it the best set ender. Plus I get to solo! Other than that the usual fan favourite, the song we've been playing live for the longest 'Texas' is a close contender.


Question: If you could have anyone, in the world, attend a show, who would it be?

Bridgitte Jessop: Hard question, probably Courtney Barnett. I feel like as a female indie rock singer/songwriter I owe a lot to Courtney. I think stylistically and also the way she has unapologetically created and performed music has opened a lot of doors for female artists such as myself so performing for her would be a dream.


Question: Do you prefer performing live or recording?

Bridgitte Jessop: I love creating music and the processes associated with building a song from its rawest form to finished product but the high from playing live cannot be understated!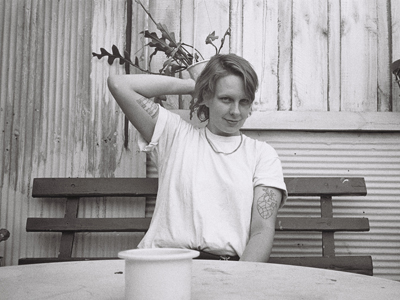 Question: What motivates you most when writing music?

Bridgitte Jessop: The process itself is super cathartic. The motivation behind writing songs is the act itself for me. Translating them into live performance and recording them, I'm motivated to make the most authentic product and to perform my songs as the truest reflection of myself and my artistry.


Question: Which music/artists are you currently listening to?

Bridgitte Jessop: I've had a Snail Mail's album "Lush" on repeat basically since it came out, as well as a lot of Soccer Mommy and The National's new record.


Question: What or who was your inspiration to go into the music industry?

Bridgitte Jessop: I remember going to a Missy Higgins show when I was 16 and like lots of young female singer songwriters was completely blown away. It was a real catalyst moment where I remember thinking to myself, "wait maybe I can actually do this."


Question: If you could collaborate with another artist, who would it be?

Bridgitte Jessop: So many, too many to nail down just one. I'd love to collaborate with a number of local Australian artists, Middle Kids, Alex Lahey, Courtney Barnett to name a few! Internationally I'd love to get in the same room as Dallas Green or Sharon Van Etten.


Question: What's a typical day like?

Bridgitte Jessop: Like most musicians I supplement my musical ambitions with a day job, so if you see me flipping burgers or pouring beers come and say hi!


Question: What's next, for you?

Bridgitte Jessop: Back to the studio and a mini regional tour with Porpoise Spit in July!


Question: Can you share your socials?

Bridgitte Jessop: @eaglemontbridge/
Facebook
https://www.eaglemontmusic.com/


Interview by Brooke Hunter