With society's growing emphasis on wellbeing, this summer's design trends will see a return to calm, natural tones that speak of personal growth and regeneration. The Cultivate palette – one of the four trend colour palettes identifed in the 2020 Dulux Colour Forecast 'Essence' – mixes soft, earthy greens and blue-greens with a sprinkling of bold, 70s accents, such as plum, mustard and dusty violet, making it the perfect choice to refresh your home for the new season.

"Cultivate is nature's palette," says Andrea Lucena-Orr, Dulux Colour and Communications Manager. "Greens make us feel relaxed and connected to nature. They hint at new growth and fresh beginnings, which can evoke a sense of optimism and creativity.

"Greens are easy to live with and work brilliantly in both traditional and contemporary homes. With their warm undertones and an earthy feel, greens are best paired with a warm white with a bit of depth, such as Dulux Whisper White – one of Dulux's Most Loved Whites.

"A sense of nostalgia has been creeping into design trends for a while now, and in 2020 this will be expressed with 70s references – think shades of eggplant and curd alongside warm timbers and touches of coloured ceramics and glass. Injecting these unexpected colours and elements into a muted, earthy scheme, from the Cultivate trend, is also a great way to add personality and fun," she says.

To demonstrate just how effective colour can be in bringing your home up-to-date, stylist Bree Leech transformed an allwhite living and dining room using the Dulux Cultivate palette.

"These two spaces have great foundations – natural light streaming in through glass doors in the living room and a large picture window in the dining room, warm timber flooring throughout and garden views," says stylist Bree Leech. "The spaces were painted in a beautiful timeless warm white, Dulux Whisper White, but we still felt the rooms could have more life and personality."

"We wanted to make the spaces feel fresh, contemporary and welcoming, without making any huge – or expensive – changes. To keep the budget in check, we focused on making affordable updates with colour and accessories, keeping investment pieces such as the sofa, coffee table, rug and dining table whilst using the existing joinery as inspiration for the design of our colour feature.

"The frst step was fnding the right accent colours to work with Dulux Whisper White, as well as connecting all the existing décor between the spaces. The Cultivate palette features beautiful greens and all of them harmonise with the subtle warmth of Dulux Whisper White, which has just a hint of ochre in its undertone.

"The Cultivate trend was a natural choice for our inspiration here as it blurs the lines between inside and out and sits comfortably alongside the timber floor, built in joinery, and the neutral grey sofa upholstery," she says.

"To make a distinct colour feature and tie it back to the existing design elements in the room, we used the top of the joinery to dictate where the colour would fnish on the living room walls and chose Dulux Powdered Gum – a dusty, leaf green and the perfect accent to feature with Whisper White. Keeping the upper portion of the walls and ceiling white is unexpected, which makes the existing joinery a stronger design feature in the space.

"This look is all about natural colours and textures, so to add interest and contrast we replaced the existing occasional chair and ottoman with a rattan armchair that has an outdoor summery vibe, and a deep green ottoman upholstered in a tactile felt fabric. Matte black accents in steel, stained timber and cane add subtle Japanese styling details.

"To create a lush, layered effect, we added vessels and planters in a spectrum of green and in various materials such as ceramic, resin and glass, flled with indoor plants. Soft mauve blue (Dulux Niche) and mustard accessories create some colour contrast in the tonal scheme. The sofa is layered with scatter cushions in botanical prints and hues to create an inviting place to rest and enjoy the view.

"To give the dining room its own distinct character, whilst maintaining a connection with the colours in the living room, we chose a soft yellow-green shade (Dulux Water Reed) for the window wall and the kitchen bulkhead. On the built-in console a table lamp in rich forest green makes for a striking tonal contrast and draws on colours from the living room, connecting the spaces," says Leech.

"Paint is a homeowner's secret weapon," says Lucena-Orr. "It's fast, affordable and can completely change the look and feel of a room in as little as a few hours.

"Use it to transform your walls, repurpose pieces that you've grown tired of, or add that little element of surprise to shelves or niches. There are no rules about what you should and shouldn't do – it's about using colour to express your personality and creating a home that's uniquely your own," she says.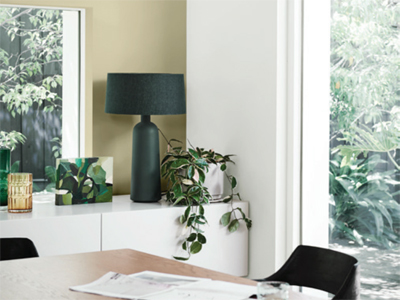 Summer Styling Tips

Power of contrasts: Add interest by mixing different materials, such as timber, felt, rattan, velvet, glass and steel.

Keep it casual: Think relaxed, low-slung seating and complementary pieces with textured natural materials and an outdoor style.

Mad about rattan: A sleek rattan cabinet or armchair will suit this scheme's natural aesthetic, while adding a contemporary touch.

Japanese subtlety: Seek out pieces with subtle Japanese styling cues such as black stained timber, handmade ceramics or delicate botanical prints.

Light and bright: Keep window furnishings simple – think linen sheers that let the sun flter through.

Green goodness: Finish off this natural look with cascading greenery and potted plants in all shapes and sizes.