Dr Ginni Mansberg Vaginal Dryness Interview
Vaginal dryness is one of the most common of all vaginal discomfort concerns and is experienced more often than odour, itch or yeast infection. It can occur at any age or any stage of life.

There are many causes for vaginal dryness including menopause, hormonal imbalances, stress, taking certain medications, wearing tight clothing, douching or using regular soaps and body washes.

A study found that of the 1.8 million women who suffer from dryness:
31% experience it more than once a week
17% experience it every 2 or 3 weeks
51% don't use any product to treat it

Additionally, research shows that vaginal dryness is most likely to affect women during sexual activity. Among the women studied:
76% experienced dryness during sexual activity
69% found dryness most bothersome during intimacy

As well as causing physical pain, vaginal dryness can also trigger emotional insecurity and lead to relationship troubles as many women will often avoid intimacy.

'… (dryness) makes sex hard if no lubricant is around … I didn't realise until then how much it could affect my partner so that made me feel embarrassed & wonder why I am like that." (25-34, VIC)

If you are one of these women then you will know how dryness can impact not only your confidence but also your intimate relationship. That's why it is important to have a reliable, safe and effective product on hand to relieve dryness for more comfortable intimacy.

Vagisil, the global leader in intimate health care for over 40 years, introduces two unique new products to relieve dryness and replenish dry and uncomfortable vaginal skin, so you can feel more comfortable and enjoy intimate moments with confidence.

Vagisil ProHydrate® Plus Internal Hydrating Gel provides long-lasting relief from vaginal dryness for more comfortable intimacy. The single use, pre-filled applicators contain a bio-adherent formula that coats the vaginal wall and slowly releases moisture over time. The gel also contains ProHydrate® Complex, a unique blend of moisturises, including Hyaluronic Acid, which mimic a woman's natural moisture. One single use applicator of ProHydrate® Plus Internal Hydrating Gel offers relief for up to three days.

Vagisil ProHydrate® Plus External Hydrating Gel provides instant relief from vaginal dryness for more comfortable intimacy. The gel contains ProHydrate® Complex, made up of a unique blend of moisturises including Hyaluronic Acid, that targets the source of dryness and mimics a woman's own natural moisture. The external gel can be used daily to provide instant relief and regular use can actually make the intimate skin feel healthier. It will leave skin feeling hydrated and supple, all while restoring confidence.

Both gels are gynaecologist and scientifically tested, pH balanced, paraben free and contain no added perfumes, dyes, preservatives or estrogens.

Australian women now have the option of an internal or external dryness solution to feel comfortable, confident and enjoy intimacy whenever the moment feels right.

Vagisil ProHydrate® Plus Internal Hydrating Gel and ProHydrate® Plus External Hydrating Gel are both available from Chemmart and most leading pharmacies priced at: Vagisil ProHydrate® Plus Internal Hydrating Gel, 6 applicators (5g each) - $21.99RRP Vagisil ProHydrate® Plus External Hydrating Gel, 30g - $9.99RRP



Interview with Dr Ginni Mansberg
Question: Can you talk us through the issue of vagina dryness and the difficulties it presents for women?

Dr Ginni Mansberg: Vagina dryness is actually really common and while it is really, really common in women who have gone through menopause and breastfeeding women – it's also common in everyday women particularly around sex; it may not be that they have a dry vagina all the time but when they go to have sex, they dry up and therefore sex becomes uncomfortable.

Vagina dryness is common for about half of all women in menopause and breastfeeding but approximately one in five women generally experience vagina dryness.


Question: Why do you think many women are afraid to bring up vagina issues to their friends and partners?

Dr Ginni Mansberg: I don't know as they often don't bring these issues up with me, their GP, either and I can't tell anybody. Generally I'll discuss vagina dryness when I go to do a Pap Test and I'll notice that they are very uncomfortable before the test as they're fearful of what is about to happen but also you can see vagina dryness when you do a Pap Test. Often it is me, the Doctor, who has to initiate the conversation as many women believe it is normal and that there is no answer or help, for them.

I think women are embarrassed because it can lead to problems in the bedroom women just don't know where to start in having the conversation. It can be very difficult to say to your partner, due to the stereotype surrounding foreplay, that you can shake your body at a woman and that's all the foreplay she needs to be lubricated before sex - it's a very complex piece because that's not how it rolls. It's hard for women to talk to their partners about the fact that sex might not be doing everything for them.



Question: How is vagina dryness treated?

Dr Ginni Mansberg: It's critical to get the information to women to inform them that vagina dryness is not good and you do not have to suck it up as there are many treatment options available.

You don't always need to talk to your GP about vagina dryness; a GP will offer a prescription of vagina estrogen to women after menopause and that is a cream which is a low dose of incredible affective cream which doesn't get into the blood stream, it is very safe however requires a prescription from your GP. I don't believe enough women are on vagina estrogens.

For other women, there is KY Jelly for the bedroom which is problematic due to being cold as a male doesn't want to rub cold KY Jelly all over he's penis as it is very unsexy, slippery and has a consistency that gets everywhere. Puberty Blues showed us the Vaseline which is not good for the vagina. I suggest vagina moisturiser which can be used on an ongoing basis and not just during sex which will make sex bearable but not great, it could still be uncomfortable.

Vagina moisturisers are available over the counter although one of the problems is that often pharmacy assistants are young and the pharmacist is often a male over 65 years of age – both of which are people you don't want to be having the conversation with. Thankfully online saves women, it's a safe place where a women can locate information, on her own and then walk into the pharmacy and choose what she wants, from the shelf.


Question: Can you talk us through the importance of vagina pH?

Dr Ginni Mansberg: This is unknown as at the Vagisil Ladies Lunch I asked 'Should your vagina be acid or alkaline"? Most women said alkaline however alkaline is poisonous to your vagina and will cause the cells to dry out and separate causing inflammation and dryness as well as bacterial issues that cause smells and I see that in women who wash, too much. A high quality soap has a pH level of 8 and a fruity bodywash have a pH level of 11 not too dissimilar to a dishwashing liquid which disrupts the vagina pH and allows the overgrown cell bacteria (smelly bacteria) and thrush as they love an alkaline environment. Your vagina is the most acidic part of your body, it is extremely acidic and we want to keep it that way and to do that you want to avoid soap particularly cheap and nasty soaps. I suggest specialised products ideally for the vagina that are pH balanced as the vagina is more acidic than normal skin.



Interview with Vagisil
Question: How is Vagisil promoting talking openly about vagina issues?

Vagisil: Vagisil created a series of Intimate Ladies Lunches, which invited female bloggers and media to get together and talk openly about one of the most wonderful and important parts of the female body…the vagina.

The vagina and its many issues have been a pretty hot topic of conversation lately, which is great to see, but as a community we tend to shy away from having tough conversations. There's no doubt the vagina is on the no-go list of women's health topics…but this shouldn't be the case.

Looking and feeling your best isn't just about having great facial skin and looking good on the outside. Confidence can be affected by many aspects of our lives.

Recent research reveals that an astonishing 1.8 million Australian women suffer with vaginal dryness. That's close to 1 in 4 of us.

Vaginal dryness is one of the most common of all vaginal discomfort concerns and is experienced more often than odour, itch or yeast infection and it can occur at any age or any stage of life.

There are many causes for vaginal dryness including menopause, hormonal imbalances, stress, taking certain medications, wearing tight clothing, douching or using regular soaps and body washes.

For the Intimate Lunches, Vagisil partnered with the wonderful Dr Ginni Mansberg who educated guests on the vagina and in particular, the issue of vaginal dryness.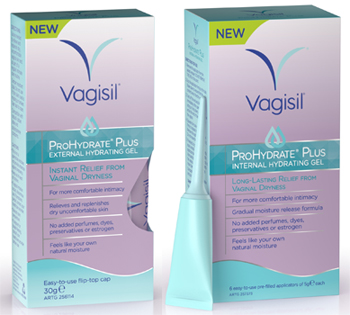 Question: How can we ditch the taboos in our friendship groups and talk about intimate health?

Vagisil: On the whole, women pride themselves on being open and talking about the things that affect us, but the reality is, there is a line that many women won't cross.

Encouraging women to talk more openly about their intimate health allows us to educate others on issues and concerns they may have.

In many cases, Vaginal dryness has a serious impact on people's lives but a simple over the counter product such as Vagisil ProHydrate® Plus Internal Hydrating Gel or Vagisil ProHydrate® Plus External Hydrating Gel , can provide instant relief and bring comfort…an even spontaneity back into their lives.

If women aren't comfortable talking about their concerns then they may never know about what treatments are available to them…and they suffer unnecessarily.


Question: Why does vagina pH matter?

Vagisil: pH is extremely important. The vagina is acidic – believe it or not – and using products that don't match the natural acidity of the vagina can cause all sorts of issues. This can be fragranced soaps and body washes. It's important to use products that are specifically designed for our intimate areas.


Question: What do you hope to achieve from your partnership with Vagisil?

Vagisil: Our aim was to educate influential women on the importance of understanding their intimate areas and being comfortable talking to their friends and GP about any issues they have. It was also an opportunity to start the conversation around a fairly sensitive topic and hopefully allow the conversation to continue.


Interview by Brooke Hunter