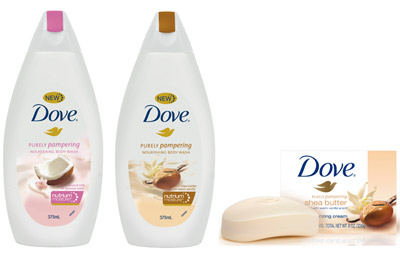 Dove Purely Pampering Range
1 in 3 Australian women shower with their phone in the bathroom!
With 95% of Australian women saying they shower as a way to relax, Dove is encouraging women to leave their phone at the door and indulge in a relaxing shower with all new Dove Purely Pampering Bodywash.

The Dove Purely Pampering Index, revealed that showers are not always the zones of tranquility they should be, with many Australian women unable to detach themselves from their mobile phones even in the shower. More than 1 in 3 women have taken their mobile phone with them into the bathroom, and 29% admitted to stepping out of the shower to take a phone call.

With the launch of Dove Purely Pampering Bodywash and Beauty Bar, Dove is pledging to bring back me-time by calling on women to leave their phones at the door, and reclaim the shower as a me-time only zone. Blending wholesome and luxurious ingredients with Dove's revolutionary NutriumMoisture™ technology, the everyday indulgent range will leave you feeling nourished, pampered and good as new.

Show your skin some love and work up a luscious lather with the delicious scent of Shea Butter with Warm Vanilla or heavenly Coconut Milk with Jasmine. The Dove Purely Pampering is one indulgence you really won't want to step out of the shower for, no matter how important the phone call.

The Dove Purely Pampering range offers a shower experience that nourishes and pampers.
The range includes:
Shea butter with Warm Vanilla body wash 375ml $7.36 RRP
Shea butter with Warm Vanilla beauty bar 2-pack $4.99 RRP
Shea butter with Warm Vanilla beauty bar 4-pack $8.19 RRP
Coconut milk with jasmine scent body wash 375ml $7.36 RRP

Stockist Info: 1800 061 027
www.dove.com

Shop online and discover Bobbi Brown's full range of makeup, lipstick, mascara, foundation, skincare and more!
Buy skincare, makeup and more from Estee Lauder's online store.