A Never-Ending Adventure
Cast: Dhanush, Bérénice Bejo, Erin Moriarty
Director: Ken Scott
Genre: Comedy, Drama
Running Time: 92 minutes

Synopsis: Based on the international best-seller, and in the tradition of Forrest Gump, The Extraordinary Journey Of The Fakir takes us on a wild ride of coincidence and circumstance. Aja, a young fakir (magician) from the streets of India arrives in Paris in search of his past and his future. He falls headover-heels for Marie, whom he meets amongst the cabinets and couches in an IKEA store, and plans to meet up with her again the next day. When he accidentally gets stuck in a wardrobe that is shipped in the night to the UK, Aja finds himself on the run from border police and bandits alike. As he tries to make his way back to the city of love, Aja finds himself crossing many borders and meeting many colourful characters. Will fate and a briefcase of magic tricks be enough to get him back to Marie and the father he never knew?

The Extraordinary Journey Of The Fakir
Release Date: May 2nd, 2019


About The Production
Preparing for the film gave rise to long stints in many countries. Filming in India started in April 2017 in Mumbai " in the colourful alleys of Worli, at the edge of the ocean, a fishing district in which hero's childhood unfolds. The workplace of Siringh, Aja's mother, is the famous Dhobi Ghat outdoor laundry through which the linen from the nearby hotels passes through, and where more than two thousand people work. A brilliant Indian team experienced in local productions guided the European team in sweltering heat.
The filming continued in Paris, in Brussels and its surroundings, then in Rome, right at the beginning of tourist season. Filming at the Trevi Fountain resulted in a funny face-to-face with the Italian police, who wanted to send the team away from the famous masterpiece by Nicola Salvi. In Paris, Ken Scott looked at street corners for new angles in famous places. Drones complemented by SFX made it possible to film a small paper aeroplane from the Eiffel Tower to the Père Lachaise cemetery.

A renowned Bollywood choreographer, Vishnu Deva, as well as several Indian dancers came to supervise the rehearsals and the shooting of the dance sequence. Dhanush, recognised everywhere in India, but appearing for the first time in Europe, brought his grace, talent, impromptu dance steps and songs, and the delicious vegetarian cuisine of southern India to the shoot.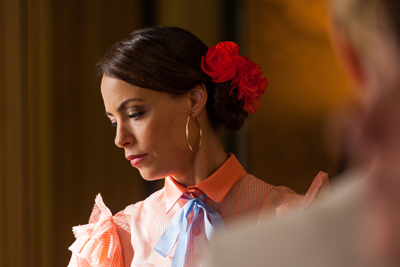 Dhanush On…

The Screenplay
There was a great message to the world, combined with irresistible humour. It was also the promise of a journey that I had not yet attempted in my career: we rarely have the chance to be offered such a role.

The Character of Aja
He's a magician who does his tricks in the street. He is charming and knows how to get out of most s tricky situations. But he's also a character that most viewers can identify with, because he has a deep philosophy of life and he does not hesitate to embark on amind-blowing adventure!

Ken Scott
Ken is an extremely pleasant director and at the same time has a very clear idea of what he wants. It's great to be led by someone who knows how to bring you to exactly where he wants and how that allows you to understand your character. He encourages real teamwork, and we were able to build the scenes together, taking inspiration from both his approach and mine. I have learned a lot from him.

Cast Members from Around the World
It was fascinating to work with actors from different countries and cultures. I really enjoyed discovering their approaches to acting, especially as it is a very rare experience.

Bérénice Bejo
Bérénice Béjo is adorable and very good companion in the game " she is warm, encouraging and cooperative. We spent excellent moments together, my favourite one being the dance sequence.

The Bollywood Dance Scene
It is an art form that is an integral part of Indian culture. I shot about thirty films in India where, for the most part, I had dance scenes. As I dance regularly, I did not really need to prepare for it.

Bérénice Béjo On…

The Project
What I liked from the start is that it is a resolutely optimistic fable that runs through several countries and cultures. It is also a very popular family film, and I had shot so many dramas previously that I was happy to participate in this kind of movie. The FAKIR's message is that even if you do not realise your dream at the end of the day, it's important to have taken the journey that leads you there.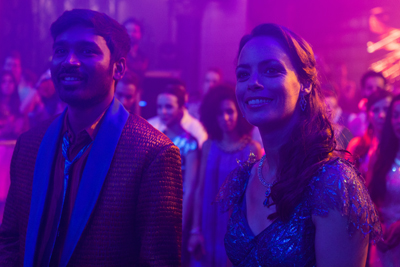 The Character of Nelly
Nelly is a very famous movie star who has come to a moment in her career where she is a little bored. She has already seen everything and nothing else amuses her. When she meets Aja, he comes from a world so different from hers that she appreciates his presence. So, they become friends: she becomes aware that she can undoubtedly find what she has lost thanks to him. Aja allows her to return to simple things and to believe in new dreams that she may have forgotten.

Ken Scott
Ken is very precise and has a very good sense of rhythm and humour. With each new take, he encouraged us to change our perspective and explore different paths. As a result, our performances evolved from one take to another and got closer to what Ken was looking for. It is very rewarding to work with him because he gives us a set that we understand and that brings us elsewhere.

Facing Challenges
My first challenge was my character. I was playing an archetype more than a character, so I had to make sure she didn't come across as too stereotypical. My second challenge was the Bollywood dance number with Dhanush. As I am not a dancer, I had to train three hours a day for a month for three minutes of dance on the screen! It was difficult but it was worth it.

Working with Dhanush
It was very simple. I have a lot of scenes with him where I speak incessantly while he listens to me, so I was always asking him what he thinks of my performances! He's always very prepared, he knows his lines, and he is very professional. It was wonderful working with him.

The Most Unforgettable Scene
The sequence in front of the Trevi Fountain was wonderful. It was inspired by Italian cinema of the fifties and sixties. Shooting a scene there was very emotional for me.

Erin Moriarty On…

An Extraordinary Script
I had never read a project like this. At first I was very aware of the sensitive topics mentioned in the script, but I was drawn to the theme around the difficulty of finding great love. Moreover, he there is a fantasy and a fantastic dimension in the scenario that give the feeling to read a story from a book. It's not very common in the cinema contemporary and I love it!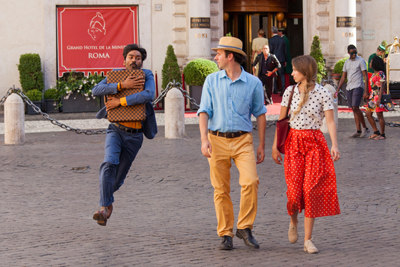 The Character of Marie
When we meet Marie, we understand that she is a little lost. Like many young girls in their twenties, she is going through a period where she affirms her independence and discovers her true identity. In the past others who have made the decisions for her, be it an ex-fiancé or her parents. In Paris, she discovers her own way. That's when she meets Aja and cannot help but fall in love with him. She has to balance her desire to keep her independence and her feelings for Aja. I think she evolves a lot throughout the film.

The Heart of the Narrative
This story is a true lesson for both Aja and Marie. Aja comes from an isolated world and, on arriving in Paris, he broadens his horizons. Marie discovers who she is without being influenced by her parents. As we grow older, we realize that our views on the world have been widely shaped by our surroundings. As a result, the trajectory of Aja and Marie throughout the film allows them to assume their true identity. Not to mention that for Aja, it is of a first love that is often a rite of passage for a young adult.

An International Production
I had never experienced a shoot that brings together actors from the four corners of the world. And even if I love Paris, it's a city that reminds me New York. On the other hand, I had the feeling, while going to Mumbai, of landing in a completely different universe. It was very interesting to compare how Dhanush, Ken and I look at films. Plus, I was able to unite my two passions: play and travel! Moreover, I felt that this experience broadened my horizons.

Ken Scott
He is a very generous director, and he doesn't hesitate to push you because he has an extremely specific idea of the results he wants. He is a great hard worker, yet manages to stay constantly relaxed. He installs a positive and communicative energy on set.

Gérard Jugnot On…

The Project
Even though initially I was afraid to shoot in English, I found the book full of fantasy and poetry, and Ken Scott's name caught my attention. Indeed, I am a great admirer of [Ken's previous project] LA Grande Seduction.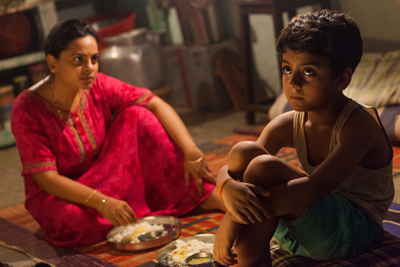 The Character of Gustave
He is an archetypal taxi driver who, in my opinion, is somewhat unlawful! I'm not sure he's not a swindler...He complains about Uber but it's because of guys like him that rideshare companies have grown! But even if he connects his clients, he is also a philosopher and is very personable.

Ken Scott
What was funny was that we were shooting in English while he is French-speaking. He is precise and he knows what he wants. Since he is also a screenwriter, he did not hesitate to rewrite some scenes. I panicked a bit because I put a lot of time into memorising my lines and I didn't really want them to be changed!

Being an Actor-Director
As I myself have directed 11 films, I stay all the more at the director's service: I probably understand more why the director makes this or that decision, and why I'm asked to do this or that thing. So, I'm more at ease to redo scenes as I understand the directors' motives behind the decision.

The Extraordinary Journey Of The Fakir
Release Date: May 2nd, 2019