Based On True Events
Cast: Dev Patel, Anupam Kher, Nazanin Boniadi, Jason Isaacs, Armie Hammer, Tilda Cobham-Hervey
Director: Anthony Maras
Genre: Crime, Drama
Running Time: 123 minutes

Synopsis: Hotel Mumbai is based on the true story of the devastating terrorist aTack on the Taj Mahal Palace Hotel in 2008. The terrifying assault brings together the guests and staff of the luxurious hotel including wealthy new parents David and Zahra (Armie Hammer and Nazanin Boniadi), Russian businessman Vasili (Jason Isaacs) and newly promoted waiter Arjun (Dev Patel) in a desperate fight for survival. This story celebrates humanity, compassion, courage, resilience and the unwavering desire to survive.

Hotel Mumbai
Release Date: March 14th, 2019


About The Production
With more than twenty million residents, Mumbai is one of the largest and most culturally diverse cities in the world. Mumbai is India's financial and entertainment capital, home to both the stock exchange and Bollywood. Pulsating with life, colour and activity, it is a place of both extreme wealth and abject poverty. And as with many of the world's most thriving metropolises, therein lies its power. And its vulnerability.

For three days and nights in 2008 " from November 26 to 29 " Mumbai was a city under siege. Arriving from Pakistan via a hijacked fishing vessel, a squad of young jihadists rained terror upon the population with a coordinated series of shooting and bombing aNacks. With local police forces stretched thin, terrified locals and tourists scampered for refuge as Mumbai went up in flames.

By the time the carnage ended, more than 170 people from over a dozen countries had been killed. Targets around the city included a popular restaurant, a train station, a hospital, a movie theatre, three hotels, and a Jewish community centre. Mumbai had been permanently shaken. In India, the tragic events are known simply by the date they began: 26/11.

Ten years later, Greek-Australian filmmaker Anthony Maras can still recall his initial reaction to the wave of horror as it was breaking on television across the world. "Obviously I was heartbroken over the violence and loss of life," he says. "But at first I only knew the Mumbai attacks as a series of burning buildings on a TV screen. Then as I watched interviews with survivors, an entirely new dimension of these events opened up for me."

Maras was particularly moved by the stories of the guests and staff of the Taj Mahal Palace Hotel. Opened in 1903, the Taj is a landmark, five-star hotel, famous around the world for its architecture and luxury, and host to countless politicians, business leaders, statesmen and celebrities. Due to its prominence, the Taj was specifically chosen by the terrorists. "Here was this historic, seven story monument to India's progress and diversity," says Maras, "and it became a war zone."

So unthinkable was the notion that the Taj could ever be a place of danger, that people in the streets of Mumbai instinctively flocked to the hotel for protection once the attacks began. "The Taj will keep us safe" was the initial response of many survivors of the siege. During the gruelling, days-long fight for survival, hotel guests and staff were shot at, bombed and hunted through corridors, suites, ballrooms, and restaurants.

"It's easy to be be overwhelmed by the horror of what occurred at the Taj," says Maras. "But when you take a closer look, a different perspective emerges. There were over five hundred people caught up in the Taj Hotel siege. That all but 32 survived is a near miracle. Of the fatalities, half were staff members who had remained to protect their guests. That's a testament to the extraordinary heroism, ingenuity and self-sacrifice of both staff members and guests alike."

Maras remains awestruck by the many examples of bravery to emerge from the attacks: "Taj kitchen workers stuffed baking trays under their shirts, makeshift bulletproof vests, as they shielded patrons from machine-gun fire. Guests lowered fellow travellers out of windows using ropes made of knotted bed sheets. Some Taj staff members led others through hidden corridors to safety outside, only to re-enter the hotel and look for more people to save."

Inspired by the courage and selflessness displayed amid such a tsunami of violence, Maras was determined to tell their stories on film.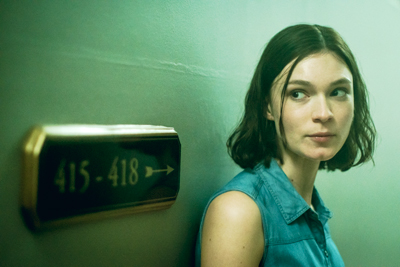 Mapping Out The Story

Though Hotel Mumbai marks his feature directorial debut, Maras is no stranger to working behind the camera, having helmed numerous award winning short films. His 2011 short The Palace, about a family struggling to survive the invasion of Cyprus, premiered at the Telluride Film Festival and went on to win more than 20 international film awards including two Australian Academy (AACTA) Awards. Its subject matter resonated because of his own family's history as refugees from war-torn Greece " and also touched upon themes that would later drive his passion to make Hotel Mumbai.

"The Palace resonated with me as in many ways, it mirrored the struggles my own family went through before fleeing for safety and a new life in Australia," he says. "I was deeply affected by these stories of people in abject peril pulling together to try and get through."

Along with his co-screenwriter John Collee (Master And Commander: The Far Side Of The World), Maras spent a year intensely researching the Mumbai attacks. They interviewed numerous survivors, police officers, hotel guests and staff. They spoke to families of those who perished, some in person, others by phone or Skype video chat. They studied recordings of intercepted phone calls between the terrorists and their handlers, read court case transcripts, and absorbed reams of newspaper accounts and hundreds of hours of television coverage and survivor interviews.

Yet the core of the film didn't reveal itself until Maras and Collee stepped into the Taj itself, where they stayed for a month while workshopping the story. "That was critical for both of us," says Maras. "You can't do it by remote control. You've goNa be in there, experiencing that world and walking those corridors. Also we were able to interview a whole lot of people who worked or still work at the hotel, even after having lived through all the attacks."

Chief among the interview subjects was Hemant Oberoi, one of India's foremost chefs, who has cooked for luminaries from Brad Pitt and Angelina Jolie to Barack Obama and Princess Diana. Chef Oberoi (played by Anupam Kher) was present in the Taj during those fateful days and made crucial decisions to protect his staff and guests which ultimately saved dozens if not hundreds of lives. He was understandably hesitant upon hearing that a film of the events was going to be made.

"We lost a lot of lives and so many families were affected," Chef Oberoi explains, "and people can sometimes be insensitive to that. But Anthony Maras came down to my office and I was surprised because he had a lot of information already about the hotel and he carefully explained the stories he hoped to tell. He wanted to hear my memories of the events " but also he wanted to know about how we rebuilt the hotel so quickly."

Indeed, in the aftermath, there's this astonishing fact: Three weeks following the attacks, Chef Oberoi and his team reopened the first of his restaurants inside the bombed out hotel. "The signal was strong and clear," says Maras. "They were saying, 'We will not be cowed. We refuse to live in fear. We refuse to mistrust others different from ourselves. Arm in arm, we will strive on forward together.'"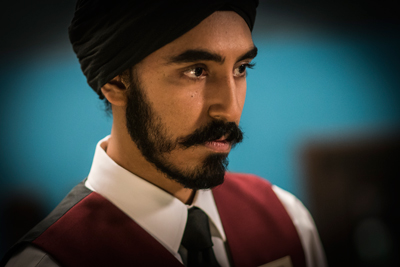 Chef Oberoi adds, "We just needed to tell all these terrorist organisations that we are not deterred by these things. We will bounce back as fast as possible. Because that is what we do."

Now 64, Chef Oberoi has retired from the Taj but keeps very busy with a new namesake restaurant in Mumbai, plus ventures in Singapore, New Delhi and San Diego, and appearances on his own TV cooking show.

Listening to the firsthand accounts of Chef Oberoi and others strongly influenced the approach Maras would take to telling the story. He was especially struck by the fact that many of the Taj staff came from impoverished backgrounds. "For them working at the Taj wasn't just a job," he says.

"It was the promise of a better life. It's an intense source of pride, being part of something that represents the greatness India is capable of."

Shaping The Ensemble

While always envisioning the film as a multi-character piece, Maras wanted a major thread of the drama to be seen through the experience of a member of the hotel staff. Thus the character of Arjun was developed as a composite of several hotel waiters and staff that Maras and Collee interviewed while working on the script. Arjun is a young husband and father who, as the story begins, is convincing his boss to let him work despite arriving to the hotel without his proper shoes.

The search for an actor to play Arjun was very simple. "We wrote the character with Dev Patel in mind, one hundred percent," says Maras. Though born and raised in Great Britain, Patel has portrayed Indian or Indian-born characters several times, including in his international breakthrough, the Best Picture Oscar winner Slumdog Millionaire, as well as The Best Exotic Marigold Hotel, The Man Who Knew Infinity, and Lion, for which he won a BAFTA Award and earned an Oscar nomination in 2017.

The Mumbai attacks affected the actor deeply, not least because of his close personal and professional connection to Mumbai. The dance sequence finale of Slumdog Millionaire was filmed in the same train station that, some months later, was one of the attack sites.

"The song 'Jai Ho' and that whole crazy, full-bodied dance scene was kind of an anthem for the country when it came out," says Patel. "And so to see that train station attacked, with such a high death toll, where these kind of men just walked in and unloaded automatic gunfire, mowing down so many people, it just was shocking and terrifying."

He adds, "When there was talk of a movie happening I made it clear that I was very interested. And I've been more vocal in the process of making this film than I have with really anything that I've done, to make sure we try and do it right."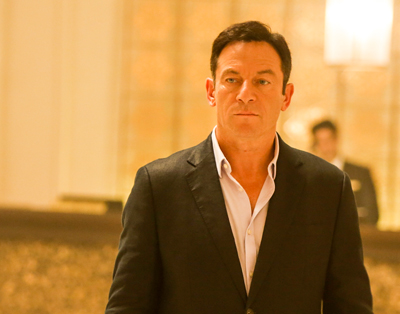 Patel instantly responded to the class struggle within India that the character of Arjun symbolises.

"These hotel staff members, many of them are coming from very poor neighbourhoods," the actor says. "Then they put on these beautiful uniforms and the next minute they're pouring high-priced vodka for a Russian billionaire who's just come off his yacht. That's kind of a microcosm of the whole of India."

Embarking on his own research mission, Patel delved into aspects of Arjun which helped further develop the character's arc. "I visited the Taj and noticed that most of the doormen there were Sikh," he recalls. "I started reading these articles about these Sikh cab drivers who had been attacked in New York City after 9/11. Another article was about a Sikh man who had taken off his turban to help a woman after a car accident, to stop her bleeding out."

The actor approached Maras with his idea of reworking his character as Sikh. "I asked Anthony, 'Are you cool with me growing a big beard and putting on a turban?' He was completely open to it. I'm really proud that we had the chance to address some cultural and racial issues and really put a focus on an underrepresented community."

Patel visited Sikh communities in Mumbai and went to the Gurdwara, a temple of worship. "There was this beautiful quote on the wall before I took off my shoes and entered the temple," he says. "It says, 'My Turban, My Pride,' and that struck me immediately as a way that we could break down religious stereotypes."

The quote inspired a powerful scene in Hotel Mumbai when, amid the terrorism siege, an older white woman confronts Arjun out of fear over his turban. Says Patel, "To an untrained eye, the turban feels like something divisive and separate. But actually what it represents is helping our neighbours and trust and courage. So he tries to tackle the prejudice with kindness, by showing the older woman what his religion means. Really what he's doing is showing her that we can coexist. And that's going to change the world, if we all can manage to do what he did in that moment."

To play the characters of David and Zahra, a wealthy couple visiting the Taj with their newborn baby, and nanny Sally (Tilda Cobham-Hervey), Maras cast American actor Armie Hammer and Iranian-British actress Nazanin Boniadi.

Hammer was drawn to the project due to numerous factors, particularly for the opportunity to work with director Maras (whose short film The Palace he had admired) and the cast, especially Patel. "The mission of the project was powerful to me, to show the humanity on both sides of this attack, both the perpetrators and the victims," says Hammer. He cites the importance of the rehearsal process. "We all had many different conversations concerning the characters, their experiences, the history of Indian and Pakistani tension, and scene work to bring everything to life in as accurate a form as possible."

Maras explains, "With the David character, we needed someone who was likeable and relatable, but who also had serious acting talent. I loved Armie ever since I saw him in The Social Network. That he can be so unique and memorable in that and then do something like Call Me By Your Name is just a testament to his versatility as an actor."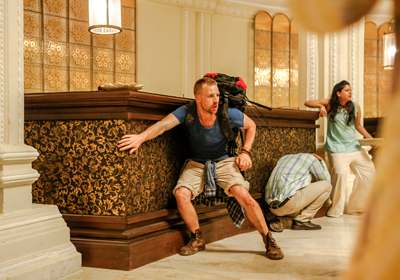 The road to casting Boniadi was somewhat different. Though the actress is familiar to audiences for her roles on "How I Met Your Mother," "Scandal" and "Homeland," Maras admits that it was not her performances that first impressed him.

"I saw her on YouTube in a talk she gave as a spokesperson for Amnesty International," the director says. "And seriously, just the poise and grace and confidence with which she held herself, the passion in her voice, the compassion in her eyes. She's involved; she's a real citizen of the world. Her family had to flee from Iran when the Ayatollah came in and she speaks perfect Farsi. I wanted to cast her literally right then and there, watching her on YouTube."

Boniadi is touched that her passion for human rights intertwined with becomes a part of the film.

"Frankly, that meant the world to me when Anthony told me," she says. "He noticed those things about me in a speech I wrote and delivered as myself, not in a fictional role I had played. I have a lot of apprehensions and fears in my life but, strangely, taking on foreign dictators and speaking truth to power has never been one of them. And I definitely tapped into that facet of myself when I played Zahra."

Zahra is based on two women who were in the Taj during the terrorist siege. Crucially important for Boniadi was the evolution that the character experiences in a very short amount of time.

"Her arc was so fascinating to me," the actress says. "She's someone who is very privileged and somewhat whimsical about life and hasn't really had to champion anything. But bullets don't discriminate. And when she's thrown into a situation like this, they're all in it together. The situation transcends class and social divides, constructs, and conditioning. It basically becomes all about the triumph of the human spirit against all odds."

For Boniadi, the scene that most powerfully conveys that message is one in which Zahra is held at gunpoint by one of the terrorists, who intends to kill her. Quietly, she begins to recite a Muslim prayer. "That was both physically and emotionally gruelling," the actress says.

"But I love what it's saying: Extremism breeds extremism, hate begets hate. Here is this woman who with her stillness and her resolve is breaking through evil. She's facing the gunman straight in the eye. And she is overcoming him with the same verses from the Koran that they've both learned, but are interpreting in opposite ways. Sometimes it's as simple as showing someone a different path. And that's such a crucial message for audiences today."

Discussing the scene between Zahra and the gunman, Maras adds, "It was so important to us that the young gunman's story culminates when he comes face-to-face with not just a woman, but a woman of the Islamic faith. He goes into that hotel thinking his mission is just, firmly believing in what he's doing, having a moral code that he lives by. And when she stands up to him and recites the prayer, and he's ordered to kill her anyway " that's when he realises the hypocrisy of his mission. He realises he's been sold a lie."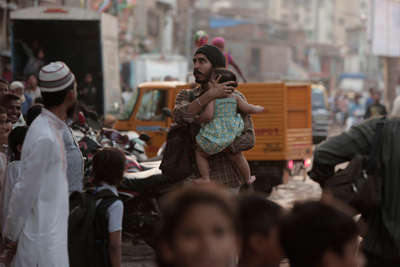 Maras continues, "The film holds up a mirror to some of our own biases, especially about how the Islamic faith is too oben associated with terror. There are some people who only look at the young gunman shouting, 'Allah Akbar' and think they're seeing Islam. But people cannot exclude the fact that one of the main characters in our film, Zahra, is Islamic. They're not looking at the young woman quietly praying, 'Allahu Akbar.'"

Says Patel, "The film gives the terrorists a lot of screen time too, and it's in the brush strokes of the story where we start to see how they're radicalised. The film does present the carnage but actually there are these tiny moments when you see that these guys lack an education, they come from poverty, they're trying to help their families. And it's these deeper issues which need to be addressed. It is more internalised, but we see their conflict as well. Which is very important."

The depiction of the gunmen " and what compelled their actions " was indeed of the highest importance to Maras. "The perpetrators were all young men, barely out of their teens," he points out. "Devoid of any formal education, they were prime targets for radicalisation by fundamentalist groups. I'm hoping that audiences come away with a more nuanced understanding of how and why these attacks occur."

Another character who comes face to face with the terrorists, and defies audience expectations, is the gruff Vasili, played by veteran actor Jason Isaacs ("Star Trek: Discovery," The Patriot, the Harry Potter film series). As with Arjun and Zahra, Vasili is a composite of several real-life people who were in the Taj at the time of the attacks, including a playboy business magnate and a specialforces Army officer.

Maras explains, "We were trying to create a character who has some mystery and enigma to him, though without the stereotypical Russian or Eastern European clichés. He's someone who at the outset you don't really like, but when the attack begins, there is actually a tenderness to him, to how he relates to some of the other characters."

Isaacs was drawn into the project precisely because of that duality within the character. "He's unpleasant when you meet him and thus, traditionally in a Hollywood film, he's the one who will somehow be punished. But this story is much more challenging. He's a very surprising character and he ultimately behaves in ways that no one could have expected."

He adds, "Generally, the worst thing about barbarism and terrorism is that it can make cowards of us all. But this film reminds us what we're really capable of. Money doesn't define who we are and status doesn't define who we are. What we do defines who we are."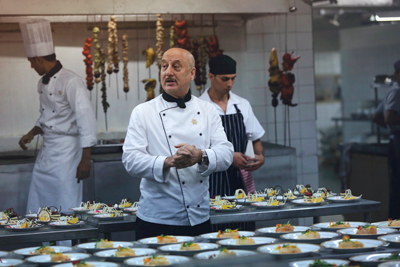 For the role of Chef Oberoi, the main real-life figure depicted in the film, Maras cast an acting legend in India. Anupam Kher has appeared in more than 500 Bollywood movies during his decades-long career, and has also delivered memorable performances in English-language movies such as The Big Sick and Silver Linings Playbook. It was Patel who strongly recommended Kher. Patel recalls, "I knew Anupam had the right vibe, both in terms of his kindness and as real figure of respect." Maras completely agrees. "I couldn't have wished for anyone better to play Chef Oberoi onscreen," the director mentions. "I spent a lot of time interviewing Oberoi in Mumbai and Anupam just feels like him. They're both men of such warmth and dignity and command."

Kher was stirred by the opportunity to pay tribute to the victims of the events in Mumbai, the city he calls home. "The tragedy in Mumbai was like a bad dream, but it was real," he says. "I knew people who were trapped during those days. The impact of such an event can be felt for years. The impact of it made me feel lonely and sad and it made me think a lot about the survivors. In many ways, my performance is the outcome of that impact."

The development of the relationship between Chef Oberoi and Arjun was an aspect of the story that affected both actors. Patel says, "Our characters kind of develop a father-son type dynamic, which is quite beautiful seeing these two men respect each other and embrace. For me, that was the most emotional part of the film actually."

Of his costar, Kher says, "I react to people in an emotional manner and when you meet Dev Patel you instinctively know that you are meeting a good man with a good heart. Dev does not hide his heart but he is also open to hurt. That's his compassion. Dev is easy to work with and he's easy to love."

The real-life Chef Oberoi also shares his feelings about Kher and his performance: "He does a phenomenal job in the film, very good and very convincing in his acting. I had a chance to tell him that at the Toronto Film Festival, where the movie was launched, and he said something very special to me in response."

Kher's words to Chef Oberoi were these: "I hope I did justice to your life and your experience."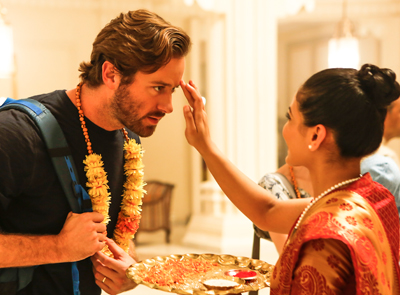 In The Belly Of The Beast

With his cast in place, the greatest challenge for Maras and the crew involved the logistics of portraying the Taj onscreen. "Without the cast and the script, nothing happens, obviously," says Maras. "But the locations were really the linchpin as to whether the film was going to succeed or not. The film is an attempt to place the audience in the belly of the beast, right in the epicentre of one of these attacks."

As with researching the screenplay, this was an area where staying in the Taj for a month was so critical to understanding how the story would unfold onscreen. "It's one of the most opulent hotels on earth but we weren't able to shoot the interiors of the real Taj, because it's still a fully functioning hotel," says Maras.

Though the production would film extensively in Mumbai, first several smaller interior scenes were shot in Adelaide, Australia, Maras's hometown. "Australia was a good place to incubate the production, where we had everyone in a very controlled environment for hotel-room setups, so that the crew and cast could get to know one another. By the time we got to India to do the bulk of the production, it was a well-oiled machine, we knew where we were at and everyone had confidence in the project."

On location in Mumbai, several scenes were filmed at the real-life sites where the events occurred. The train station that was attacked was filmed at the actual CST station. In the film's opening scene, the gunmen arrive by boat at the same beachside fishing village the real-life perpetrators landed at in 2008. Maras recalls, "Some of the fishmongers who live in that fishing village saw us filming and were taken aback, because our actors were dressed as the real gunmen were."

The film also features real exterior shots of the Taj, plus newsreel footage from 2008. "But then the huge challenge," explains the director, "was about how we set about doing the interiors of the hotel. In rooms where we had to have a lot a bullet hits and fire damage and all that sort of stuff, we recreated those parts of the Taj at other locations around Mumbai." Maras cites the large front lobby of the Taj, where much of the terrorist shooting and bombing in the film takes place.

"That was shot at this huge property just outside of Mumbai. We knew we were going to keep returning to that lobby over the course of the film. So, for example, you see a big bouquet of flowers in all its glory at the start, untouched, in the centre of the lobby. And when it's knocked over, it becomes a visual marker to help orientate the audience. That's our production designer Steven Jones-Evans being really great and clever and smart."

Maras continues, "All of the kitchen interiors and the bowels of the hotel, meaning all the corridors and stuff that people run down, they were all shot in a five-star hotel in Mumbai that has since closed. We dressed it and filmed in there. A huge part of my wanting to shoot this stuff in India, apart from the obvious reasons of location, was also we wanted to be able to hire people from Mumbai to be extras, so again, that adds a level of authenticity."

Maras had learned an important lesson from his short film The Palace. Shooting on location also can assist the actors. "If we see Armie Hammer or Dev Patel crouching down behind a barrel in a place that really feels like the real-life event, there's something extra that they get from that."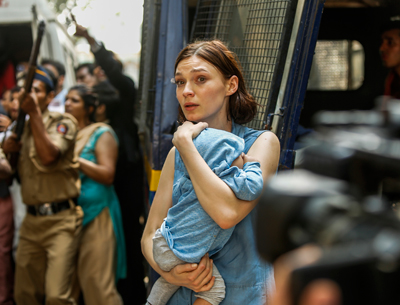 To that end, Maras also devised to have large speakers present on the locations, with the sudden, terrifying sound of gunfire blasting as the actors were working.

Patel remembers, "These massive amps would play gunshots through the set. It was constant gunfire, as would have been, just absolute hell in that siege. It meant that we would constantly be caught off guard. We definitely weren't goofing around too much. You could imagine the level of tension that it brought. But Anthony kept quite a somber tone for these scenes, which seemed appropriate to us all. When I was performing, I was constantly telling myself not to approach this moment as an actor but to just ground everything in a genuine fear."

Boniadi also recalls, "We were given a sense, a very slight sense, of fighting for our own survival. Physically, emotionally, spiritually. Of course, this wasn't anywhere near as harrowing as what these people actually faced, but there were two days in a row that I was tied on a marble floor along with Armie, belly down, hands tied behind our back, morning to night for two days straight. I went home at night with bruises all over my hip bones, my shoulders, my jaw." But she adds, "I went home every night feeling so fortunate."

Boniadi's onscreen husband also recalls the long and intense shooting days. "We were essentially living inside of a manufactured terror attack for 12 to 15 hours a day," says Hammer. "It was a challenge for the entire cast."

Maras explains the motivation behind his method of filming " which also included a separation between the actors playing the gunmen and those playing the hotel staff and guests, to heighten tension between the actors on both sides.

"I felt very early on that we didn't want the audience to ever feel that there was a force field around the big name actors," he says. "In most movies, you know the actor's going to survive at least to the third act, because their name's on the poster. But that was something which I felt would really damage the experience. When I spoke to the survivors and listened to how they get through it, the one glaring thing that came through again and again is they just didn't know what might happen next. They were in absolute fear of being killed, one second, one minute, one hour ahead."

Patel completely agrees with Maras's unconventional approach to filming. "That's what the most important thing about this movie," he says. "Even when a character is doing something noble or selfless, we wanted to take out the heroism from it. We didn't want to make it too filmic. And everything had to be grounded in a deep, deep fear, cause you've got these kids in t-shirts welding AK-47s walking around with dead eyes, having completely been radicalised. You didn't know what was going to happen when the elevator doors open or what was around the corner."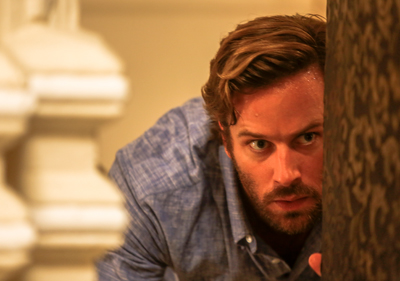 Vital For A Safer World

A few years ago, Chef Oberoi was visiting Washington D.C. when a woman approached him at a party. "She introduced me to her parents," he remembers, "and she said, 'Mom and Dad, this is the man who saved my life.' She had been in the dining room with her husband. I still remember giving her a Diet Coke and saying to her, 'Don't worry, relax.' And I took her from the dining room into another area of the hotel " and can you imagine that 10 minutes later, the gunmen came into that exact dining room and shot my assistant."

Maras hopes that the film will ultimately been seen for its message of unity. "The heroic and inspiring way the guests and staff bound together to overcome the most impossible of odds lays at the heart of our film. As does the notion that it's coming together across cultural, racial, ethnic, religious and economic divides that will lead to a better world."

Echoing his director's thoughts, Isaacs points out, "We're living in a time when we're being told that there's more that separates us than unites us. But this was a real life example of when things could not have been worse. And what happened? People not only banded together, but the essential generosity of those people who were at the bottom of the totem pole showed itself. Those staff of the hotel who could easily have escaped, many of them came back in to help people. They just made something extraordinary and inspiring out of the most terrible situation. The story proves that, ultimately, there's a lot to be optimistic about humanity."

Says Hammer, "The movie deals with a horrific attack and it is very intense to watch, but woven expertly into the story by Anthony is a message of hope and humanity. An incredibly diverse group of people were able to set aside their differences in the face of adversity. Many of them overcame a hellish nightmare " and the film shows how the differences we may perceive among each other can very easily be put aside for the good of the group."

And Boniadi also mentions the theme of unity, which drew her to the project in the first place. "I tend to gravitate towards stories and roles that raise consciousness and awareness, or inspire audiences in somNe way. This film tells an incredible true story about the resilience of the human spirit and our ability to band together and overcome extreme adversity against all odds. In that sense, it is not only a timely story, but a timeless one."

Maras hopes that by transporting audiences to the epicentre of these attacks, the film raises questions that extend well beyond the movie theatre: How would I react? What would I do? How would I feel? What would I do to help?

"The Mumbai attacks served as a potent wake up call to all who lived through them," the director says. "They were a transformative experience which led many survivors to effect positive change in their own lives " and to the realisation that tolerance, education and understanding across cultures were vital for a safer world for all. I hope our film does justice to this sentiment."

Hotel Mumbai
Release Date: March 14th, 2019