Denise Richards: Its Complicated Series Premiere!
Tuesdays @ 10:00pm NZ/AUS (9 x 30)


E! follows the journey of actress Denise Richards. Adjusting to life as a single mom after her very public divorce and the loss of her mother, she works to get her life back on track, with a little help from her father.
Tuesday 5th August @ 10:00pm - Denise Richards: Its Complicated #108: Hawaii - Searching for Youth


Denise and her girlfriends head to Hawaii in an attempt to reclaim their youth. Meanwhile, Denise tries to overcome her fear of flying.
Tuesday 12th August @ 10:00pm - Denise Richards: Its Complicated #109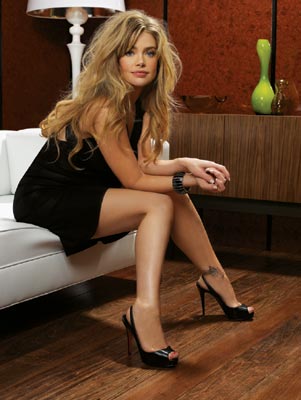 Denise Richards, It's Complicated.
Think you know Denise Richards? Think again. Opening up her life for the first time, this new reality series follows Denise as she navigates Hollywood romance and motherhood following a tumultuous year in the tabloid headlines. From being a single mum, to having her dad move in with her, to getting back out on the dating scene, this half-hour series will showcase the very human side of one of today's most high-profile stars.
Picking up the pieces of her life in the wake of a bitter public divorce and the recent death of her mother, Denise is ready to put the past behind her and take an open and honest look at her image. There to help is: her dad Irv, who is still coming to terms with losing his wife after 37 years; Sister Michelle, who has three children of her own but makes a point to call Denise everyday; and several close friends who have stuck with her through the ups and downs of it all.
The series kicks off with Denise reluctantly venturing back into the dating world, deciding that instead of the usual well-endowed Hollywood hunks she should date "regular" guys. With her friends playing matchmaker, Denise proceeds to go on a disastrous blind date with a "normal" guy that only reconfirms her taste in Hollywood types. And while her friends work to match her up, Denise decides to be matchmaker for her pig Charlotte and goes about finding Charlotte a stud so they can make little piglets. Ironically, the pig matchmaking goes much better than Denise's! And in a touching moment, Denise and her girls throw a welcome BBQ for Irv who has just moved in. Surrounded by her family and closest friends, Denise begins the BBQ with an emotional toast about how after a tough couple of years dealing with a divorce, the tabloids and death of her mother she's ready to start over. Plus, as Denise looks for closure in the wake of her high-publicised divorce, she heads to the DMV to change her last name and then has an infamous tattoo covered up by none other than LA Ink's Kat Von D. Never a dull moment in her life, follow Denise as she deals with surprise situations with unwanted paparazzi, dram between her assistants and knocked-up pigs, mixed in with her daily routine of work, motherhood and self maintenance that includes acupuncture, spray tanning, Pilates and the ever-popular cupping technique.
From working to revitalise her career with red-carpet appearances and making photo shoots to examining her love life to taking care of her family and friends, Denise is ready to lay it all on the line and make some big changes. It's chaos to the max as she works to balance it all while juggling two kids and a house full of pets in the glare of Hollywood.
"Denise Richards: It's Complicated is produced by Ryan Seacrest Productions. Eliot Goldberg and Kevin Lee serve as Executive Producers.
Denise Richards: It's Complicated Episode Synopses
Episode 101: Denise Dating, Denise goes on a blind date with a "regular" guy instead of her usual Hollywood Hunk. Meanwhile, Denise plays matchmaker for her pet pig, Charlotte.
Episode 102: Denise vs. Tabloids, Denise confronts the tabloids head on. Meanwhile, Denise tries her best to stop swearing.
Episode 103: No Jacket Required, Denise must decide whether it's time to change her image or model nude again. Meanwhile, Irv gets a Hollywood makeover in preparation for a red carpet event.
Episode 104: Desperate House Mum, Denise tries to balance her life as a busy single mum with her need for some adult fun. Meanwhile, Denise mediates a conflict between her two assistants, Sho and Sabrina.
Episode 105: Saying Goodbye, Denise must come to terms with her grief over her mother's death. Meanwhile, Denise tries to cure her insomnia.
Episode 106: Weekend in the Country, Denise visits her sister's family in Temecula and gets in touch with her "white trash" roots. Meanwhile, Denise babysits for her nephew and his horny teenage pals.
Episode 107: Bikini Shape, Denise must get in bikini shape for her trip to Hawaii. Meanwhile, Denise's pets get obedience training.
Episode 108: Hawaii-Searching for Youth, Denise and her girlfriends head to Hawaii in an attempt to reclaim their youth. Meanwhile, Denise tries to overcome her fear of flying.
**