Premieres Thursday 3rd of January at 7.30pm on ABC and iView
The series is a timely 'how to' guide, packed full of expert advice and industry insights for those seeking a different way of life. Each episode sees one of our five impressive hosts – Jane Hall, Simon Marnie, Bryce Holdaway, Del Irani and Dean Ipaviz – guiding a family, couple or individual through the trials and tribulations of their life-changing decision to escape the city and move to coastal, country or regional Australia.

From beach-side shacks perched on coastal cliffs in Victoria, to terraced houses in need of renovation in quiet country towns and bushland retreats on the edges of the Northern Queensland rainforest, each episode sees one of our property mad hosts take a contributor on the house hunt of their dreams. Taking into account their needs, desires and budget, our hosts scour the country and present each with four homes, hopefully one becoming their dream home.

Along the way the hosts and participants sample local delights and visit local attractions to get a feel for the area they are planning on moving to.

Following the premiere on Thursday 3rd January, 10 new episodes will be available on ABC iview for fans to binge on.


Interview with Del Irani
Question: What is Escape From The City?

Del Irani: Escape from the City is the Australian version of the beloved UK property lifestyle program, Escape to the Country – which has been running successfully for nearly 20 years.

The show guides Australian city slickers, who have been dreaming of a tree or sea change on a life-changing journey by helping them find their dream home in coastal, country or regional Australia.

The types of participants who appear on the show include growing families who are sick of squeezing into tiny flats, Baby Boomers who are looking to cash in on big city real estate prices and young professionals looking to live off the grid.

Escape from the City airs Thursday nights at 8pm AEST on ABC TV and iview.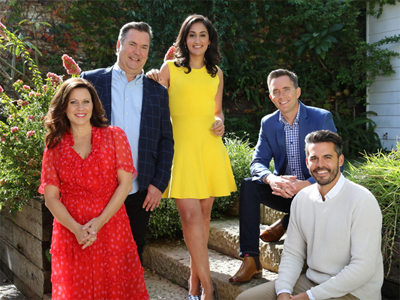 Question: What was it like to work with the other four impressive hosts?

Del Irani: Well, each host has a completely different background, skillset and expertise that we bring to each episode - so no two episodes are the same!

The other 4 hosts are actress Jane Hall (a tree changer herself), ABC regional radio personality Simon Marnie, buyer's agent and TV host Bryce Holdaway and carpenter Dean Ipaviz.

For example, Jane was able to share her first-hand experience of relocating to a small town while my fellow ABC colleague Simon Marnie has an astounding amount of local/regional knowledge from his decades of covering country issues on the radio. Bryce brought his strong real estate knowledge as an experienced buyer's agent and Dean used his passion for green building principals and practices to aid families on their country quest.

Meanwhile as a financial journalist, I used my finance knowledge as much as possible to help the house-hunters make their decisions. So really, depending on who's hosting the episode - each couple has a completely different experience on their journey.


Question: Can you tell us about your role on Escape From The City?

Del Irani: My role as a host of Escape from the City was to guide participants through the trials and tribulations of their life-changing decision to move to coastal, country or regional Australia.

After considering their different needs, desires and budgets, I presented each house-hunter with four properties, hoping one would become their dream home. For me, it was important to share as much financial knowledge and information as possible. We discussed the median house prices in the region and I would explain the value for money that the individual properties offered (which usually framed my reason for choosing them). I also encouraged the house-hunters to consider how they would be funding their new lifestyle and ensure that they were making the best financial decision for themselves now and into the future.

Together, we explored beach-side shacks, vintage houses, even bushland retreats from the Kimberly regions of Broome WA to the tropical rainforests in Far North Queensland - our property obsession saw no limits!


Question: Why do you think Australians will love Escape From The City?

Del Irani: There's one of three things (if not all three) that people will love about Escape from the City. In no particular order, they are:

(i) Amazing Australia – you will get to see and experience some of the most stunning, breath-taking locations around this great country. From the red rocks of Broome to character-filled country towns in regional Victoria as well as the tropical rainforests of Far North Queensland – these are just some of the amazing places we filmed the episodes.

(ii) Weird and wonderful houses – take a peek inside vintage homes, modern, sprawling multi-million-dollar beach front properties, country-style farm houses or a slice of paradise located in the middle of a tropical rainforest. There really were no limits to our property search. My favourite was an original 1800s Church converted into a modern home yet still brimming with loads of character and history. If you don't already have an obsession with property, fair warning – you may develop one!

(iii) Colourful characters – when people put their hearts and lives on the line to follow a life-long dream, it's really hard not to fall in love with them or at the very least, get invested in that journey. Whether you love them or hate them, you'll find yourself playing along – wondering, which house will they pick? How're they going to react when they see that kitchen/backyard? Or even guessing the price along with them to see if you got it right.

This show is about Escapism at its purest - it allows people to imagine what their lives could look like if they had the courage and conviction to make the sea/tree-change, to live vicariously through the couples who're actually doing it and if it inspires them to take the plunge, well that's just a bonus!

The UK show has been such a huge hit, running for nearly two decades. I know many Australians who are huge fans of that show so hopefully the Aussie version will be an equally huge hit, not just with Australians but with people overseas too.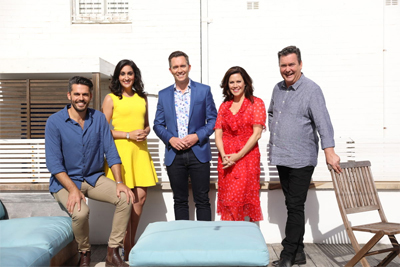 Question: What advice do you have for those wanting to seek a different way of life?

Del Irani: Well after spending most of 2018 on this journey with couples all over Australia, I certainly learnt a few things and I've put together a list of top 5 tips for those seeking a tree or sea change. Here's a link to the full ABC article but briefly they are:

(i) Try before you buy – I recommend living in the area for a few months (if renting is an option until you buy, then go for it!) or at the very least, visit the region during the off-peak season to make sure it's definitely the right location for you.

(ii) Go bargain hunting – Prices are cheaper in regional areas but it pays to shop around as a property may offer better value for money in the neighbouring country town. Remember, everything is negotiable in real estate!

(iii) Figure out your finances – how will you fund your new life? What's your new income stream? Will you be running your business from home or commuting to the city part-time? Definitely make a financial plan for your new lifestyle.

(iv) So you've moved to the country – now what?! Make sure you've researched the community and social groups in the area that you're planning on moving into, as this will greatly aide your transition from city to country life.

(v) You're going to get cold feet… and that's okay! I guarantee you that somewhere along the journey, the reality of the change will sink in and you'll have your doubts but hang in there. If you've done your homework and planning properly, this could be the best decision you'll ever make, at least that's what other tree/sea changers have told me.


Question: Can you tell us about your episode of Escape From The City?

Del Irani: My first episode of Escape from the City which airs on ABC this Thursday 17th January at 8pm, features best friends Amanda Marx and Elissa Cater.

Amanda has spent the past 10 years living and caring for her mother in her family home in East Melbourne. However, since her mother passed away in 2017, she is now taking the opportunity to sell the home and relocate to the countryside.

She has her heart set on the area of Daylesford, Victoria - a 2-hour drive from Melbourne. As a transgender woman she loves the diverse and inclusive community of Daylesford and it's that inclusion and acceptance that has had her return to the area for the past 15 years.

Amanda is looking for an old cottage in Daylesford. She will be living on her own but wants enough space – a spare bedroom or two for the kids and close friend Elissa to come and visit.

It's a deeply emotional journey for Amanda but with her witty best friend by her side, this episode is packed with laughter, tears and a whole lot of heart!

I hope you'll all tune in and join us on this journey… I loved filming this episode and hope you enjoy watching it.


Interview by Brooke Hunter