The Power Of Friendships
The simple things in life are often the best and true friendships are one of life's sacred pleasures that provides an abundance of benefits to our health and wellbeing!

What really matters
In a time-poor world where life's demands often take up majority of your time, it's important to make time to catch up with your close friends and remember what really matters in life – connection and laughter!

Being your authentic self
Friendship allows you to be who you really are, especially with long term friends.
There is no need to measure up, put on a mask or pretend to be anyone other than your authentic self.
Friendship allows you to have a realistic perspective that the outside world may not allow. Especially in a world where you feel like you continually need to measure up. Friends love you for YOU!

Creating new memories
When you create new memories with your friends by engaging in unique and fun activities, it helps keeps your sanity and stability in check - especially during hard times.
Whether it's taking a hike together outdoors, enjoying day tours or even a pampering spa-day with you bestie, it helps reset your headspace and reboot your batteries.

Maintaining your identity
Friendship allows you to keep a sense of identity and enables you to enjoy a sense of independence in a way that romantic relationships can't.
Friendships are sacred and often last a lifetime through all the twists and turns life throws at you.
Through these ever-changing phases of life, friendships help remind you of who you really are at your core and maintains your identity.

Friends need friends
Expecting to get everything from one person is unrealistic.
Women need women friends and men need men friends for a rich, happy and fulfilling life.
There is something extraordinarily valuable in being friends with people who have known you for a long time or all of your life.
They've known and supported you in the good times and the bad!
True friends will also help shut down your self-doubt, or feeling like you're not good enough – they remind you of why they love you and why you should too!


Interview with Debbie Rivers, Life Coach and Relationships Expert
Question: How can we stay connected with those closest to us, during the busiest of times?

Debbie Rivers: Staying in contact can be as simple as a text message or a phone call. The good thing about friends is they understand and are there for you even in the busiest of times – sometimes a short thoughtful message can mean the world.


Question: What are some of the less obvious advantages of nurturing friendships?

Debbie Rivers: It's easy to get caught up in life and lose touch with close friends. Sometimes, simply knowing those people are close to your heart and they you (no matter what geographical challenges you face), is a powerful stabiliser. Friendships are also a form of support system that helps us feel connected and safe, even on an unconscious level.


Question: How can we ensure we are being a good friend?

Debbie Rivers: It can be easy to become an emotional hijacker in a friendship, especially in tough times. However, keep to the simple rule of 'treat others how you want to be treated', it goes a long way.

Equal measures of acceptance, respect and honesty will make you a good friend. Spend equal time listening, rather than thinking of what you are going to say next and be mindful during your hard times, that your friends may be dealing with hard times too.


Question: How can women continue to support their friendships even when the group is heading in different life directions?

Debbie Rivers: This is a tricky one, I find friendships sometimes move apart and then come back together and that is perfectly ok. I know when it has happened to me, reconnecting with old-friendship-flames has made our friendship-levels even deeper than before, as despite the separation from the waves of life, you made it back to shore - together.

This can be particularly true, if one person has a baby and the other doesn't, if one is single and the other is loved-up. Life-directions don't need to dictate the T&C's of a friendship. It's the core-commonalities and shared experiences that count – hence why making the time to connect with friends and create new memories is so important.


Question: What ways can we nourish our friendships?

Debbie Rivers: Set aside some time to spend with your friends. Organise a fun activity to do together and stay connected - there is nothing like the chemicals released while doing fun activities that act as the added glue to an existing friendship-bond.

There are plenty of experiences that you can book through the likes of RedBalloon for example, which will recharge your friendships by creating new, fun memories through unique shared experiences.

Oh, also a simple hug will do wonders! A 20 second hug produces oxytocin - the love drug which will instantly make you feel happier. We all need more hugs!



Question: In what ways can we show gratitude to our besties without spending too much money?

Debbie Rivers: Telling them how you feel about them, giving them sincere compliments as well as telling them what a difference they make (have made) in your life is more than money can buy. Remind them of their good qualities and why you love them. Research has found that we value experiences over things - so give them the experience of quality-time together as that is priceless. Also, remember the simple things in life are free - like sharing a walk together or watching a sunset.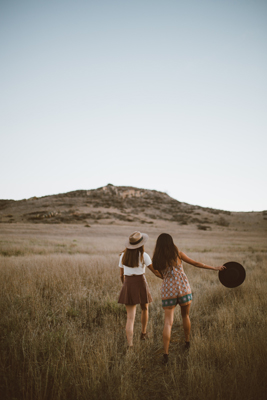 Celebrate your friendships with these memory-making experiences for you and your mates on International Day of Friendship, Tuesday 30 July.
NSW

Gunners' Barracks Sparkling High Tea
Indulge in delicious baked goods and finger sandwiches at this traditional high tea. With spectacular 180 degree harbour views, this is a great option to sit back, relax and reflect on the good times together.

Hot Air Ballooning Over the Hunter Valley
Experience the excitement of hot air ballooning with your closest mate. You'll see spectacular bird-eye views with plenty of opportunities to snap some photos as you float around the sky with an a la carte breakfast and champagne to toast your friendship.


QLD

Escape Room with Pizza and Cocktails
Think you and your friend can handle any challenge? This 50 minute escape room experience will get you and your friend cracking puzzles to get out before time runs out. This is a RedBalloon exclusive that includes pizza and a cocktail each to get the problem solving going.

Indulgent Perfume Masterclass with French Champagne
Looking for a scent-sational experience for up to eight friends? This perfume masterclass will teach you and your girlfriends the art of perfume making. You'll learn the secrets of the world's leading perfume houses from industry experts who will show you how to pick the perfect fragrance. You'll also get $49 credit towards perfume purchases over $199.

WA

Family and Friends Indoor Skydiving Package
This is great experience to take anywhere from two – five mates along. Feel the energy rush and freedom of skydiving at 14,000ft with iFLY Indoor Skydiving. It'll give your friends a thrilling experience full of laughs, twists and turns.

Small Plates with Cocktails
This RedBalloon exclusive offer will give you and a friend the chance to catchup over delicious cocktails and scrumptious sharing plates. Located in the foodie hub of Perth, this is a great option to catch up after work.

VIC

Underground Cellar Wine Tasting and 3 Course Dinner
There's nothing like catching up for a laugh over good food and wine. This experience will treat you and a friend to a picturesque setting, locally sourced food and boutique wines to taste.

Hot Springs Full Day Bathing Access
Want somewhere to unwind together while escaping the hustle and bustle? The award-winning Peninsula Hot Springs is a great option to relax with 50+ mineral bathing experiences, with additional dining options and spa treatments if you and your bestie want to treat yourselves further.

SA

Adelaide Food Walking Tour with Samples and Goody Bag
Do you and your friends consider yourselves foodies? Celebrate your love for food and discover Adelaide's passion for the quirky on this fun walking tour. You'll get to enjoy the buzz of the Adelaide central markets, where you begin the tour and delight your taste buds with South Australian Made Products before heading home with a fabulous goody bag of treats.

Lions 360 experience with zoo entry
Grab your buddy and get up close and personal with Monarto Zoo's Lions 360 experience. This is the only lion experience of its kind in Australia and is not to be missed! Guaranteed to leave you in even more awe of these incredible animals, you will walk through a tunnel and emerge within one of the largest lion prides. Spend the rest of the day exploring the zoo at your leisure!

TAS

Traditional Afternoon Tea with Sparkling Wine
This is a great catch-up option with your best friend in the heritage-listed Hadley's Orient Hotel. Treat yourself with a traditional English high tea, bubbles and memories with this delightful afternoon experience.

Whisky Distillery Tour with Tasting, Lunch and Wine
Indulge in your combined love for food, wine and whisky with this distillery tour. This is a RedBalloon exclusive experience that'll have you observing the fascinating history of distillery and a guided tasting before grazing through Tasmania's finest produce on an antipasto platter.

Book now at https://www.redballoon.com.au

Interview by Brooke Hunter
Photo by Omar Lopez on Unsplash
Photo by Clarisse Meyer on Unsplash