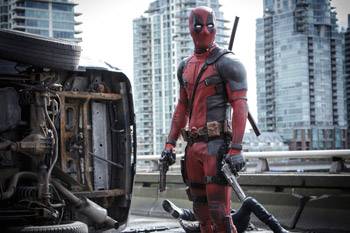 Deadpool
Cast: Ryan Reynolds, Ed Skrein, Morena Baccarin
Director: Tim Miller
Genre: Action, Adventure

Synopsis: A former Special Forces operative turned mercenary is subjected to a rogue experiment that leaves him with accelerated healing powers and adopts the alter ego Deadpool.
Review: Ryan Reynolds has really jumped into character with Deadpool bringing the comic book character many people love to life. Many action movies tend to bore you with serious back stories but the continual comedic relief delivered so naturally throughout the whole movie has made this one of my favourites.

Whether it was flashbacks or the main story I was in tears of laughter unable to divert my eyes from the screen, Deadpool would dismember, maim even take direct hits to achieve his goals; being immortal really has its benefits.

Many trailers tend to show all the best bits and that really ruins a movie for some people, I am happy to say with Deadpool that was not the case, they filmed the footage in the trailers out of order even with different angled shots and slipped them in so masterfully that the whole movie felt new and refreshing.

I would definitely recommend seeing this film if you are okay with quite a bit of gore, even if you are not familiar with the X-men Universe, you will still enjoy this movie.

The jokes will have you reeling in laughter and the story is explained thoroughly for those that are not familiar with his character, this is also one of the only movies that the whole cinema gave a standing ovation once the movie had ended.
- Nicholas Russell
Deadpool
Release Date: February 11th, 2016