Thanks to the return of Polly Pocket here is your chance to win one of 3 x $50 Polly Pocket Packs.
Australia's most loved toy of the 90s, the original Polly Pocket, is back and set to hit Australian shelves this November, 30 years after the original launch.

Designed as a compact micro-scale collectable, 90s kids across Australia had their imagination ignited, taking pocketsized Polly on adventures with them everywhere they went.

Now she is back and set to take the next generation by storm. Best of all, she's even had an upgrade! Polly comes with new accessories and additional pocket worlds to be explored and collected – meaning there is more of her to love and share with friends. Polly also has a cutting edge new look to reflect modern times.

"Polly Pocket was a 90s phenomenon that stole the hearts of children right from its very first release, and we are extremely excited to introduce her to the next generation of Australian kids," says Jacinta Whitehead, Marketing Director for Mattel.

"We hope the relaunch will evoke feelings of nostalgia for the Millennial mums of today who grew up loving Polly Pocket. This is a chance for them to share with their children the fun and excitement they had with Polly when they were younger," Ms Whitehead adds.

With four new products being released in Australia before the festive season begins, these cute collectables are the perfect gift for Christmas.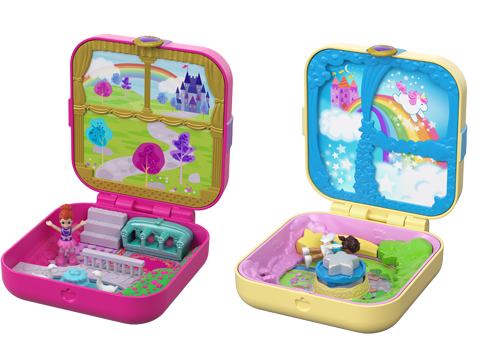 To introduce Polly Pocket to the next generation of Australian children, Mattel is also releasing an animated series of Polly and friends content, which will be available in early 2019. Children all across the country will be able to join Polly and her friends on all of their adventures. Each episode is designed to send positive and empowering messages to young girls – inspiring them to be courageous and creative in their own thoughts and actions. Much like Polly!

Polly Pocket products range from $8.99 through to $39.99, so there is a price point for every Millennial mum or dad looking to ignite the "Polly-passion" in their child this festive season.

Whether you are a Polly Pocket collector yourself, or want to introduce Polly to your children, this launch is a chance to get behind one of Australia's most-loved toys and see Polly throughout the decades.

The Polly Pocket range will be available from Kmart on the 29th November and from Myer on 1st December.
For more information about Polly Pocket products, please visit https://play.pollypocket.com/en-us