Thanks to Marc Daniels Professional here is your chance to Win one of 5 x Marc Daniels Professional Silky Soft Keratin shampoo and conditioner valued @ $30.00 per pack.
MARC DANIELS PROFESSIONAL WELCOMES TWO NEW ADDITIONS

Timed right for Spring/Summer 2020 two new moisture rich haircare products will give Aussie women's hair the benefits of the salon at home. Set to join the ever-popular Australian owned and made Marc Daniels Professional Haircare collection are Silky Soft Keratin and Argan Oil of Morocco available in 300ml and 90ml shampoo and conditioner.

The new streamlined collection is enriched with active ingredients targeting everyday hair problems. With real keratin protein Marc Daniels Professional Silky Soft Keratin will soften and renew hair, Argan Oil of Morocco has been designed to replenish moisture.

For those that demand salon quality without the expense attached, Marc Daniels Professional has been a much-loved Aussie brand for 20 years, with products also designed locally.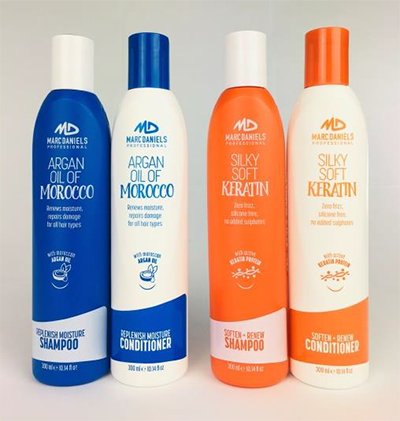 New to Marc Daniels Professional:

Silky Soft Keratin boasts active keratin protein which helps to control frizz for a smooth and silky finish. The keratin boost revives tired, damaged and stressed hair and can benefit and enhance all hair types by renewing and smoothing the hair cuticle. Its silicone free formula makes Silky Soft Keratin gentle on colour treated and curly hair. For best results shampoo twice and finish with Silky Soft Keratin conditioner which aids in making hair softer and easier to style, resulting in a smoother, sleeker finish. Cruelty free and has zero added parabens and sulphates.
Get your moisture fix with Argan Oil of Morocco … dubbed 'liquid gold', this gentle formulation is extra kind to hair helping to repair damage and promote stronger healthier hair. A special blend of salon quality ingredients leaves locks shiny, soft with an overall radiance. For beautiful silky hair apply shampoo from roots to ends and leave for two minutes, shampoo again for that so-so-so soft impact! And, for even silkier hair we recommend Argan Oil of Morocco conditioner. Vegan friendly, totally cruelty free and has zero added parabens and sulphates.

Marc Daniels Professional Silky Soft Keratin and Argan Oil of Morocco shampoo and conditioners retail for $14.95 (300ml) and $5.95 (90ml) and can be used everyday.