Win one of 3 x DIY cake kits from Cake 2 The Rescue, valued $50+ each.
Winners will get to choose which design they'd like to order.
Whatever the question, the answer is always cake.
Cake 2 The Rescue is a much-loved DIY cake kit company, which has helped more than 40,000 Australian families pour their love into a homemade cake.
Whether you're looking for the ideal birthday cake for your kids, or a fun celebration cake for a special day, you'll be spoilt for choice with more than 250 amazing designs to choose from.
The Cake 2 The Rescue concept is simple - everything you need to make your beautiful homemade cake is in the box - from the pre-coloured fondant to the cardboard baking tray. Simply add eggs, milk and butter, and you're on your way!
Founded by Lou Duggan, Cake 2 The Rescue has been in business for ten years and is all about helping people feel like heroes through the magic of making their own fantastic cakes.
Find out more at: https://www.cake2therescue.com.au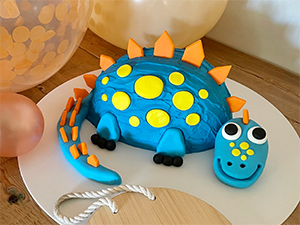 How does it work?
JUST ADD EGGS, MILK AND BUTTER..
Everything else you need is in the box - from the pre-coloured fondants to the silver cake board for you to present your beautiful creation on! Even a disposable baking box! All delivered to your door, so you can create cake-fuelled memories for your loved ones.
"Cake 2 The Rescue is about embracing the imperfect perfections our messy, busy lives, and having fun along the way. It's about making memories and feeling good about ourselves"
Browse the range of over 250 DIY cake design kits from Cake 2 The Rescue visit https://www.cake2therescue.com.au
Make Any Party Special with DIY Kids Birthday Cakes
Be Your Kids Hero – stress-free, fun, deliciousness …in every cake kit