Nobody Runs Forever
Cast: Bradley Cooper, Clint Eastwood, Taissa Farmiga, Laurence Fishburne, Dianne Wiest, Clifton Collins Jr., Michael Peña, Alison Eastwood
Director: Clint Eastwood
Genre: Crime, Drama
Rated: M
Running Time: 116 minutes

Synopsis: From Warner Bros. Pictures, Imperative Entertainment and BRON Creative comes Clint Eastwood's newest feature film, the drama "The Mule." In addition to directing, the veteran actor will step in front of the lens again, alongside fellow stars Bradley Cooper, Laurence Fishburne, Michael Peña, Dianne Wiest and Andy Garcia.

Eastwood stars as Earl Stone, a man in his 80s who is broke, alone, and facing foreclosure of his business when he is offered a job that simply requires him to drive. Easy enough, but , unbeknownst to Earl, he's just signed on as a drug courier for the cartel. He does well"so well, in fact, that his cargo increases exponentially, and Earl is assigned a handler. But he isn't the only one keeping tabs on Earl, who has also hit the radar of hard-charging DEA agent Colin Bates.

And even as his money problems become a thing of the past, Earl's past mistakes start to weigh heavily on him, and it's uncertain if he'll have time to right those wrongs before law enforcement, or the cartel's enforcers, catch up to him.

"The Mule" marks Oscar-winner Eastwood's first time on both sides of the camera since he starred in 2009's critically acclaimed "Gran Torino."

The Mule
Release Date: January 24th, 2019


About The Production
"Family's the most important thing. Don't do what I did"I put work in front of family."

In "The Mule," director/producer Clint Eastwood plays Earl Stone, a man nearing 90 years of age who has only just begun to realize that what he has sacrificed throughout his life"time with the people he loves"is the one thing worth sacrificing everything else for.

"Earl's been very unsuccessful within his home life, but at the same time he's been fooling himself about it, going around expounding to other people on how to interrelate with their own families," Eastwood notes. "Now, when he wants to come back into the fold, it's hard to do." Having failed to live up to such promises as helping pay for his granddaughter's upcoming wedding, Earl sees money as a means of literally buying back their affection. If only he had some; having spent decades showering more attention on his daylilies than on his wife and daughter, the business is nevertheless in trouble, and Earl's on the verge of losing everything.

Producer Tim Moore offers, "Earl is one of these guys who had a better time when he wasn't at home, and when he was at home, wasn't quite the man his family wanted him to be.

So, he turned to the other love of his life"his work as a daylily farmer and salesman. And now he's losing out there, too."

Until an unusual opportunity comes his way. As a man who has spent years on the road traveling from flower show to flower show, there's one thing Earl is at ease with: driving. And at his age, who's going to suspect him of any wrongdoing? Inspired by a true story, the character moved "Gran Torino" screenwriter Nick Schenk to create another role for the venerable Eastwood.

"The most successful drug mule in the history of the Sinaloa cartel was the least obvious drug mule: a 90-year-old guy who traveled for work," Schenk states. "They absolutely loved him.

Wined and dined him, let him have free reign. So, I started from there.

"I realised Earl was really the flipside of 'Gran Torino's' Walt Kowalski," Schenk continues. "When I researched that story, I met a lot of vets and a lot of them seemed to have come back one of two ways: mad at the world, like Walt, or having put it behind them, charming and quick to put others at ease. That was my basis for Earl's easy nature, his sense of fun, his panache. Of course, all of that was for his friends and coworkers. As his ex-wife observes in the film, everyone else got the fun version of Earl, while she and the family got the guy who could hardly wait to get away."

As both filmmaker and actor, Eastwood appreciated the world Schenk created for Earl.

"Nick has a great way to write a character who is always learning something, even if he's an older guy. Earl keeps his mind open and is interested in the world around him, even if it gets him into trouble."

Eastwood feels the biggest weight on Earl isn't the drugs, or the fact that he's committing a crime. The guilt he carries is the cargo he can't seem to unload. But he tries. "He's in a bad position financially, he needs money or he'll lose his home and his life's work," the director observes. "And once he gets a taste of the money, he can't resist playing Robin Hood a little, doing good for other folks, rationalizing his actions. But he's on the wrong side of the law, and that proves to be dangerous"both for him and for others"and that worries him. I liked the idea of this guy with so many physical and emotional obstacles to go through."

In recent years, Eastwood has stepped in front of the camera only a few times, but Earl induced him to do so once again. "I had read the New York Times article about the real guy who Earl was somewhat based on, and I thought it would be fun to play that age"my age, I should say.

I like to think I'm always observing, learning, and Earl's like that. The longer you go, the more you realise you don't know. So, you keep going."

Producer Kristina Rivera says, "When I read the screenplay, it was easy to see Nick wrote Earl with Clint in mind, and I could easily envision him as the character." Rivera was also drawn to the film's themes of regret and forgiveness, and even recompense, which, she says, "resonate with people on many levels. I loved that the story was about second chances, that it's never too late to be there for your family, even if you've messed up in the past."

Joining Eastwood in the cast are several actors he's directed before, among them Bradley Cooper, Laurence Fishburne, Michael Peña and Alison Eastwood, and a few on his longtime wish list, beginning with Dianne Wiest and Andy Garcia. Taissa Farmiga and Ignacio Serricchio round out the impressive roster.

Eastwood offers, "Casting is important"you always want a certain look for each part, and a certain camaraderie for the time you'll be working together. Even if you might be casting actors you don't know personally, it's important you admire their abilities, and this was a great group to direct and act with."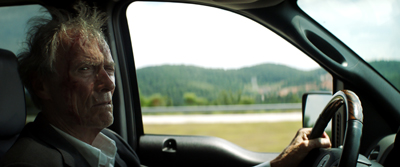 "I was a terrible father, a terrible husband. I thought it was more important to be 'somebody' out there than be the failure I was in my own home."

"You can make anything fit into your own thought process if you think hard enough about it"or don't think about it at all," Eastwood says, explaining Earl's way of excusing his behavior, past and present. "He just keeps justifying everything."

Earl surmises that if he can't pay his loved ones back for all the years he neglected them, he can buy his way back into their good graces, now that he can afford to. And his benevolence doesn't stop with the family Stone; he also finances the sprucing up of the local veterans' hangout.

Eastwood adds, "The more money he gives out, the more he thinks he's doing the right thing by driving the drugs. Pretty soon he's living kind of a crazy life, even socially. Certainly, for a person his age, he's living in a different world."

Indeed, Earl is behaving in ways most men his age would not. Certain elements of Earl's activities were drawn from the real-life man, as Eastwood explains, "We don't really know what happened while the real guy was making these trips, but it was noted that he'd stop and help fellow travelers along the road, and that he used the money to get his farm out of hock.

"For our picture," he continues, "we explore the downside of the upside, so to speak. Helping people, helping rebuild his fellow veterans' hall, rejuvenating his daylily farm… All that makes him feel a bit like a savior, but it's morally collapsing, too. He knows what he's doing is wrong, and one day he's going to have to pay the piper."

Though Eastwood is of an age with Earl, the similarities ended there, so he looked outside of himself to create the character he portrayed. "I've lived a life, so I could understand him somewhat," he says. "His passion for the daylilies was unusual to me, but I likened it to my grandfather's work on his chicken farm, and I patterned Earl after him to some degree physically, including the way he walked as an older man."

"The great thing about Clint is at 88 he had to play as if he was older, because he's so virile," laughs Bradley Cooper, who stars alongside Eastwood in the film. "Clint springs out of a chair like a kangaroo, but Earl doesn't, so it was fun to watch him act like a person who is up there in years because he himself is like an athlete."

The Law

Paralleling Earl's story is that of the law enforcement agents who are trying to track down the various cartel mules, in particular the newest, Agent Colin Bates. Cooper plays the dog-witha-bone DEA agent in hot pursuit of the enigmatic "mule" no one can seem to sniff out. Bates, who recently transferred into the unit, is not only trying to solve the case, but to show his superiors what he can do. Like Earl, he's giving more of his time to work than to his family.

Cooper states, "Bates has just moved to Chicago and he's trying to make his mark, so he can ultimately move on to a position where there are better hours. He spends a lot of time away from his family and they're not so happy about that. But when he is assigned to find this mule who has been transporting a tremendous amount of cocaine across the country, he's on the hunt. He thinks this could be his chance to impress."

Ironically, when the two characters' paths do cross, Cooper says, "there's a connection between them, the mistakes they've made, the fact that neither has made family a priority. Earl urges Colin to make sure he takes the time he has and spends it with them."

Working with Eastwood a second time was what drew Cooper to the project. "I had the honor to work with him in 'American Sniper,' but he wasn't acting in it," he says. "The fact that I would get to act with him in this movie made it an immediate 'yes' for me."

Cooper not only enjoyed the moments on screen with Eastwood, but watching his performance from the sidelines as well. "There were two times on the set, watching him work, when I couldn't stop tearing up!" he recalls. "Even once when I was in a scene with him, when my character certainly should not be crying, and I had to turn away. It was very moving. He's a fantastic actor and he doesn't act very often, so I think we all recognized the privilege of working with him."

Heading up Agent Bates' DEA unit is the Special Agent in Charge, played by Laurence Fishburne. "I'm the guy in the suit who's in charge of the other suits," he smiles. "Bradley Cooper's character answers to mine in his pursuit of the nefarious drug runner. I've enjoyed Bradley's work and so I was excited to work with him, and to work with Clint again after 15 or so years, since we did 'Mystic River' together."

Like Cooper, Fishburne appreciated the opportunity to work with Eastwood in front of, as well as behind, the camera. "I was lucky to have a scene with him, and I will be eternally grateful for that. There are not a lot of guys like Clint Eastwood around, and as an actor and a young man who grew up watching him in movies, it's special to have a moment on screen with him."

Also reporting in to Fishburne's SAC, and partnered with Bates, is Agent Treviño. He is played by Michael Peña who, having been directed by Eastwood in "Million Dollar Baby," was eager to join the cast. Peña says of the famously efficient filmmaker, "There's a quote by Magnus Carlsen, who is a grand master in chess, which goes something like 'even though there are infinite possibilities on the board, there are only two or three moves, and those are the correct moves.' That's Clint. He doesn't spend time on shots he could potentially use; he only shoots what he knows he's going to use. He is such a good storyteller and has a really good memory, so with two or three takes, he can cut it in his head."

Peña says that, for him, fewer takes "gives your performance this energy that you don't always have. You make sure you're prepared and you bring it right away."

The actor, who has also worked with both Fishburne and Cooper, came to the project wellequipped to play the role of Treviño. "I played a DEA agent for several months recently, and had done a lot of research for that, but really everything I needed for this part was on the page. I play an agent who reports to Laurence Fishburne, the SAC who calls all the shots, and to Bradley Cooper, who's a special agent, and together we're trying to go after this mule the cartel calls 'Tata.'

We're trying to get all the intelligence, all the data we can to find this guy, but we'd never in a million years guess who he really is."

Also helping to track down Earl are Grant Roberts as a DEA Agent, Pete Burris as the DEA Regional Manager, Loren Dean as Agent Brown, and"although unwillingly"Luis Rocha, played by Eugene Cordero.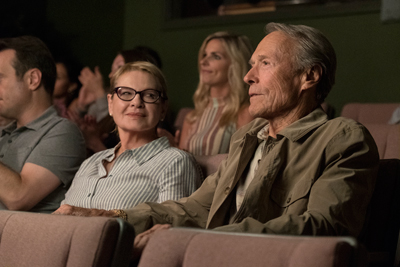 The Family

Esteemed actress Dianne Wiest plays Earl's ex-wife Mary, whose disappointment in her former husband is strongest as it relates to their daughter, whom Earl has let down her whole life, and his granddaughter. Mary is seeing Earl's pattern of unreliable behavior manifesting itself there, too. Promises made, then broken, like always.

Wiest, who was very happy to take a role with Eastwood, says, "Working with Clint was like working inside a rhythm because he is a musician. The rhythm is generous and so you pick it up and find you are better than you thought you were. You trust his intelligence and observations. You are treated with infinite gentleness, and you feel like a jazz note and, as everyone around him has picked up the notes, things play along."

"We were so lucky to have Dianne in the role of Earl's ex," says Rivera. "She brings a softness to Mary"you can see that underneath her frustration with him she's got deep feelings about their marriage, she still sees the charming side of him. Which is probably why it still hurts, having him drop in and out of their lives."

"Dianne Wiest is one of the nicest people I've ever met," says Alison Eastwood, the actor/director's real-life daughter who plays the part of Earl's estranged daughter, Iris. "She's lovely, and I've always been a huge fan, so I was thrilled to be working with her. She really embodies Mary, Earl's sweet, loving ex-wife with a little bit of sass to her."

While Mary openly chastises Earl for his poor choices, daughter Iris can still barely speak to him. "For the first hour or so of the film, every time Earl comes into the room, Iris leaves," says the actress. "She is very resentful"angry, even"that her father chose work over family. Once he starts trying to make amends, showing up at important times, she realizes she has to try to leave those resentments behind if she's ever going to forgive him."

Alison Eastwood, who in recent years has spent more time producing and directing, was surprised by her dad's call to act alongside him. "I hadn't worked with him, actor-to-actor, since I was around 11, when I played his daughter in 'Tightrope,'" she recalls. "I have worked with him as an adult, with him directing me, but this is the first time as a grown woman I've gotten to act with him, and it was pretty magical. It was a great experience to share with my dad."

Unlike Iris, her daughter, Ginny, sees the other side of Earl. Taissa Farmiga plays his granddaughter who, at the outset of the story, is set to get married. "I love Ginny," Farmiga relates.

"She has such a love for her family and for her grandpa. No one else really puts up with him, but I appreciate her heart, her candor, and the fact that she wants to have a relationship with him even if he isn't perfect. I love stories that show the imperfections of family."

Farmiga says she also appreciated the film's exploration of memories. "Memories are fleeting"like Earl's daylilies, which only bloom for one day, you only have one chance to create a memory," she offers. "If you're not there, or if you're there but not present, you've lost your opportunity. This story shows that it's important to be present and to care for what's right in front of you, especially if it's the people you love. Ginny sees that Earl is trying, and she gives him credit for that, even if he's not quite there yet."

The "Family"

In Earl's mind, being there for his family means lending a hand, financially"starting with Ginny's upcoming nuptials. So, once again, his ability to be supportive takes him away from the very people who wish he'd stick around.

And, as always, Earl finds it easier to befriend strangers than to maintain friendly relations with his own family. After getting over the initial meeting with the cartel members who handle his regular pickups and drop-offs, Earl gets to know them, even becomes sociable with them, especially Emilio, played by Robert LaSardo, Andres, played by Saul Huezo, Assault Rifle Guy played by Lee Coc, and Bald Rob, played by Noel G. But it's when Earl is summoned to meet the boss that he is truly welcomed as part of the "family."

Andy Garcia portrays Laton, the head of the cartel that employs Earl. "I've known Clint socially for many years, and I've always had a desire to work with him," Garcia states. "This was a wonderful experience for me. He trusts his actors. I knew who my character was, he knew who his character was, and we were conscious of the narrative and what our objectives were in the scene. Clint gives you room for improvisation, and trusts you to take care of that narrative and to meet those objectives."

Laton clearly feels he has earned the right to be the flashy cartel head who lives in a mansion and shoots skeet while his underlings carry out his bidding"usually without question. One such rising star is Julio, the man Laton assigns to "handle" Earl.

Moore elaborates, "The reason the drug cartel picks Earl to be their mule is because he's an old man in a pickup truck, someone the DEA would never suspect. But they quickly learn that they also don't really know what to expect from this almost-90-year-old man; he uses the backroads, he'll stop somewhere and go off-route. He's great, but at the same time, they feel the need to keep an eye on him."

To Julio, the assignment is unwanted and unwarranted; why should he have to follow some old man around"one who doesn't seem to understand the implications of either Laton's interest or Julio's supervision, for that matter?

Ignacio Serricchio, who plays Julio, says, "I think Laton is really something of a father figure to Julio. The nature of the business is the nature of the business, and Julio's grateful and loyal to Laton and to the job."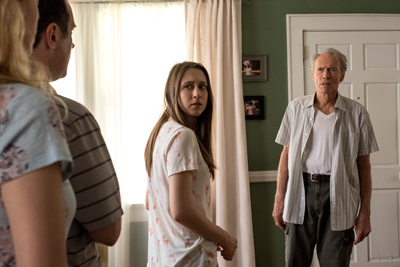 Ahead of shooting their scenes together, Garcia invited Serricchio for a meal. "The first time we met, he immediately said to me, 'Let's go have dinner and talk about their relationship,'"

Serricchio says. "When I started doing theater, as actors we would try to get to know each other and develop a relationship so that familiarity would translate to the performance, so I loved that he wanted to do that."

"Ignacio is a very present, very intelligent actor," Garcia says of his co-star. "Spending a little time with him helped us feel very connected and at ease as we worked, and I was impressed by how easy it was to explore the characters with him."

It's only after spending time "escorting" Earl that Julio begins to appreciate what the grandfatherly figure has to offer. "Julio is very meticulous and doesn't like when things veer off track," Serricchio says, "which is why when this guy comes into his life, what is supposed to be a very easy assignment turns into his worst nightmare. At first, he's so frustrated with Earl, but then he starts to like him. And he hates that he likes him."

Prior to taking the role, the actor had intended to attend the World Cup games in Russia. But his team, Argentina, "didn't do so well, so taking the job was the right call," he laughs.

Perhaps to help maintain the off-kilter balance between Julio and Earl, Serricchio says, "Clint made a point of reminding me. Literally. Right before a scene, before we were about to roll, he'd walk up to me, and I'd think he was about to give me a direction. Then he'd go, 'How'd you lose 3-0 to Croatia?' and just walk off! He knew that was my boiling point," he laughs. "I'm still not sure if it was a technique or strategy, or him just getting a kick out it!"

Portraying several other principal players in the cartel are Clifton Collins Jr. as Gustavo, Daniel Moncada as Eduardo, and Paul Lincoln Alayo as Sal, who rides shotgun with Julio as they "accompany" Earl on his drives.

Again displaying his sense of humor, Eastwood says of his entire cast, "They were terrific, so I'll pat myself on the back for casting them," he grins, before confirming with all seriousness, "No, really, they were a terrific cast. Sometimes you just get lucky, people come in and exceed your expectations. This one was pretty effortless."

"I didn't deserve forgiveness. For what it's worth…I'm sorry for everything."

"The Mule" is both a road movie chronicling Earl Stone's unexpected travels across the country for a drug cartel, much like the character's real-life counterpart, as well as an exploration of a much longer life"one Earl chose to live in service of his precious daylilies while letting his equally delicate relationships die on the vine almost as quickly as his beloved flowers lose their blooms. To bring the story to life, Eastwood collaborated with director of photography Yves Belanger, editor Joel Cox, costume designer Deborah Hopper, production designer Kevin Ishioka, and composer Arturo Sandoval.

Shooting the majority of the film in Georgia, the production found various parts of the state to serve as areas in and around Earl's home town. Ishioka states, "This story was based off a real man's life, but fictionalised, so I had freedom to do what we wanted for the film, to create visually the narratives that enhanced the story, set the socioeconomic levels with each of the characters, and so on. We needed Earl's environment to reflect his money troubles and the Robin Hood-type character he sees himself becoming when the money starts coming in."

Supervising location manager Patrick Mignano describes their search as one "for cows and corn and wide-open spaces, and the all-important daylily farm. We're never specific in the story, but Earl's place is in central Illinois. We wound up finding the perfect daylily farm in Augusta." The small family farm presented a challenge for Ishioka. "I'm not a horticulturist, but per their name I understand that each bud that comes up only has a one-day cycle," he says. "So, in order to use a real location for the movie, we had to hit it at the optimum time of the year and hope that the climate would cooperate with our schedule."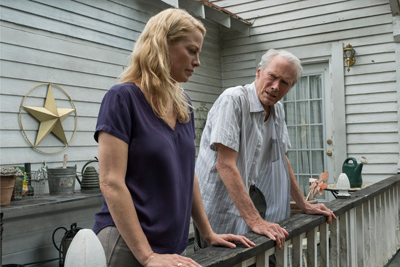 At first, it didn't look as though cooperation was in the cards. "The week before we got there it was raining almost every day, then Clint comes and"I kid you not"sunshine. Then the night before we shot the flowers were completely gone, so you can imagine my stress. The next morning, they opened up. The Clint Eastwood effect," Ishioka smiles.

Additional locations utilized out of the production's home base in Atlanta included the Midwestern city Drug Enforcement Agency offices occupied by Fishburne, Cooper and Peña's characters, as well as such locales as Mary's home, the veterans' hall, Ginny's wedding reception venue, a roadside motel and more.

For scenes in the cartel's bait-and-switch tire shop, the production had moved to New Mexico, and for Laton's impressive mansion, they sourced a location in Las Cruces, and dressed it with all the wealth and flair suited to the ostentatious cartel boss.

In the story, Earl's pickups and drop offs take him through several U.S. states, and the film follows him along as he drives. To accomplish the exterior shots, Eastwood and a small crew took Earl's two pickups"old and new"on a real three-day road trip near the end of filming.

Moore remembers, "We ended up going through New Mexico, Colorado, and up toward Chicago, Illinois, in order to show the countryside"the corn fields, the cows in their pastures, the open desert and open roads. For three days we got Clint behind the wheel as Earl, driving and singing his songs."

Eastwood comments, "All the places we went had different things going for them, and for the character. I've done it before, driven across the country, but to do it for work was fun." For Earl Stone, driving is easy; it's his life that's been hard to steer, full of regrets for past mistakes and for mistakes he's knowingly making now that will, he hopes, make for a less remorseful future. It all comes down to two simple things that can prove to be life's most difficult: family, and forgiveness.

Eastwood relates, "With every picture you make and every time you act, you learn something. By telling stories, acting them out, having those adventures, solving those problems…

It gives you a sense or a feeling about yourself, how you'd do it in real life. That's what makes this career so appealing.

"Earl is a guy who knows he hasn't done the right thing by his family, but now he's seeing that they may never forgive him. That's a crushing blow," he continues. "We always think we have time. Maybe we don't. But maybe we do. Maybe even Earl does."

The Mule
Release Date: January 24th, 2019