Charlene Laurent announces fashion week shows, acting project and the launch of her comedy career
Charlene Laurent is a model, actress and comedian who is known for her work with Maxim Magazine, 100 Percent, Dote, 8 Other Reasons and many more. She rose to fame with her modeling work after she got nominated as one of the top 15 covergirls for Maxim Magazine in 2019. She is working on short movies and the launch of her comedy career. One of her recent works includes a show called"100 Percent" with Team Playback. It is hard to miss Charlene Laurent, from front row fashion shows with Nick Cannon, to walking red carpets at award shows or being an official ambassador for LA fashion week.

As a model, she was confirmed walking the show for international Designer Dair Design for Art Hearts Fashion Week in the fall, including many others. "It was supposed to be this season but the virus postponed it." Charlene also has some print projects coming out this fall.

Besides modeling and acting, she has announced starting her career as a comedian. Shows are planned in Hollywood for the fall of 2020. "It will be funny because my set just consists of my random thoughts and stuff people can relate to." She knows this career path might be unconventional for a model but she is excited about changing industry perceptions. "I feel like models think they have to prove themselves and show different talents but I don't care about stereotypes. I'm just being myself, which is someone dorky, nerdy and probably way too honest for some people. I think my younger fans can probably relate the most because back in the day I always wanted someone authentic to look up to."


Interview with Charlene Laurent
Question: What inspired you to begin modeling?

Charlene Laurent: My mom always pushed me to do it. She always wanted to model but her family didn't allow her to do it. She actually wanted to model in Australia. That's why she always pushed me to do something that inspired others. She showed me the world of modeling and I absolutely fell in love with it. A lot of people think working in the entertainment industry as a female is bad. Being seen in a bikini or underwear is "bad" and "unprofessional" but I have always learned that those people aren't as educated as others if they define a woman by her body and how much skin she shows. I started modeling with the full intention of inspiring others. You can be a bikini model and be smart. You can be a scientist, lawyer, doctor or whatever you want to do. Your looks don't define who you are and how smart you are. I don't need to look like a typical "nerd" to be smart. I can be stylish and wear makeup and still be a nerd. I am a nerd and proud of it and that's what I want to teach others. Don't judge a book by its cover.


Question: Whilst working in the modeling industry what did you experience in terms of terrible working conditions?

Charlene Laurent: I haven't had any bad working conditions because every set I've been on has always been super professional, welcoming and friendly. I always feel comfortable on set and connect with everyone right away. The better the energy is, the better the shots come out.


Question: Do you prefer modeling or acting?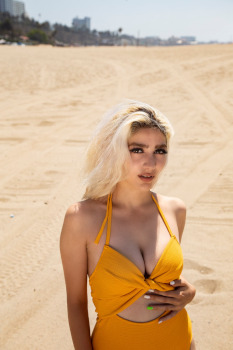 Charlene Laurent: I honestly love both but I have such a big passion for acting. Playing a different character and bringing a story to life is so inspiring. All I did in my childhood was read. It inspired and made me grow as an artist. Being able to transform a scrip into life is such a surreal experience, especially if you work with like-minded people.


Question: What's your favourite part of your job?

Charlene Laurent: I love inspiring others. Being able to bring art to life and having people see it is all you need as an artist. Touching people's souls with stories and your work is very rewarding.


Question: You've achieved so much, can you provide your tips for creating a successful schedule?

Charlene Laurent: I'm very intentional with my time. I research every single project, shoot, and event I might have going on. My planner definitely helps me, so I write it down and am intentional about every single minute I have. Sometimes I don't have enough time to have a full night of sleep but that's what I have to do right now to get where I want to be. I have a goal and know I will get there because I have faith in myself and a lot of discipline.


Question: You want to start a career as a comedian, what can you tell us about that?

Charlene Laurent: The world is in a very bad stage right now. Being a comedian, making people laugh and hearing people's laughter, even if it's just for a minute you still brought joy to them and let them escape their problems. That's the biggest gift God can give me. Making people happy and making them laugh out of enjoyment.


Question: How would you describe your personal style?

Charlene Laurent: As a model, I can wear any style on shoots. My personal style is classy, elegant and edgy. I love wearing classy dresses, elegant blazers or edgy looks with leather pants and platform docs. A lot of times I match and mix my outfits to get a personalized style between classy, elegant and edgy.


Question: What's a typical day like for you?

Charlene Laurent: I wake up and go for a run in nature. I meditate and pray and then start my day. One staple thing I do is to go to my favorite coffee shop to get breakfast, start looking into emails and my schedule and see what's happening in the world right now. If I have shoots, projects or events I go and work. When I get back home, I get right back to working on my laptop and start planning things. I also go to acting classes or just practice whenever I find a free minute.


Question: What's next, for you?

Charlene Laurent: I am working on acting projects and am hoping for big acting projects to come to my way soon. Other than acting, I am shooting for a few brands and I'm walking shows for Los Angeles Fashion Week. I'm also launching my comedy debut in the Fall of 2020, so that will be super exciting! My brother is actually really inspiring for my comedy set and I can't wait to share it. You'll hear from him soon too since he is in the entertainment industry as well.


Question: Can you share your socials? (links please)

Charlene Laurent: @Charlenlaurent

Interview by Gwen van Montfort
Photo Credits: Josh Poet The Creative