Bonnie and Whitney Big Rich Texas Interview
Big Rich Texas is a new documentary series on The Style Network that examines the unique and often complicated relationship between mothers and daughters.
If you loved The Real Housewives series, you are going to love The Style Network's new docu-series "Big Rich Texas." The phrase "everything's bigger in Texas" has never rung more true - big hair, big attitudes and big drama. Following five mother-daughter duos, the show gives viewers a unique look into the competitive and privileged lives of these movers-and-shakers as they cement a place for themselves in Dallas' high society. From grand Texas estates to an exclusive country club, "Big Rich Texas" gushes with tons of shopping, cocktails and indulgence. Yet, at its core, the focus always returns to the surprising and wonderful relationships between mothers and daughters. It's universally relatable, no matter what club you belong to. The 10-episode one-hour series premieres on Tuesday, July 26 at 8.30pm AEST on Style.
Throughout the series we see the ladies settle into the social season at the country club. New club members spark fast friendships - and faster jealousies. Relationships are tested when one of the mothers commits the ultimate faux-pas and begins dating a club employee, and a fiery debate on parenting erupts when one of the daughters gets a vulgar tattoo. There is also no shortage of romantic intrigue as ex-husbands hit on new friends and surprise visitors shake up the status quo at the club house. Despite all the intrigue and frivolity, these mothers and daughters have one very important thing in common - an unshakeable love and bond between them.
Meet the Belles
:
Connie and Grace
:
Connie recently got out of her marriage and is ready to begin a new chapter in her life. Connie relishes her role as social chair at the club which allows her to throw fabulous events and always be plugged into the gossip pipeline of Dallas society. Her daughter, Grace, is a popular teen at her high school who is trying as hard as she can to achieve her dream of becoming head cheerleader.
Leslie and Kalyn
:
Leslie is Connie's cousin and a jet-setting pageant coach. She owns homes across the country but has recently moved to Dallas to take on the pageant capital by storm and launch the pageant career of her goddaughter, Kalyn. Leslie is an unabashed, undeniable cougar, having dated the much younger Anthony Dorsett Jr., and an even younger golf pro at the club named AJ. These aren't exactly the lessons Leslie wants to teach Kalyn, who has her own issues fitting in with the Texas elite.
Pamela and Hannah
:
Married to a gorgeous, successful husband and mother to two beautiful daughters, Pamela calls it like she sees it...and calls it bluntly. She is an accomplished author, chairwoman of the Luxury Marketing Council and the epitome of southern class. Her connections and influence make her a centre of power at the club, and she's determined to ensure her daughter Hannah follows in her footsteps. After finishing her first year at college, Hannah is home for the summer and Pamela has decided to make Hannah her assistant. What better way to increase her daughter's profile in society - and keep a watchful eye on her. This duo should be familiar to Style viewers as they were last seen on the network's series "Dallas Divas & Daughters."
Bonnie and Whitney
:
Bonnie proves you cannot judge a book by its cover. She can party with the best of them, but beneath her big hair and big mouth, Bonnie is a professor with a PhD in biology. Her daughter Whitney, however, is less disciplined. One day she wants to go to medical school; the next she can't imagine giving up a party to study. More like best friends than mother and daughter, this wild pair has constant arguments about who is "hotter." As a self-made millionaire, Bonnie made her own way and thinks the world's rules don't apply to her...especially the stuffy country club rules.
Melissa and Maddie
:
After 15 years off the runway, Melissa is stepping back into the harsh and competitive world of modelling. From staying in tip-top shape to dealing with countless rejections, Melissa is determined to succeed in an industry she turned her back on when she had her daughter, Maddie. Maddie is now fifteen and ready to start dating boys, but Melissa is determined to keep her drama queen daughter on a short leash.
"Big Rich Texas" begins Tuesday, July 26 at 8.30pm AEST on The Style Network.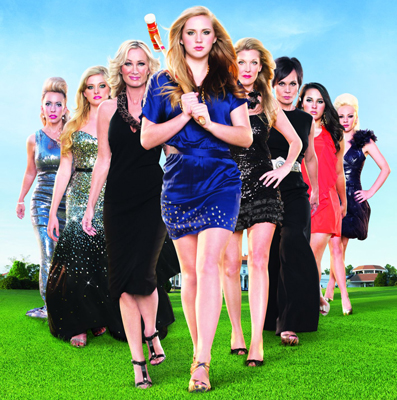 Interview with Bonnie and Whitney
Question:
What is Big Rich Texas, for those who haven't yet seen the show?
Whitney
: Big Rich Texas is a documentary series (in other words a reality show) on five mother/daughter duos and we are all members of a Country Club. Big Rich Texas looks at the dynamics of the mother/daughter relationship and how the mothers get along with their daughters and each other as well as how the daughters get along with each other. There is a lot of drama (laughing) but that is pretty much unavoidable.
Question:
They say "everything's bigger in Texas" - can you explain this?
Bonnie
: We like our hair bigger (laughing)! Whitney and I can get really ridiculous with that. Whitney also want her boobs bigger; most of the population, especially older woman who have had kids have their boobs done, here.
Whitney
: Really, really big!
Bonnie
: Typically bigger! Our houses are pretty big and our cars are bigger, Whitney drives a Hummer! We like big things (laughing)!
Question:
How would you describe yourself has mother and daughter?
Whitney
: Sisters!
Bonnie
: Yes sisters and second to that we are best friends.
Question:
You are described as "more like best friends than mother and daughter" - Bonnie is it important that you have a close relationship with your daughter?
Bonnie
: It was inevitable because I was 18 when I had Whitney (I wasn't 11 - that's a joke).
Whitney
: You had just turned 18!
Bonnie
: I was barely 18. Not only that, I was really immature for my age.
Whitney
: She is still immature!
Bonnie
: Exactly! I am… That's okay though. I am like Peter Pan! For me, I am a big kid at heart and because of that I knew we were going to be close, from the moment I had her.
Question:
How do you compare to the four other mother-daughter duos on the show?
Whitney
: The other daughters on the show are 15; but mum and I can go out and have drinks and dance and party.
Bonnie
: The other mothers and daughters are further apart in age, I am the youngest mum and Whitney is the oldest daughter. We have a different dynamic to the other mother/daughter duos because I am not really parenting Whitney anymore, I am guiding her and I am there supporting her.
Question:
What is a typical day like, for you two?
Bonnie
: For me, I teach two classes and I write novels, which is how I make my money. Then, I run a couple of businesses. Whitney works from the home, she assists us with our business as well.
Whitney
: I am also trying to start my own clothing line.
Question:
Bonnie you have a PhD in biology - do you hope Whitney choses to go to medical school?
Bonnie
: Absolutely! Whitney is going to go, obviously she didn't go over this Summer, because we're filming, which is delaying her a bit. If we end up filming a second season of Big Rich Texas her course load will be quite light because her grades are more than important. Whitney will make it through it but the show has delayed her a little bit.
Question:
Whitney, you can't seem to decide what you want to do with your future. What are your thoughts, at the moment in regards to schooling?
Whitney/b>: I want to go to medical school but at the moment I have a lot more opportunities. I know I will be going to medical school at some stage.

Bonnie: When did you come up with this Whitney?

Whitney/b>: I don't know…

Bonnie: I think we need to have a mother/daughter discussion (laughing)!


Question: Do you think your constant arguments bring you closer?

Bonnie: Yes! I think in any relationship you are going to argue a little bit, there is nothing that can ever bring us apart.

Whitney/b>: We really don't argue though.

Bonnie: No, no, we don't. We 'debate'.

Whitney/b>: Yes we have debated over who is hotter!

Bonnie: I gave up, Whitney is hotter!


Question: Whitney, do you have plans for more tattoos?

Whitney/b>: Yes, I want to work on a sleeve.

Bonnie: You're not going too (talking to Whitney)! She's not going to!

Whitney/b>: We'll see...


Interview by Brooke Hunter