Empowering the Next Generation of Kustom Kulture Women
This August 10,000 people will bop and jive their way to the Redland Showgrounds to celebrate two decades of the GreazeFest Kustom Kulture Festival over the weekend-long event.

Setting the scene will be legendary Californian band The Paladins and Tennessee country king Jason Lee Wilson, who will headline the family-friendly festival from Friday August 2 to Sunday August 4, with the passionate rockabilly and hot rod community to once again be treated to a celebration of all things vintage.

Cool cars, live bands and DJs, pinup pageants, lowrider cycles, kustom art shows and workshops, tiki carving, jive dancing, and vintage markets will all feature at a festival that has earned a reputation as the Southern Hemisphere's most exciting hot rod and rockabilly event.

Presented by Robot Productions and proudly sponsored by Redland City Council, GreazeFest attracts thousands of retro fans, rockabillies and hot rodders from across the country.

GreazeFest Organiser Lori Lee Cash said the event had played a pivotal role in shaping and growing the nostalgia scene in Australia during the past two decades.

"For people who love rockabilly, hot rods and vintage lifestyle, the birth of GreazeFest 20 years ago gave them a welcome opportunity to come together as a community and share their common passion," she said.

"We have continued to innovate and grow the event each year and the festival has become a must-attend for thousands of people from across the country.

"One of the things I love most about GreazeFest is seeing people from all generations come together, as well as the fabulous outfits everyone wears."

The Paladins and Jason Lee Wilson will be joined on the music bill by more than 20 other performers and DJs including Australian favourites Rusty Pinto, Pat Capocci, The Flattrakkers and The Detonators.

GreazeFest's wildly popular Pinup Pageants will also be centre stage this year. The two parade themes include Miss Tiki Wahini, which showcases the tropical world of vintage Hawaiian dresses and bamboo bangles, plus the Hot Rod Belle Parade, which celebrates the hot rod lifestyle from double-denim to King Cry Baby cool.

In a GreazeFest first, the ARTOMIC Art Show will see Australian and international artists create exciting art pieces focusing on outer space including robots, future cars, aliens, UFOs, galaxies and planets.

Day Tickets and All-Events Passes are now on sale, with people who purchase the latter in the running to win the Kustom Kulture Prize Pack. Centrally located in Redlands Shire, GreazeFest also provides on-site parking and convenient public transport options.

GreazeFest Kustom Kulture Festival #20
Friday August 2 – 7pm to midnight
Saturday August 3 – 10am to 10pm
Sunday August 4 – 9am to 6pm
Venue: Redland Showgrounds, Cnr Long Street & Smith Street, Cleveland
For all event details, including tickets, please visit www.greazefest.com


Interview with Bettie Butcher, Pinup Pageant Hostess
Having experienced bullying and domestic violence growing up, Bettie had zero self-esteem when she was first exposed to the rockabilly lifestyle. However, one photo changed everything – and Bettie gained the confidence she needed to never let anything hold her back and enter the world of pinup pageantry.

Now – as GreazeFest Miss Tiki Wahini and Hot Rod Belle pinup pageant hostess – Bettie looks to encourage women to step out of their comfort zones and embrace their beauty, no matter their age, shape or background! She's also strives to make a difference in the rockabilly community, raising money for charities like Beyond Blue and Dollys Dream.

Question: What originally drew you to the rockabilly lifestyle?

Bettie Butcher: From me, it was about a culture that accepted everyone for whom they are, somewhere there is no judgment, which was a stark contrast to what most people experience in high school. I never felt I fit in at school, I was a tomboy, labeled a Goth, and had more fun tinkering with cars and riding motorbikes than going to parties or playing with makeup. My Dad has always worked on cars, so I was surrounded by old Holden's from a young age, going to car shows and swap meets. The rockabilly culture to me is about supporting our creative community while spending time with friends doing things that make us happy, checking out cars, listening to bands, cheering on the pinups, grabbing some original lowbrow art and having an excuse to dress up.


Question: Can you tell us about the world of pinup pageantry?

Bettie Butcher: In Australia, the rise of the modern pinup started around 2007, with the first revival of specialised pinup photography by Paula Delley, who was the first to offer photo shoots plus hair and makeup classes where women could not only have vintage makeovers and photos, but learn the art of vintage hair and makeup. The first titled pinup pageant kicked off at the 2008 Garterbelts and Gasoline Nostalgia festival held in Queensland. This was entered by ladies who became the pioneers of pinup in Queensland and Australia.

Pinup surged across Australia with the first national pageant in 2010 at the Sydney Tattoo Expo – this brought together ladies from all over Australia to take the stage in a professional atmosphere, with multiple rounds and routines, at a large-scale event. I believe the attractiveness of pinup is in the nostalgia of a bygone era paired with the all-inclusive atmosphere it creates, welcoming pinups of any race, shape, age, or gender in an environment safe of bullying and judgment.

As pinup became more popular, it became more accessible to ladies everywhere; in the early days Aussies would have to import clothing from the UK and USA, which always came with high postage costs. The revival meant that new businesses were born, such as vintage and reproduction clothing and classes to help guide the next generation.

Now Australia has pageants at almost every car, tattoo and rockabilly event, showing that we have embraced the culture and giving encouragement to women who attend and support these events. My home state of Queensland is leading the way with pageants, with anywhere from 10 - 15 annual events where ladies take the stage and vie for varying titles and opportunities – such as magazine covers, being the face of future festivals, and sitting on judging panels to help shape and decide the next title holder.

Pinup is not just about loving the aesthetic of a bygone era (because it's vintage vibes NOT vintage values), it's about empowering women, building confidence, meeting like-minded people and forming lifelong friendships. It doesn't matter if you're into authentic vintage or reproduction, if you love rock 'n' roll or rockabilly, there's always a place for you in the pinup culture so why not give it a try, because pinup culture is here to stay.


Question: What is involved in a pinup pageant?

Bettie Butcher: Most pageants are pretty simple, almost like a fashion parade. It can be one outfit or multiple changes of day wear, swimwear and the glamour of evening wear. Most pinups will take the stage with a little routine in mind, using props to help keep those hands busy such as parasols, suitcases, and even their pets. But at the base of it all, it's where women have the opportunity to empower themselves, get dressed up, have a bit of fun on stage and just give it a go.


Question: What inspires your look for pinup?

Bettie Butcher: A touch of Fran Dresher from The Nanny, crossed with a pinch of classic horror icons like Lily Munster, Elvira and Vampira! I always stand out in a crowd, so I love unique fabrics like metallic and latex, animal print, jumpsuits, but most of all supporting local and independent designers. Its more than just the clothes, it's about the makeup and hair, my makeup style is big wings (think Amy Winehouse) and glitter, with my hair / wigs styled by Brisbane's best, The Final Touch.

I aim to bring more acceptance to being different and being yourself, because you are unique, strong and gorgeous! Months of planning goes into outfits for GreazeFest, and a lot of pinups are running with the pageant themes wearing tiki threads on Saturday and Hot Rod style on Sunday. This year I'll be wearing a custom outfit by Australian designer Hot Couture with hair by The Final Touch on Saturday. On Sunday, I've got a little surprise for everyone – it's going to be outta this world!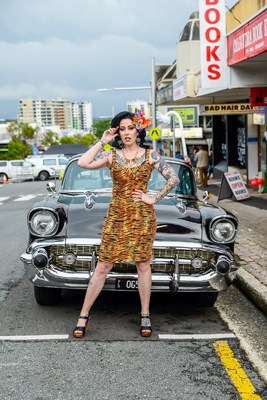 Question: Can you tell us about the Hot Rod Belle pinup pageant?

Bettie Butcher: The Hot Rod Belle pageant is all about women who love hot rods, and the rockabilly culture. Think Rizzo from Grease! Our Hot Rod Belle is more than just a look – typically leather jackets with skin tight leopard capris – she is a women with the attitude that she can accomplish anything, a woman with confidence that spreads across the room, a little bit of sass and a big love of hot rods.


Question: What message do you hope pinup pageants spread?

Bettie Butcher: I hope pinups spread a message of comradely between women – building each other up and not tearing others down, meeting friends who love the same things, vintage vibes not vintage values and building confidence by just giving something new a try!


Question: What's next for you?

Bettie Butcher: I'm focusing on giving back to my community through Pinups of Australia – a place where women who are interested in the pinup culture can come together and network with experienced pinups in a safe and supportive environment. We're here to support everyone and grow this culture. I'm also passionate about making a change through my charity project called BaconBots, after some cyberbullying I experienced earlier this year when a casting call for a TV pilot highlighting Aussie pinups with their classic cars was posted on my page by a man. When I enquired if roles were paid, everything turned bad. What ensued was weeks of cyberbulling and harassment, leaving me crippled with anxiety and stress, unable to sleep or go out in public. It culminated in "Mr N" hosting a public one-hour podcast bullying me and the entire Australian pinup community or, as they were referred to in the podcast 'Bacon Bots'. With the help of artist Sheardo and Nathan from Pixeleye Printworx, we are launching shirts which will be sold to raise money for Dolly's Dream. Dolly's Dream was set up in memory of Amy 'Dolly' Everett, aged 14, who took her own life after an extended period of bullying and cyberbullying. Dolly's Dream helps to raise awareness of the seriousness of bullying and its devastating effects, address these issues in regional Australia, advice on mitigation to schools and to change the culture to prevent bullying from happening. Shirts are be available through www.BettieButcher.com.


Interview by Brooke Hunter