Celebrating the Power of 2 and Raising Vital Funds for Spinal Cord Injury Survivors
The Robert Rose Foundation (RRF), a charity that raises funds for spinal cord injury survivors, launched an exciting initiative – Team 22.

Named after former Collingwood player Robert Rose who became a quadriplegic at age 22 following a car accident, the Robert Rose Foundation was founded by Robert's family 20 years ago in recognition of his zest for life before and after his debilitating injury. The RRF raises money to help survivors of spinal cord injury enjoy a better life across three distinct pillars of support:

• Practical: providing equipment to assist survivors via a grant system
• Psychological: One on one mental health support via a buddy system and psychological support services
• Participation: The opportunity to fully participate in life via a range of activities including the foundation's sponsorship of the Victoria Wheelchair Football League (VWFL)

The number 22 is significant for several intersecting reasons: Bob Rose, Collingwood's legendary player and coach wore the number 22 as did his son, Robert who was also 22 when he had his accident. The number 22 embodies the power of two people coming together to support each to live their best lives, just like Robert.

To this end, Team 22 has secured the support from several ambassadors for whom 22 is also significant, namely:
• Steele Sidebottom, current Collingwood Football Club player who wears the number 22 guernsey
• Tony Shaw, former Collingwood Football Club player – Number 22
• Brendan Stroud, Collingwood Football Club VWFL Captain - Number 22

Further, spokesperson and ambassador, Beau Vernon is a wheelchair-bound, dual premiership winning coach of able-bodied senior teams in the West Gippsland Football Netball competition. Beau was an aspiring footballer before a freak injury on the footy field cut his dreams and ambitions short. Beau had won many club and association awards and was on the road to a promising football career, playing in the TAC Premiership team with Collingwood's Scott Pendlebury before his accident.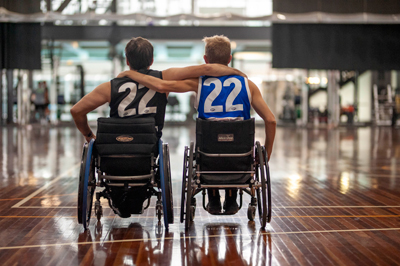 Unwilling to let his injury define him, Beau, with the strong support of his community and partner Lucy (the power of two), lives his best life, residing at Phillip Island, coaching his senior football teams to two recent premierships and raising two young children. He is an inspirational speaker and advocate for the support required to get through such a life-changing event.

Speaking of his own experience, Beau said, "When my accident occurred, I was understandably devastated, and my vision of my future was shattered. With the incredible support of Lucy, my family, friends and wider community, I was able to get through it and rebuild the best version of me. Without it …... I don't know what would have happened. Now I coach footy, surf, play golf – with modified equipment – and am a father to two beauties. The work that the Robert Rose Foundation does, supporting survivors with equipment, participation opportunities and most importantly, mental health and wellbeing services, cannot be underestimated. It's vital. I wouldn't be where I am today if I hadn't had the same from my community."

The launch events will include a VWFL curtain raiser match at the Holden Centre featuring the Collingwood VWFL team, and a composite team of other VWFL team members and some celebrity players. The 'roll to the G' from across the road will see the launch activities continue with a range of fundraising and event activations. Standby for more details as they come to hand.

Head to www.team22.com.au for more information and fundraising opportunities.


Interview with Beau Vernon
Question: What is The Robert Rose Foundation (RRF)?

Beau Vernon: The Robert Rose Foundation is a not-for-profit organisation providing financial, emotional and practical support for survivors of spinal cord injuries and their families. The Foundation was established 20 years ago in memory of Collingwood footballer Robert Rose, who became a quadriplegic at the age of 22 following a car accident. Robert's family work hard to honour Robert's enthusiasm and love for life and provide vital support for the survivors of spinal cord injuries.


Question: Can you tell us about the new initiative, Team 22?

Beau Vernon: There are a number of parts to the Team 22 fund raising initiative under the umbrella of the Robert Rose Foundation.

Firstly, to raise profile of the needs of those in our community living with a spinal cord injury.

Team 22 aims to support via 3 particular pillars:
Provision of vital equipment and modifications that will help to make life a little easier
Promotion of participation and how that can help engage the community, particularly via its sponsorship of the Victorian Wheelchair Football League
Access to vital psychological support services .

Following my accident seven years ago on the football field, I found myself in quite a low place mentally when faced with a very different reality from that I had known.

Everything I had known was taken away from me in an instant whilst doing the thing I loved most; playing football. I don't know where I would be now, and if I would have made it through the initial stages of recovery, if it wasn't for the support of my wife Lucy, my family, friends and the football community. It's important that everyone in the spinal cord injury community have access to that kind of support to make the road a little easier to travel.


Question: What do you hope to achieve with Team 22?

Beau Vernon: Of course, the fundraising element is very important but I think it is really important for us to spread the message of Team 22 and educate the public on the effects of spinal cord injuries on survivors. Whilst there is a general understanding of these injuries, there often isn't an opportunity to delve deeper into the mental battle survivors can face. If we can push these messages into the public eye and raise the profile of SCI, it allows for more help and support for those in need. We have to empower the public and make them aware of the little things they can do to make a big difference.


Question: How does the RRF help survivors of spinal cord injury?

Beau Vernon: The RRF assist through three distinct pillars of support:
Practical: providing equipment to assist survivors via a grant system
Psychological: One on one mental health support via a buddy system and psychological support services
Participation: The opportunity to fully participate in life via a range of activities including the foundation's sponsorship of the Victoria Wheelchair Football League (VWFL)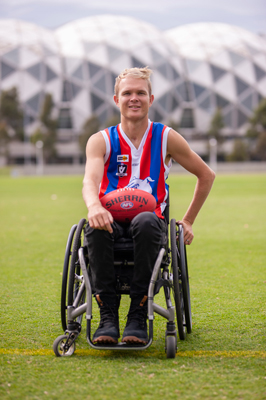 Question: How did the RRF help you, personally?

Beau Vernon: I was lucky to have my own network of support however, I did become aware of the Robert Rose Foundation over time. I was happy to support them to reach out to other spinal cord injury survivors, to offer support to others who may not have been as lucky as me.


Question: What do you hope to achieve as a spokesperson and ambassador?

Beau Vernon: Hopefully sharing my story with as many people as possible will inspire the average person to make a difference; whether that be through donating or physically supporting someone they know through the initial stages.

As one who is making the most of life despite my quadriplegia, I feel a responsibility to give the thousands of other survivors like myself a voice, in the hope of successfully raising awareness and delivering support for the community.


Question: Why is it important to have the support of Steele Sidebottom, Tony Shaw and Brendan Stroud?

Beau Vernon: The RRF and subsequently Team 22 has a strong connection with the Collingwood Football Club as 22 was the number that Robert's dad, legend Bob Rose, wore and the number 22 harnesses the power of 2 – two people together making a difference.

It made sense to engage with Tony Shaw and Steele Sidebottom – both who wore the number 22 at Collingwood, to lend their voice and profile to the cause.

As for Brendan who also wears the number 22 guernsey, he is the current captain and coach of the Collingwood Wheelchair Football team and has an equally important story to tell. He sustained a SCI at the age of 22 in a car accident and was in a really dark place following this life changing event.

The power of participation via sport has really turned both of our lives around and it's important to use all of our stories to drive awareness of the importance of Team 22 and all it does for the SCI community.


Interview by Brooke Hunter