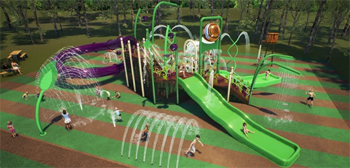 Barossa Valley Waterpark
With it set to be a glorious summer in South Australia, families and the adventurous will be excited to hear that there's a new waterpark in town! Thanks to Adelaide based Discovery Parks, locals and travellers alike can now look forward to an exciting new attraction in the area to help stay cool this summer. Visitors can find this unique holiday destination in the heart of the Barossa from December 19.
This new waterpark boasts a massive size of 500sqm and will be one of the biggest caravan park waterparks in Australia. To stand out from the rest, the park will be moving away from the typical shades of blue and aqua, and showcasing what the Barossa is best known for – vineyards!
Focusing on grape purple and nature based green, the waterpark hosts five different splash zones, two slides and hundreds of jets and sprays. To ensure maximum efficiency and sustainability of resources, the waterpark is designed with a zero depth splash pad, allowing minimal opportunity for water evaporation and water will be recycled back into a balance tank where is treated and reused.
'The camping and caravan industry in Australia is going through a huge growth phase with one of the biggest sectors being in the 30 to 54 year age segment, predominantly made up of families," said Ms Dana Ronan, Chief Marketing Officer for Discovery Parks. 'With the development of this new waterpark we are aiming to provide an additional reason for families to include the Barossa on their holiday itinerary."
Mayor Bob Sloane has high hopes that this new addition to the Barossa region will significantly help their local economy to grow, 'this new waterpark will help propel the Barossa Valley region into an affordable destination for families with a destination park specifically designed for young families with children aged 0-12, providing affordable and value for money family experiences – good for the local tourism sector and for our local economy."