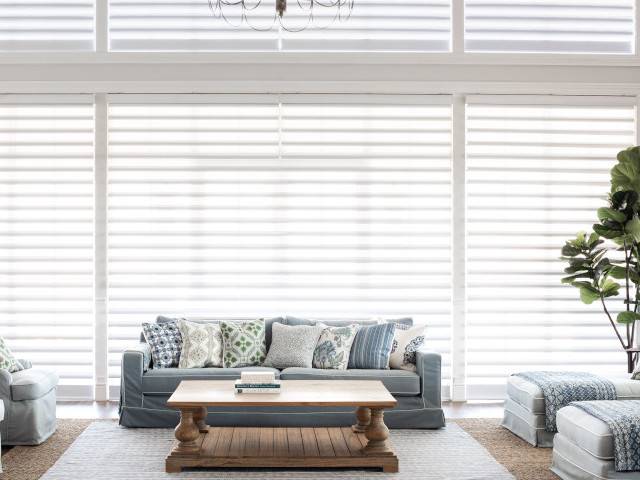 Australian Hamptons at home
Create an Australian Hamptons-style hideaway with Luxaflex® Window Coverings

Loved for its light, elegant and luxurious elements, the Hamptons style continues to be a popular look embraced by Australians. Not just for coastal properties and beach front abodes, the beauty of the classic American coastal style is the versatility it offers. From the neutral colour palette to the indoor-outdoor living spaces, the sophisticated, yet relaxed vibe is perfectly suited to the laid-back, alfresco Australian lifestyle.

Specialising in Hamptons décor, Indah Island interior designer Natalee Bowen used Luxaflex® Window Coverings for her latest renovation – the Farm Estate in Toodyay, Western Australia. A classic farmhouse sprawling over 1,000 sqm, Natalee wanted to continue the five-generation legacy of the traditional home, but introduce an Australian Hamptons style to create a timeless look.

Colour palette is one of the first components to consider for the exterior and carrying it through to the interior. "Light, neutral shades of white, cream, beige and grey will act as a blank canvas to build upon," says Natalee. "For the estate, we turned to our rural surrounds for colour inspiration and tested various white and grey paints to get the perfect shade. Greys can be quite reflective, so the tone used was a colour that would contrast against the white. Combine grey with white details for a traditional Hamptons look that won't go out of style."

"For a splash of crisp, cool colours, use soft blues and greens similar to the Hamptons signature shade of duck-egg blue and teal. This can be introduced through cushions, upholstered pieces and decorative homewares," adds Natalee.

An important element of the Australian Hamptons style is harnessing light and space. With Natalee's property benefiting from an abundance of natural light, she used Luxaflex® Pirouette® Shadings with PowerView® Motorisation in linen magnolia for the living areas, bedroom and hallways. Luxaflex® Pirouette® Shadings seamlessly blends sheers with blinds to create a soft light that allows for privacy without compromising on the warmth of natural indoor light. The innovative wireless automation system is easily controlled with a remote, making it ideal for tall and wide windows.

"Incorporate additional lighting in each room to add charm, pattern and interest. Consider different sources of light including floor lamps, table lamps and pendant lights. They can also make a home feel cosier," says Natalee.

Another staple of the Australian Hamptons style is interior shutters. It is elegant in design and appearance and its functionality means it is durable and requires little to no maintenance. In her estate, Natalee used Luxaflex® PolySatin® Shutters for the bedrooms, kitchen, bathroom and laundry. Luxaflex® PolySatin® Shutters features a soft, matte lustre look of freshly painted wood and have a non-porous surface that makes them the perfect choice for high humid areas. Homeowners can achieve precise control of light and privacy with shutters, allowing natural light in while maintaining the concealment by positioning the louvres to suit the desired view through.

A key aspect of the Hamptons aesthetics is the use of natural materials. This includes sisal and jute floor rugs, as well as wood, rattan and wicker furniture. "Layers of natural and organic textures add warmth and interest to a space," says Natalee. "Don't be afraid to mix and match textures, and try to keep pieces a similar shade."

Natalee also suggests focusing on soft furnishings and her home makes a strong case for the power of cushions and upholstery. "Soft furnishings are easy to change around, and can transform the feel of a home when done well. Try different shapes and textures within a simple colour palette and create layers with floral patterns and stripes."

When perfecting the Australian Hamptons look for the interiors, remember to choose what you love and lean towards high quality accents and fittings. The style is classic and can be enjoyed for many years to come.