Aussie Youth
Australia's newest -tween' pop band, Aussie Youth, have burst onto the music scene with their debut single, Dept of Youth.
The band is made up of four members, Jack Lyall, Belinda Barichello, Charly Butcher and Merrikk Steinfort. Jack, the fourteen-year-old lead male singer of the group, previously featured on The Voice Kids where he was mentored by the Madden Brothers who claimed, 'Jack is a natural, I can tell. He has what it takes". Additionally, Jack has appeared professionally in numerous musical theatre productions in both Melbourne and Sydney including Chitty Chitty Bang Bang and Love Never Dies. A 'natural born rock star", Jack's musical talents are not limited to singing, with him also playing the guitar, ukulele and drums.
Similarly to Jack, thirteen-year-old Belinda was also on The Voice Kids where she was mentored by Mel B who was wowed by Belinda's strong voice, 'Your voice is huge! A powerhouse voice!". As well as appearing in Chitty Chitty Bang Bang alongside Jack in Melbourne, Belinda played the lead role in the musical Annie. Described as having a voice of an angel, Belinda's main love is singing although she also has a keen interest in fashion, dancing and plays both the piano and guitar.
Bringing her own brand of fun to Aussie Youth, twelve-year-old Charly has a kooky personality and happy-go-lucky attitude. Both a singer and a percussion player, Charly is multitalented and the perfect entertainer, laughing, smiling and dancing wherever she goes. Her fellow entertainer and the youngest of the group at eleven years of age, Merrikk is an extremely talented dancer. Combine his dancing with boyish good looks, a sweet personality, great singing voice and a skilled drummer and percussionist, Merrikk completes Aussie Youth perfectly.
Aussie Youth is a music group to watch, with their high-energy music having been produced by a team of some of Australia's most decorated music legends including Creative Producer Chris Curran (Dance Chat, UNDRGRND), Performance Producer Paul Malek (Disney, Dancing with the Stars), Producer/Writer Paul Wiltshire (The Backstreet Boys, Delta Goodrem), Sound Engineer Doug Brady (David Bowie, John Farnham) and more.
The individual personalities and talents of the band members create an original sound, as heard on their debut single Dept of Youth. Dept of Youth, recently released on iTunes, is an interpretation of American rock artist Alice Cooper's 1975 hit of the same title, with many of the lyrics being altered to suit Aussie Youth's younger brand and pop style, delivering a message for the youth of today to unite and have a positive impact on society, with 'saving the world" as their goal.
The Aussie Youth promo video can be viewed here: https://www.youtube.com/watch?v=Sn396bEsEE4&edit=vd
Dept of Youth can be found on iTunes at: https://itunes.apple.com/au/album/dept-of-youth-single/id1095199006
Interview with Jack Lyall, Belinda Barichello, Charly Butcher and Merrikk Steinfort
Question: How would you describe your music?

Jack Lyall: The type of music I like to play and sing include covers with my guitar, I sing way too much Ed Sheeran, John Butler, The Beatles and just recently Led Zeppelin.

Belinda Barichello: I would say my music has a lot of passion in it. I love songwriting as well as singing. I also like pop, musical theatre and jazz, I enjoy powerhouse songs but also slow meaningful songs.

Charly Butcher: I sing mostly pop and ballads and also rock sometimes. I like to try lots of different things and being in the band allows me to do that.

Merrikk Steinfort: My personal music is modern rock like Led Zeppelin, Lenny Kravitz and modern music such as Bruno Mars.


Question: What did you enjoy most about the creation of Dept. of Youth?

Jack Lyall: I love working with the other band members and getting to know everyone.

Belinda Barichello: I've liked being in the recording studio, working with the other members in the band and being creative.

Charly Butcher: I loved being in the photo shoot for the album covers, they were so much fun! I also liked recording in the studios coz we got to see how things were done and the process.

Merrikk Steinfort: So far I think the experience is great, being able to do something like this is amazing, not many 12 year old boys get to be a in touring band.


Question: Can you tell us about how the song relates to Alice Cooper's Department of Youth?

Jack Lyall: We want kids our age to want to make a difference just like the Michael Jackson quote from his song Heal The World we want to make the world a better place.

Belinda Barichello: I'm hoping it will inspire others and give them the confidence to do what they want to do. It is a positive message for young people to have the power in the hands to change society and empower society and be the future.

Charly Butcher: We are trying to create a message to other kids that we have the power to change the world for the better. If we believe in it we can do it.

Merrikk Steinfort: With Department Of Youth we are saying we want you to join us and we are wanting to make people feel good.


Question: How did your time on The Voice Kids teach you about the music industry?

Jack Lyall: Something that I learnt and I think everyone else did too is that whilst filming there is a lot of waiting around so when you are on camera you need to try and enjoy every moment. I really loved my time on The Voice Kids, it was a great experience.

Belinda Barichello: The Voice Kids was an amazing experience for me. I got to learn techniques and performing skills and I got to work with people who are really experienced. It was great to get a taste of reality tv in terms of performing on tv and on the set. It was an amazing experience to work with the other artists, the coaches and all the people behind the scenes who you don't get to see on tv, they do an amazing job. It was good to get some more performing experience to a live audience. The live crowd gave me an adrenalin rush. It was an exciting time.


Question: Are you still in contact with the The Madden Brothers?

Jack Lyall: No, I wish I was, it would be pretty cool. They were both awesome but my favourite would have to be Benji.


Question: Do you write your own songs? What's your inspiration?

Jack Lyall: I've written some but I haven't released any so no one has ever heard them before. I hope there will be more to come.

Belinda Barichello: Yes I do, I'm really into writing music and playing piano and guitar. I really enjoy songwriting and performing at different charity events, fundraisers and going busking. I love connecting with people, so I also sing at nursing homes which I enjoy doing as a way of giving back to the community and inspiring others.

Charly Butcher: I don't, I sometimes write little things such as poems and try to put melodies to them but I don't fully write a song.

Merrikk Steinfort: No, I've tried to do it before but not really recently.


Question: What's your inspiration?

Jack Lyall: When there is a good crowd I really enjoy the performance and it inspires me to keep going. I get motivated when there is a gig or performance and I look forward to it.

Belinda Barichello: I've always loved music from a really young age, even as a toddler, it is my favourite thing to do because I love connecting and telling a story through art. The whole story telling aspect inspires me, music reaches out to people for different reasons and emotions. I'd love to impact others with my music.

Charly Butcher: I'm inspired a lot by fashion, whenever I go shopping and I see all the clothes and an outfit looks nice I try to recreate it in my own style. I watch a lot of YouTube and beauty bloggers, I love to try out all the latest fashion trends.

Merrikk Steinfort: I want to be a professional performer through singing, dancing and acting, I really like doing it.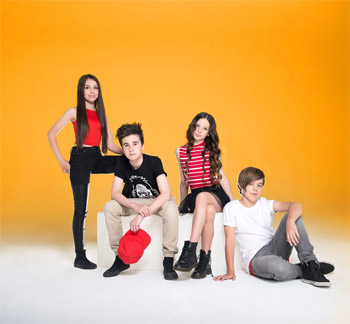 Question: What music/artists do you listen to when you are not playing your own?

Jack Lyall: I really like Ed Sheeran's music and style especially when he is acoustic and live. I've been listening to a lot of Michael Jackson and John Butler's guitar skills are incredible live.

Belinda Barichello: I really love Justin Bieber, Christina Aguilera and Beyonce's music and I also love some of Jessie J's music she has an amazing voice. I love Wicked, it is my favourite musical. I love a variety of music.

Charly Butcher: Little Mix, Beyonce, Meghan Trainor and Justin Bieber.

Merrikk Steinfort: Pop and rock artists such as Lenny Kravitz, Bruno Mars and P!nk.


Question: What's next? Tour/Album/Single?

Jack Lyall: The goal for the whole band is to do a tour and we are working towards branching out internationally hopefully to the US and Asia.

Belinda Barichello: I think next is a tour and to get some more songs out nationally and then hopefully internationally as well. We want to share our songs with the world and spread a positive word with a positive music and message to inspire the next generation.

Charly Butcher: I think we are working towards going to America which would be really cool and fun, but for the moment we have to record more and do more music videos.

Merrikk Steinfort: In the next year I think we may be touring but we are working towards learning more songs.


Question: Was there a moment you contemplated throwing in the towel?

Jack Lyall: I'm so glad that I didn't give up but when I was in primary school I was torn between music and sport.

Belinda Barichello: No, I like working collaboratively as a team, I think remaining positive is the key, everything is hard work, if you put your mind to it and are positive and commit to it, it will turn out in the end.

Charly Butcher: No, I've always loved singing, music and dancing.

Merrikk Steinfort: I don't think so, I've always loved singing and dancing.


Question: Do you prefer performing live or recording?

Jack Lyall: I'll say recording because I haven't done much of it and you can make as many mistakes as you like!

Belinda Barichello: I like both for different reasons; performing live because of the feeling of exhilaration and recording because it is a cool experience and I like playing around with different styles of singing. You are more experimental in the recording studio.

Charly Butcher: I would have to say I haven't had much experience recording other than with the band so I would so far prefer performing live. I love performing because it is really fun and I enjoy the exhilaration when I get up on stage for live shows. In the recording studio it doesn't matter if you make a mistake but live shows are powerful.

Merrikk Steinfort: I'm not sure, I'd like to say performing live in front of a crowd even if it is just ten people. Recording is not as good as performing live.


Question: What/who was your inspiration to go into the music industry?

Jack Lyall: My very first musical inspiration was my sister because every Saturday she would do a musical theatre class and I would come along and watch the whole hour. Then one day the musical director stopped everyone singing and said they were all doing it wrong and he's doing it right and pointed at me in the corner of the room! He booked me into the studio at the age of six and we did a bit of singing. Afterwards they went to my Mum and said your son is a freak! Mum didn't know whether it was a complement or not but after that I started lessons and it went from there.

Belinda Barichello: My family quite like music, my Nonna when I was younger used to sing to me. Once I got a taste of music I had a passion for it that developed naturally it is something I really love to do. I was exposed to music at a young age, it is something I really love.

Charly Butcher: Definitely when I was little I would listen to the Pussycat Dolls on my Mum's phone and watching Hannah Montana. Having the fame and make up artists seemed like so much fun so Mum put me into singing lessons!

Merrikk Steinfort: I can't remember what I was watching but there were lots of dancing in it and so I asked my Mum if I could do dancing lessons and I've loved it ever since. My Mum also thought I'd be good at singing lessons and I've enjoyed that too.


Question: What is the biggest challenge you have faced along the way to your musical success?

Jack Lyall: I would say probably playing guitar live for the first time to an audience it was the hardest and most nerve-wracking thing I've done.

Belinda Barichello: I think I am quite organised and I keep on top of my home work and make time for other things. I'm exciting about having an opportunity to make things happen. Opportunity not obstacles.

Charly Butcher: Balancing the time for home work and school, dancing and practice my music and seeing friends. It's all about time management!

Merrikk Steinfort: My biggest challenge is practicing my vocals and working hard with my vocal coach so I can learn the songs.


Question: What's a typical day like?

Jack Lyall: On a weekend I wake up at about 9am – 11am depending if I have a gig on, then I have breakfast and watch a movie and then I'll start the day.

Belinda Barichello: Well I wake up obviously and go to school on a weekday, I am usually very busy and I have singing, piano and I'll do some home work and maybe write some songs. I also like drama and acting so I like to have the chance to do that. On the weekend I like to hang out with friends and family and look after my fitness and nutrition and even do yoga.

Charly Butcher: Usually fun and lots of laughs. I would practice my singing every three minutes and then I have a break for 5 minutes and go again, it doesn't stop.

Merrikk Steinfort: A typical day is school, dancing and singing.


Question: What has been your favourite part of becoming a music artist?

Jack Lyall: My favourite part has been meeting experienced people that can teach me new things.

Belinda Barichello: I like being able to have the opportunities I've been given and performing with other people who have the same passion as me. I also loved doing the photo shoots and building my profile.

Charly Butcher: Getting our make up done and photo shoots and feeling like a star. It has also been great getting closer to the other band members it is always fun to see them!

Merrikk Steinfort: Meeting everyone Jack, Charly, Belinda and the management team and being able to have fun with everyone.


Question: If you could collaborate with another artist, who would it be?

Jack Lyall: I'm going to have to say Ed Sheeran again because we have the same sort of style and we both play guitar.

Belinda Barichello: I think it would be cool to collaborate with Justin Bieber because his songs are really awesome, or even 5SOS. I'm not a huge fan but it would be good to work with other Australian artists such as Delta Goodrem.

Charly Butcher: Adele and also my other favourite artists, it would be great to meet them and work with them.

Merrikk Steinfort: Bruno Mars because I really like what he does and the different types of songs. I love his style and the way he sings.


Question: What is the story behind the band's name?

Jack Lyall: We are an Aussie band directed at youth audiences and we want to send a good message and provide kids with appropriate entertainment.

Belinda Barichello: We are an Australian band wanting to send out a positive message and we want to represent Australia and their talent. We are true-blue Aussies!

Charly Butcher: We are Australian and we want to the world to know that!

Merrikk Steinfort: Being Australian is amazing and it is the best country you could ever live in and to be young is an amazing feeling. It is fun being young and being free and we want to show that through the band.


Interview by Brooke Hunter