Crystal healing is an alternative form of new age medicine that uses the vibrational energies of crystals to re-align chakras and enhance the mind, body and spirit. Often placed in energy centres such as the home, crystals have become a stylish and meaningful décor staple for those seeking to resolve personal and habitual imbalances.
Pioneering the mainstream acceptance and utilisation of crystals, lifestyle and décor brand, Stoned Crystals, today launches its latest addition to its Geo Gem range, the smokey quartz Ashy Diamond.

Considered a supercharged variation of the traditional quartz, the Ashy Diamond is a cognac-hued mineral celebrated for its healing and grounding properties. Used for centuries by Celtic, Egyptian and Roman cultures, the smokey quartz purifies negative energies, provides resolution and encourages growth and new beginnings.
"Each crystal offers a unique vibrational resonance that depends on its mineral content," said Ashley Bellino, the founder of Stoned Crystals. "Operating at a higher frequency, the smokey quartz helps bring harmony back into the home and distil those residual energies manifested from a year of complete upheaval."
Born alongside other minerals such as amethyst and citrine in temperatures above 50 degrees, the smokey quartz is often associated with the base and crown chakras. Drawing new energy from the earth, smokey quartz helps raise low vibrations, promote stability and develop spiritual awakenings.
"By physically connecting with the stone daily and setting mindful intentions, users often find their energy field purified from negative thoughts, feelings and memories, and more receptive to future positive experiences," said Ashley.
Laser cut with multiple facets, the Ashy Diamond is the sixth addition to Stoned Crystal's Geo Gem range and sits alongside the popular Black Hex (obsidian), Chevronica (amethyst), Love Triangle (rose quartz), Captain Jack (Pyrite) and Clear Boy (clear quartz).
Ethically sourced, the Ashy Diamond retails for $219 RRP and comes beautifully boxed with its own unique energy card. All crystals in the Geo Gem range are available to customers online and via Stoned Crystals' flagship store in Elsternwick, Melbourne.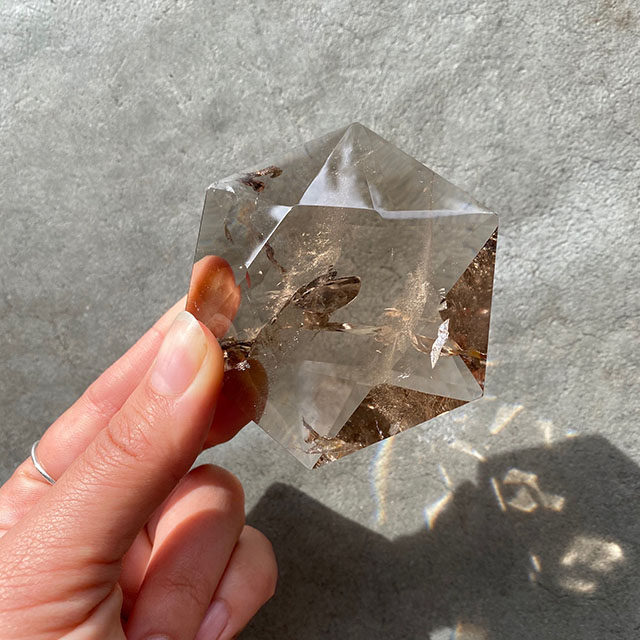 APPEARANCES & ORIGINS
A silicon dixoide mineral, the smokey quartz ranges in colours often presenting in warm cogna hues, greys and shades of black and charcoal. Sometimes formed alongside other minerals such as citrine or amethyst, this type of quarts is born in temperatures above 50 degrees celsius (122 degrees fahrenheit).
As the national gem of Scotland, the smokey quartz dates back to 9th century with strong roots to Celtic culture. Considered a sacred stone, it's earthy-colour symbolised power and strength, and was often linked to Hecate, the goddess of the occult and dark moon.
Easy to cut and shape, wealthy Egyptian and Roman empires utilised smokey quartz for jewellery, accessories and carved keepsakes. These civilisations believed that this stone could revres bad luck and repel negative energies, and was worn by soldiers during battle for clarity, wisdom and protection.
In Feng Shui, smokey quartz is associated with the earth element of wood; signifying growth, new beginnings, nourishment and health.
CHAKRAS & PLACEMENT
In crystal healing, smokey quarts serves as a powerful grounding tool; helping users to harmonise physical and non-physical energies, restore spiritual balance and ease a troubled or conflicted mind.
Associated with the base and crown chakras, smokey quarts draws energy from the earth and channels through the body to stabilise the other chakras.
Representing the proverbial yin and yang - this is, the body and the mind - this stone helps to develop spiitual awkenings by bridging the physical and ethereal planes.
As smokey quarts is known to be sensitive to UV light, extened exposure to the sun may result in slight colour variances over time.
Although this does not affect the crystal's energy, it is recommeded to keep this particular stone in a a shaded are of the home or office.
For enhanced benefits, physically connect with the stone daily while setting mindful intentions.
Learn more about Stoned Crystals
Stay tuned on how I went with my Ashy Diamond...