Anna's Revolution - Meet The Vital Businesswoman Behind Cuisine On Cue
Looking for a next life adventure, Anna Morrow found herself passionate about catering service, when she joined Brisbane's pioneer business Cuisine on Cue in 2009.

Coming from Sydney's hectic corporate world, having worked at major corporations such as PricewaterhouseCoopers and Kellogg's, Anna already knew how to work under pressure and brought the company into a new era.

Having Rob Morrow as her mentor, Anna started as Sales Manager and was trained for six months into the General Management position, where she implemented strategies to diversify the brand, offering and introducing an impressive venue portfolio with exclusive catering agreements in place. And somewhere along the way the Anna and Rob fell in love.

The couple has been keeping their professional and personal partnerships successfully balanced over the years. Anna recognises however that, like any other relationship, there are ups and downs - "It makes it harder to switch off, you tend to talk about work at home". The reason why they have done it so well for so long is that the pair has an immense amount of respect for each other.

This year, after completing a decade leading the business, Anna officially became Managing Director - and her schedule has been busier than ever. Starting her day at quite early, she gets her "me" time at the gym and runs back home just in time for when her two little girls are waking up and the whole family has breakfast together - before the rush starts.

Once she gets to work, Anna goes straight into the office to read her emails and look at what is ahead on the day. After checking in with her Executive Chef, she catches up with the Kitchen Team to make sure they are all happy.

Throughout the day, she can have several different meetings with clients, partners, and also business development. Anna continues to work with the Sales team, answering their questions, and helping them to think outside the box. At the end of the day, she meets with the Operations Manager and makes sure all the logistics are okay.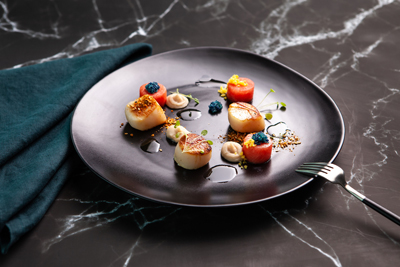 While having an extremely busy routine, Anna still finds time to look into the company's social responsibility. Currently, Cuisine on Cue's charity work is focused on supporting children living in long-term foster care. Locally based in Brisbane, Little Stars Kids runs day camp programs that provide children with a safe place to build positive relationships with other adults and children.

This year, Cuisine on Cue will be providing a full catering service at a day camp, where members of their team will also be buddied-up with kids and help them gain a sense of belonging through fun, laughter, new experiences, adventure and play.

Whether an event is for a charitable endeavour, intimate private dinner or gala ball, the caterer is renowned for providing consistency in unsurpassed customer service and attention to detail – a trait which Anna and Rob are sure has helped deliver their longevity in the industry.

"Working hard, staying humble and constantly striving to improve – that's the backbone of Cuisine on Cue and business traits we're very proud of," says Anna.


Interview with Anna Morrow, Managing Director at Brisbane's Cuisine on Cue
Question: Can you tell us about your role as the Managing Director at Brisbane's Cuisine on Cue?


Anna Morrow: My role sees me responsible for the overall direction of the business, including directional planning, all business development, growth strategies and marketing. Day-to-day, I am very hands on in the business and work with our teams to deliver and exceed client expectations at all levels.


Question: What originally inspired you to leave the corporate world for catering?


Anna Morrow: I have worked extensively in corporate events and over time, I realised I loved the food side the most. It became quickly apparent to me that I wanted to work more closely with Chefs and kitchen teams in creating unique experiences for event guests. It also helps that I am half Italian on my father's side, so I have grown up with a healthy respect for and a love of cooking and good food!


Question: What five ingredients could you not live without?


Anna Morrow: Garlic, butter, zucchini, pasta… and red wine can be classed as an ingredient can't it!?


Question: What advice do you have for aspiring chefs?


Anna Morrow: Look after yourself and keep your health in check. This industry involves long and often unsociable hours. It is important to maintain as much of a work/life balance as possible.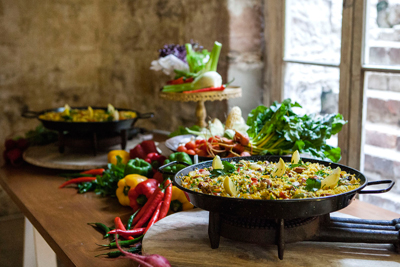 Question: Can you share one of your favourite recipes with us?


Anna Morrow: I love variety when it comes to food, however one of my favourite recipes is the cake that my late Nonna used to make. Nonna made it every birthday for me and it holds a special place in my heart. It would take her days to prepare and none of us has even come close to being able to replicate it. The cake was a sponge torte with masala, layered with an egg custard cream (and also covered with it) and decorated with almonds.


Question: What's a typical day like for you at Cuisine on Cue?


Anna Morrow: After the morning family rush, the first thing I do when I arrive into the office is to drop by the kitchen to check-in with the kitchen team. I'm then upstairs in the office reading emails and checking on what jobs we have on for the day. I then check in with our management team and key staff to ensure everything is running smoothly. This includes following up on jobs that have occurred over the weekend or the night before. I then catch up with sales team and focus on business development leads and opportunities. Apart from general administration, most days are very different and may also include site inspections of venues alongside my clients to assist in event planning or working alongside our marketing team to plan out a current campaign.


Question: What's next for you and Cuisine on Cue?

Anna Morrow: We of course want to continue to grow the business and the catering market as a whole in Brisbane. It is vital for us to continue to uphold the quality of what we do in terms of product as well as our service offering. I'm excited to continue to keep an eye out for new opportunities as they arise and play our part in creating stand out catering that continues to excite and impress. (Anna's husband and Cuisine on Cue Founder) Rob and I are also very keen to invest more into the industry through our charitable work and continue to support various organisations either volunteering our time or in a philanthropic capacity.


Interview by Brooke Hunter