The Unexpected Career Path Making Way For Women
In charge of the boat and all those onboard, the Skipper profession has long been a male-dominated one. Ana is changing this narrative in Croatia (one of Australian's favourite holiday spots) - paving the way for women in sailing to follow in her footsteps.

Working her way up, Ana started as a hostess of Private Yacht tours with Sail Croatia, and has now come full circle to commanding the very same boats she started on. She has a wealth of knowledge around life at sea, and plenty of incredible stories from people she's met along the way.


Interview with Ana Maruscec Toth, Sail Croatia's first ever female skipper
Question: Are you surprised to be Sail Croatia's first ever female skipper?

Ana Maruscec Toth: I am very surprised that I am Sail Croatia's first ever female skipper! I'm currently working on introducing more women into this career path. I've been talking to a lot of women who are interested in becoming a skipper but are hesitant because it's known as a "man's job".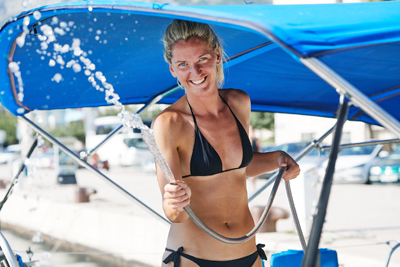 Question: What's a typical day like for you as a skipper on Sail Croatia?

Ana Maruscec Toth: I start with a morning coffee and check the weather forecast for the day to see if it'll match our itinerary. I do a routine check of the boat and then head off to find a private, crystal clear bay to enjoy our day.

If it's windy on the way, we will put the sails up and the guests can experience some adrenaline. At the bay, I drop an anchor at the best spot and we all relax, swim and have lunch.

Depending on the guests, we decide what to do next – either stay at the same spot, find another beach or take them to harbour where they can go explore the next island or do a booked exclusion.

When the guests leave the boat, I have time to clean the boat and gather my energy for the rest of the day. When they come back they have a rest and we go out to dinner to a restraint that I usually recommend. From there, we either go to a party or back to the boat.

Before bed, I do last check-ups for the next day.


Question: Can the crew party with the passengers?

Ana Maruscec Toth: Guests who want to go out and party will often ask me for my tips on where to go and ask me to go with them.

I usually go, especially if it's the first night, as it's a fast way to get to know everyone! However, I need to wake up early the next day to work so I don't go crazy – I usually only go for one drink and leave them with a good vibe.


Question: Why is Sail Croatia the ultimate holiday trip for 2020?

Ana Maruscec Toth: Sail Croatia is the ultimate holiday trip because it offers something for everyone. They arrange everything in their power to make sure you have the holiday to remember.

I've been working for Sail Croatia for a few years now and I find they that the way they arrange trips, the services, how they treat guests and they handle critical situations – they do exceptional work. The feedback we get is always amazing!


Question: How can women in sailing follow your career path?

Ana Maruscec Toth: I find that the biggest hurdles for women are self-doubt and a lack of reliable information.

A couple of days ago I received a phone call from a girl who wanted to get into sailing but didn't know how. I shared my experience with her that reassured her that this was a great path. I'm always happy to share advice with others interested in sailing who don't know where to start.

I got into my role with Sail Croatia as a skipper through working my way up from a hostess. I found this was a great way to learn the ropes of life on a boat and gave me great opportunities to upskill.


Question: What challenges have you had to overcome working as a woman in sailing?

Ana Maruscec Toth: I have found sailing to be very accommodating to me, which is why I'm surprised that there aren't many females in the field.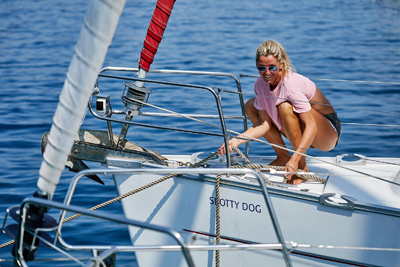 Question: Can you share your top spots in Croatia?

Ana Maruscec Toth: My favourite islands are Vis, Mljet and Lastovo. Croatia has more than 1,000 islands and I'm still discovering beautiful new spots every day!


Question: Are you able to share one of your favourite memories with us?

Ana Maruscec Toth: I've had a lot of great memories during my time with Sail Croatia.

One of my favourites was during the football World Cup where Croatia played against England.

I was with English guests on Vis Island and we were all extremely competitive about who was going to win. I was worried that the outcome of the match would ruin the mood on the boat.

Croatia won the match and the celebrations on the island blew up! The docked boats fired signal rockets and the ferry coming into the harbor blew it's horn for a few moments. It was a really special moment, especially for me as a Croatian fan. My guests were so surprised and excited about the celebration on the island that they didn't feel too bad about England loosing.


Question: What's next for you?

Ana Maruscec Toth: I want to continue being a skipper and discover new seas around the world. I'm hoping to see more women become skippers and collect experiences and connected for the future career.


Interview by Brooke Hunter