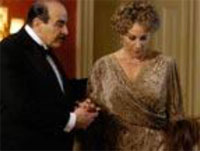 AGATHA CHRISTIE: POIROT: THIRD GIRL Sunday, 05 April 2009 - 08:30PM

Hercule Poirot (David Suchet) does not wish to be disturbed. But when an attractive young woman bursts into his apartment and claims she may be a murderer, he cannot ignore her tearful pleas for help. Although she disappears without giving him more information, her dramatic intrusion draws him into one of the most baffling cases of his career.

David Suchet has been playing Christie's crime solver for over twenty years but Third Girl shows that these lavish adaptations can still offer fresh scenarios and conundrums that retain the power to seize an audience's interest and imagination. The mystery delivers an enigma which touches Poirot profoundly and the world he is compelled to investigate is bleaker and darker than ever before. The denouement delivers a brutal and brilliant finale but ultimately the Belgian detective is forced to admit there are some mysteries even he is unable to unravel...

The exceptional cast includes Peter Bowles (The Bounder, Ballet Shoes) as a blind old man who sees more than Poirot realises, Jemima Rooper (Time of Your Life, Lost in Austen) as the girl who begs him to save her and Zoe Wanamaker (My Family, Doctor Who) as Ariadne Oliver, the incorrigible novelist who is on hand to lend her assistance.

What is the secret of 'the last happy summer'? Who is behind the attack on Ariadne? And who would benefit from the murder of a seemingly innocuous old lady?