When the truth of history is told, we can all walk together.
Cast: Adam Goodes, Stan Grant, Gilbert McAdam
Director: Daniel Gordon
Genre: Documentary

Synopsis: From shy country kid to two-time Brownlow medallist and Australian of the Year, Goodes is an inspiration to many. The footy field was where he thrived; the only place where the colour of his skin was irrelevant. Goodes' world fell apart when he became the target of racial abuse during a game, which spiralled into public backlash against him. He spoke out about racism when Australia was not ready to hear the ugly truth, retiring quietly from AFL heartbroken.

Using the stunning athleticism of Goodes at the peak of his powers as well as the game itself as the film's backdrop, The Australian Dream prompts questions about Australia's relationship with racism and its ability to confront its own past. This compelling, provocative and cinematic film uses interviews from both sides of the debate to ask probing and fundamental questions about what it means to be Australian and what it takes for any individual to stand up for what they truly believe in. Featuring Goodes and all the key players from his story, including Grant, Michael O'Loughlin, Brett Goodes, Natalie Goodes, Tracey Holmes, Nova Peris, Nicky Winmar, Gilbert McAdam, Linda Burney, Paul Roos, John Longmire, Nathan Buckley, Eddie McGuire and Andrew Bolt, The Australian Dream is also a deeply personal and comprehensive exploration of Goodes' own journey which saw him retreat from everyday life only to return determined to rise above the ugliness he had been forced to confront.

The Australian Dream is something people reach for and many people obtain, but there's an emptiness at the heart of it because Australia has not resolved the questions of its history. If the Australian Dream is rooted in racism, what can be done to redefine it for the next generation?

The Australian Dream
Release Date: August 22nd, 2019


I make films and tell stories to move audiences. Whenever I look for a project to direct, I look for a subject, a story, that I feel offers me the opportunity to make a film that can impact as large and as far-reaching an audience as possible.

Director's Statement


The next key factor for me is ascertaining whether the story I want to tell offers me as a filmmaker the opportunity to tell it in a way that transcends an already compelling core story enabling it to resonate far wider than that core story.

The Australian Dream offered me that opportunity in so many ways. The story was both engaging and enraging. As with many of my films, it had the world of top-level professional sport as its backdrop and as (nearly) everyone loves sport, this provided a broad audience with the perfect access point. The story itself takes place in a country that is on the surface familiar to us all, outwardly sunshine and surf and great outdoors, yet that shiny veneer - once scratched at - reveals a nation in the throes of an internal struggle with itself as reflected by a much more sinister landscape.

The core story is remarkable, an extraordinarily talented and dignified man, Adam Goodes, a sporting hero of Australia, once decorated and revered yet over a two-year period broken by that same nation turning its back on him and, worse still, turning on him and driving him out of his chosen profession for which he had been so celebrated.

And they didn't just force him out.

They racially abused him out. In response to the treatment that Adam Goodes was subjected to, a cast of characters reveals itself. Some of these characters are ugly and bitter who reveal a deep-rooted underbelly of racism that has cast a shadow over large sections of Australian society. But, in direct contrast, many are brave and inspirational, who suggest that there are forces at work, benevolent and bold, who offer the nation a clear path to accountability and reconciliation. None more so than the remarkable Stan Grant.

Stan Grant is a modern-day Civil Rights hero. In his powerful and emotive words, we hear echoes of so many who have gone before him, iconic people like Martin Luther King and Nelson Mandela.

Stan Grant deserves his place alongside those men because Stan, like Adam, has lived the life of the oppressed and has risen above it. And like those inspirational men he bears no resentment or anger, he just wants people to listen and learn and for the plight of Australia's Indigenous community to improve dramatically. And now, he feels, at last, it seems people are listening. Stan truly believes that for the first time there is the possibility of real progress. And Adam, in his life today, exemplifies that possibility of progress.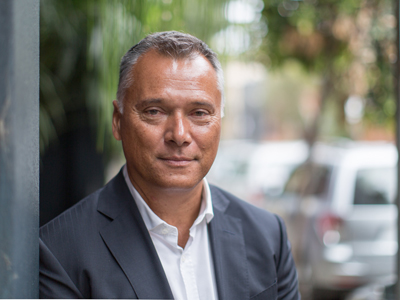 In Adam and Stan, I see the kind of characters one is rarely lucky enough to find, and rarely lucky enough to build a film around. But we had them both in The Australian Dream and they offered me the perfect access point for an unknowing audience to connect with this story. It is just impossible not to be deeply moved and inspired by them both.
The Australian Dream is a film that resonates on so many different levels. It is Adam and Stan's story, but it is also the story of a nation, Australia, large swathes of which remains trapped in its own past, stubbornly refusing to progress, to emancipate and to make amends for the horrendous racism of its history and struggling to chart a comprehensively redemptive course in its present. It is a film about family values, about the power of family ties and how to be a caring parent and a loyal child. It is a film about bigotry, about racism much like the racism that has prompted so much global rage over the decades. Australia refracts Apartheid and Black Lives Matters, its policy towards its Aboriginal community has been just as degrading, just as violent, just as white. But it is also a film about redemption, a redemption spearheaded by remarkable and brave people, who stood up to the bigotry and racism and showed there was another way. And then, bottom line, it is a film about a supremely talented sportsman, who rose up above all hardship to become the very, very, very best, and when brought to his knees, he rose again, calmly, with such dignity and spoke up gently in the name of all of those who had suffered and in the hope that many more won't have to suffer the same.
This film has all the ingredients and more than I could ever wish for and I am truly excited to make it and bring it to the world stage.
- Daniel Gordon
Writer's Statement
In the winter of 2015 Australia turned to face itself. It happened in that place most sacred to us: the sporting field. Adam Goodes an indigenous footballer, one of the greatest players of his generation, was abused and humiliated until he could take no more.

As this man retreated from the field Australia was forced to confront the darkest parts of its own history. Black and white we are all formed by this. We carry the blood of each other in our veins. Yet, we meet across a vast divide.

This wasn't about sport; this was about our shared history and our failure to reconcile. Some sought to deny this, some to excuse it – to explain it away – but when thousands of voices booed Adam Goodes, my people knew where that came from.

To us it sounded like a howl: a howl of humiliation that echoed across two centuries of dispossession, exclusion, desegregation. It was the howl of people dead on the Australian frontier; killed in wars Australia still does not speak about. It was the howl of people locked up: a quarter of the prison population is Indigenous. It was the howl of hungry children; women beaten and men in chains.

In Australia today the first people of this land are the most impoverished. They die on average ten years younger than their fellow Australians. They have the worst outcomes in health, housing, education and employment. Aboriginal kids under the age of 15 are ten times more likely to take their own lives than other Australian children.

This is the stain on Australia's soul. It is a deep wound that refuses to heal.

And yet, there is hope. There is hope in the struggle of Indigenous Australians for citizenship and equality. It is the hope of Indigenous students graduating university in increasing numbers. It is the hope of Australians black and white marching for reconciliation.

We are more than a nation: we are a family. Indigenous people draw our ancestry from white and black. I am descended from an Irish rebel convict who left behind a family: no longer Irish no longer just Aboriginal but something new: Australian.

This film tells the story of Adam Goodes: but it also tells a bigger story of how we find ourselves. It is not a story of Australia; it is a story of humanity. How a nation refuses to look away and asks how it can be better.
- Stan Grant

The Australian Dream
Release Date: August 8th, 2019