Vixens Of Fall Release New Single & Video 'And Then We Dance'
There's a little bit of magic in the air and with the release of Vixens of Fall's new single and video, 'And Then We Dance', there's no prize for guessing who's behind it. The three Queensland sisters are back at it following the success of their EP 'A Love Like Ours', which debuted at #6 on the iTunes Country Chart and at #47 overall. 'And Then We Dance' talks about a different kind of love, about the frission between desire and dance.

'It's a small revelation into a world of sassy romance,' the girls say, 'a portal into a mystical world of allure and seduction surrounded by flame and passion.' The single was recorded by Michael Moko at The Pool Room and at Mick McCartin's Black Wolf Studios on the Sunshine Coast.

The video was shot in Wamurran Basin at the girls' drummer's property and captures 'that moment in time when you look across the room and feel an instant connection, an overwhelming compulsion to be part of that person's journey. It's when the body and mind is overloaded with sensory stimulus, when lucid thought leaves the real world and nothing is as important as that single moment.'

Jazmyn Bowman of Jazmyn Produces came on board to shoot the clip in which three sister witches sing and dance and put the local townsfolk in a trance as they hope to capture the heart of a young man they've had their eye on – and so begins the dance of love.

Speaking of love, there was no shortage of it directed at the girls this January at the Tamworth Country Music Festival. They won the Battle of the Band competition and came in as runners-up in the Aristocrat Entertainer of the Year. They also had the privilege of opening for Natalie Henry at the Welders Dog.

With a huge start to 2020 under their belt, Vixens of Fall are shaping up for their biggest year yet. There's more new music, a number of live shows in the pipeline and if the video for 'And Then We Dance' is anything to go by, things are really heating up. As the girls put it "it's all about lust and desire and dancing" – who doesn't want a piece of that?

UPCOMING SHOW DATES:
Saturday 14th March - Redcliffe Leagues Club, Redcliffe – QLD
Thursday 9th April – Redcliffe Leagues Club, Redcliffe – QLD
Saturday 30th May - Redcliffe Leagues Club, Redcliffe – QLD
Friday 12th June – The Waves Sports Club, Bundaberg – QLD
Saturday 13th June – The Waves Sports Club, Bundaberg - QLD
Thursday 18th June - Redcliffe Leagues Club, Redcliffe – QLD
Saturday 4th July – Twin Towns, Tweed Heads – NSW
Saturday 26th September – Twin Towns, Tweed Heads - NSW
Friday 4th December - The Waves Sports Club, Bundaberg – QLD
Saturday 5th December - The Waves Sports Club, Bundaberg – QLD


Interview with Vixens Of Fall
Question: Can you tell us about And Then We Dance?

Vixens Of Fall: And Then We Dance is inspired by the "Moon Dances" of Kuranda (in Cairns, QLD) of the 1970's. It's about the moment you lock eyes with someone and feel an intense connection with them. You see them across the way, and just embrace all that is, in that moment.

It's about the sensuality; lust and desire that can be generated by just one simply glance.


Question: What inspired the track?

Vixens Of Fall: Hearing stories about the Moon Dances, held on the full moon, each month, inspired the song itself. The song is a collaboration between Nina, and our father Eric. Nina started writing the song, simply from a strong feeling of lust and love, and after finding out more about dad's rock and roll days in 1970's Kuranda, they finished the song.

The hook of the song "I hope this love can last all night" particularly pinpoints the "in the moment" feeling. You might not want it forever, but you want it right now.

And Then We Dance is mixture of Moondance by Van Morrison and Witchy Woman by the Eagles.


Question: Can you tell us about filming the video for And Then We Dance?

Vixens Of Fall: The filming was an incredible experience. We filmed on our Drummer's (Dave) acreage, in Wamuran Basin. We had a massive bon fire, which was about three metres wide and high, that we had to get a permit for from the council, and we were so lucky that the fire ban was lifted, ONLY for the weekend we filmed.

It was such an amazing time. We had friends and family give up their time and drive out to help us out, we had as many flood lights and generators that we could possibly get out hands on, and thanks to Brendan (our main man in the film clip) his car provided enough light to get the job done. Filming on five acres on a rural property with no electricity and phone service seemed like a super idea at the time! Thankfully it all worked out!

The fire produced so much heat, that we were constantly sweating... but thanks to the amazement of film, we simply glistened (laughs)!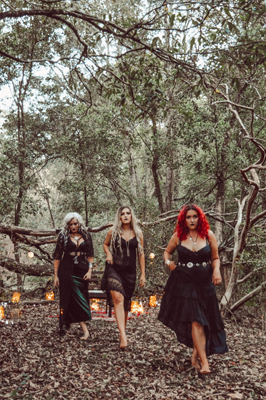 Question: Do you prefer performing live or recording?

Vixens Of Fall: Performing live and recording both have their pros and cons, in their own right. It's hard for us to choose because we love the experience of them both.

We love the experience of recording and the opportunity to create the exact sound that we want, but! We would probably lean more towards performing live because we love to entertain the audience, right at that very moment. We love getting up in front and putting on a show. We love dancing, we love having fun, we simply love to entertain. Seeing people enjoy themselves and dance and sing with us, gives us such a rush.


Question: What should we expect from your upcoming tour?

Vixens Of Fall: A flipping good time, it's a journey through the evolution of women in country rock. It highlights the hits from the greats, from Shania Twain, Dolly Parton, Carrie Underwood, Reba Mcentire, Patsy Cline and Miranda Lambert, just to name a mere few.

It is a chance to get up close and personal with us, and share just some of the songs that inspired us to become who we are today.


Question: Which is your favourite song to perform live and why?

Vixens Of Fall: Apart from our own songs, of course!

Nina: This is really, really difficult for me. Every song we sing, I love. But, having to choose, I would actually say Fortunate Son, by Creedence Clearwater Revival. I am so in love with classic 60's and 70's rock! And this song is just the epitome of a) the time I feel I should have grown up in, but b) it's takes our audience to that era, and they love it. They dance, they sing, they are simply infatuated.

Lulu: My favourite song to perform would be These Boots Are Made For Walking, by Nancy Sinatra, because we've developed dance moves to the words. So when we get to show our audience our performance, it makes their energies even brighter and it makes my soul happy.

Wren: So hard to pick just one, but I do love performing "Little White Church" by little big town!

Not only do we have amazing moves but it is such an upbeat, fun and catchy tune. I love the harmonies we produce, I love watching people's souls light up when they boogie on the dance floor in front of us... and the more excited the audience gets, the more we feed off that energy and the show just gets an amazing vibe!


Question: If you could have anyone, in the world, attend a show, who would it be?

Vixens Of Fall: There are too many, we want all of musical influences to be there (laughs).

Whittling it down, we would have to say, Dolly Parton, she is our queen! We want to be like her when we grow up, she is witty, sassy and so wise!

And, The Pistol Annies; we completely vibe with them, they speak a truth that we could only hope to share, ourselves, one day.


Question: What is the story behind the band name?

Vixens Of Fall: Vixens of Fall came from a combination of lipstick and the seasons of autumn.
Wren and Lulu worked at a pharmacy, and one day when Wren was stocking lipsticks, she saw one that said "Vixen".

Now the term Vixen has a couple of different definitions:
1. A female fox (hence our logo) and 2. An ill-tempered or quarrelsome woman (which describes the three of us quite well…)
We also felt that Autumn (or Fall) also describes us quite well. We are just like the colours of Autumn, very different however, they're all just shades of each other. Reds, golds, oranges.
The Autumn Vixens or Vixens of Autumn didn't feel quite right… and so to add to the mystique, magick and mystery of the three of us, Vixens of Fall was born.


Question: How did the band come together?

Vixens Of Fall: Being sisters, we have sung together ever since it was possible but it wasn't until 2015 when we actually decided to make a go of this. Dad had expressed his thoughts and feelings for many years and tried to get us together as a band, but it wasn't until Nina had moved back from a teaching stint in Cairns, that we decided to make something happen. Adrienne booked us in for a singing lesson, and the next thing we know it's 2020, we've won Tamworth battle of the Bands, runners up in the Aristocratic Entertainer of the Year, have a three singles out and an EP that debuted at #6 on the iTunes country charts, crazy times!


Question: What motivates you most when writing music?

Vixens Of Fall: What motivates us most when write our music are our thoughts, feelings and experiences. They always come into play. We find that we are quite empathetic towards feelings, in general, and we really wear our hearts on our sleeves… and our faces. You can tell how we are feeling through our body language… and of course, now, our words.

The things we read in the media, the stories people tell us, the experiences that others have, they also contribute. We very, very often write with our father too and he is quite prolific with his words. We love hearing about his life, and even the stories he creates, are simply mesmerising.


Question: Which music/artists are you currently listening to?

Vixens Of Fall: We're really loving our Australian and New Zealand female artists right now: Jenny Mitchell (NZ), Fanny Lumsden, Allison Forbes, Melody Moko, Nat Henry, Nat Pearson, Emma Beau, Catherine Britt, Gina Jefferys and Max Jackson, just to name a few.

Nina: I'm REALLY loving Allison Forbes and her new album, Bonedigger. Every song is raw and real. I absolutely LOVE the music behind the words. It's gritty and I love gritty. It's from the heart. I could listen to her over and over again, and I most certainly have been, she's a legend and she's what Australian Country Music needs right now! Edgy and different.

Lulu: I really like Max Jackson's new album! She gives me Kasey Musgraves vibes and I'm loving it! Also H.E.R.; she is so beyond talented. I love everything about... her (laughs). The music that she produces for the world is smooth and powerful. She's one of the few artists where I can just go into a trance and it makes my soul very happy!

Wren: Jenny Mitchell and Larkin Poe; two completely different styles, but both speak to me on greater levels! Jenny Mitchell, I love how she writes, I enjoy the folky blues components of her sound and she has such an inspirational tone in her voice!

And Larkin Poe; I am still learning a lot about these edgy sisters; but by golly are these multi instrumentalists mesmerising! Their sound of roots rock and grit brings sass and boss lady vibes to the surface, I am excited


Question: What or who was your inspiration to go into the music industry?

Vixens Of Fall: There are so many reasons for us getting into the music industry. Growing up, we were exposed to so many wonderful genres of music. We experienced a very eclectic mix of musical influences because as we grew up, mum and dad opened us to the sounds of the 60's and 70's, and of course the 80's! We had our own musical tastes through the 90's and early 2000's, and simply fell in love with country music.

Movies have been an incredible influence on us as well. Forest Gump, O Brother Where Art Thou, School of Rock, even the old Elvis movies that our Nonna (grandmother) showed us.

We have always loved performing. We were born to entertain. From singing with dad and his guitar at family barbecues and jamming with many, many fantastic musicians over the years, to dance recitals and eisteddfods, plays to musicals, entertaining has always been "a thing" we thought we'd do.

But, not once though, did we think that the three of us would form a band. We all thought we were heading down different paths.

It was always a dream, but we didn't think it would become reality. And here we are today, wanting to entertain the world, together, as a band, and as sisters, through our own music.


Question: If you could collaborate with another artist, who would it be?

Vixens Of Fall: This is hard, we're so indecisive!

Gina Jeffreys, Max Jackson and Melody Moko!

But if it were ever possible; Stevie Nicks is the top of our list! Stevie is our vibe and style, and working with her would be an absolute dream comes true! She is a goddess, and we absolutely love everything she stands for. She is a master storyteller; the way she writes is amazing. She's enchanting. And she inspires us so much.


Question: Can you share your socials?

Vixens Of Fall: Facebook
@vixens.of.fall/
https://www.vixens-of-fall.com/

iTunes
Spotify
Triple J Unearthed


Interview by Brooke Hunter