Based On The Best-Selling Comic Book
Cast: Vin Diesel, Eiza Gonzalez, Sam Heughan, Toby Kebbell, Guy Pearce
Director: David S. F. Wilson
Genre: Action, Drama, Sci-Fi
Rated: M
Running Time: 109 minutes

Synopsis: Based on the bestselling comic book, Ray Garrison (Vin Diesel) is an elite soldier recently killed in action, brought back to life as the superhero Bloodshot by the RST corporation. With an army of nanotechnology in his veins he's an unstoppable force – the strongest warrior the corporation has ever created – and able to heal instantly. But in upgrading his body, the company is also manipulating his mind and memories. As he begins to remember his past life, Ray isn't sure what's real and what's not – but he's determined to take back control.

Bloodshot
Release Date: March 12th, 2020


About The Production
A superhero not just trying to get the bad guys, but trying to figure out if he can trust what's in his own mind? That's heavy stuff – and that was precisely the draw for Vin Diesel.

After creating unforgettable big-screen characters in such movies as the Fast and Furious series, xXx, and The Chronicles of Riddick, among many others – not to mention his vocal turns in The Iron Giant and Guardians of the Galaxy – Diesel was ready to sink his teeth into his first on-screen superhero role, and with Bloodshot, Diesel was drawn to the opportunity to create a character just as memorable.

Not to mention that bringing to life the most popular character in Valiant Comics' lineup provided a once-in-a-lifetime opportunity. With a wide readership of over 81 million comics sold, the Valiant books possess a diverse array of characters encompassing a wide variety of genres, tones, and demographic groups. Famed for presenting superheroes who are ordinary people in extraordinary situations, these heroes are complex characters that reflect contemporary society, politics, and diversity of the modern world.

In that way, Diesel says that Bloodshot is unique because while his powers are striking and fun to watch, it's what's going on inside that counts. "His mind has been controlled," says the actor-producer. "He's a badass soldier with unique abilities due to the nanites in his blood, but what's fascinating about the character is that he's motivated by something we've all been motivated by – the love he can't forget. And what's tragic about the character is how that love is manipulated into betrayal."

"What makes Bloodshot different than any other superhero is he's more complex, more complicated, more emotional," says producer Neal H. Moritz, who previously teamed with Diesel on the Fast and Furious series and the xXx franchise. "For so much of the journey, he's not sure if he's doing good or if he's doing bad – there's incredible internal conflict in his character.

And Vin is the perfect person to play that, because Vin is internal – he agonizes over every decision about what makes a character great. So much of what makes him such a good actor and such a great action hero is organic to the Bloodshot character." For Diesel, a superhero exhibiting a real Achilles' heel feels very grounded – and the actor says that the character's heroic side is just as grounded. "If you ask guys in the military who their favorite comic book character is, it's Bloodshot," he notes. "Ray's core values are the core values of anyone that's ever served."

Because of that, Diesel says, the audience feels a deep empathy for the character that is completely unique. "I've never seen a character like this – someone who can be focused exclusively on the mission, but you in the audience are feeling for him, because you know that the company is exploiting him. His motives are good, so you just want to see him get what he wants."

"This is a completely different character from anything Vin has ever played before," says director David S. F. Wilson. "He is obviously as physically formidable as Vin's other characters, but from an emotional standpoint, he is very vulnerable. He is being manipulated, he doesn't know who he is, and he's broken. Vin was genuinely excited about articulating that, so I knew he'd be perfect for the role."

And that feeling of being manipulated – the injustice of it – is something that maybe we can all relate to, Diesel says. "I feel that anyone can identify with feeling manipulated," he says. "As we watch the news in our daily lives there are so many moments that we're feeling force fed or being manipulated. I like the idea of a hero with powers whose real battle is against that."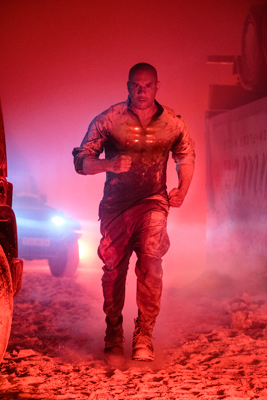 For Wilson, the character – a superhero augmented and evolved through technology and science – was also a chance to explore the intersection of technology with our daily lives.

"Bloodshot is certainly a superhero, but his powers come from technology," he notes. "In that way, it's very grounded; we are all affected by – even controlled by – the tech around us. Or, I should say, technology gives us an illusion of control over our lives – while actually, technology is rampant and controls our lives. Wilson also points out that everything Bloodshot experiences might not be all that far off from reality – for better or worse. "Obviously we're already seeing people with advanced prosthetics," he says. "Right now, those prosthetics are still inferior to human limbs – but the day will come when they're superior. You'll be able to buy strength. What's more terrifying is when you can buy intelligence, because we'll be defined by what we can afford. There's a term for it – 'transhumanism' – where we're able to alter ourselves beyond the physical and neurological limits we're born with. And those are some of the questions of the film."

These were all ideas that were explored in the original Valiant "Bloodshot" comic books. At the height of the comic book craze in the 90s, "Bloodshot" was a huge seller and highly collectible. "On the day 'Superman' died, 'Bloodshot' #1 was introduced to the world," says producer Dinesh Shamdasani, former CEO of Valiant Comics. "There were queues all over the comic book stores worldwide. Bloodshot resonated because he represented a new type of humanity in comic book storytelling; instead of somebody being extraordinary before he became a superhero, or the greatest solider who ever lived, Bloodshot is just your everyday average soldier who only becomes extraordinary through the events of the comic books – he's a regular person in an extraordinary situation."

The character originated when Bob Layton, who co-created the character for the Valiant comic books with Kevin VanHook, read a magazine article about nanites – machines measured in nanometers, millionths of millimeters. "I was fascinated," he says. "What if you created a modern-day Frankenstein, but you used nanites to resurrect the fellow?"

The possibilities for such a character seemed promising, because the scientific grounding of the characters' powers would land him squarely in the real world. "We made a very concerted effort to make our characters standout from the pack," says Layton. "We wanted to write stories about people that we could relate to, people that we cared about. This guy had no idea what kind of man he was before he was resurrected, and the discovery is sometimes jarring when he finds out. Bloodshot is a person with a moral compass, with values."

In that way, Bloodshot's true mission has always been trying to put away his past and figure out what kind of man he's going to be. "Bloodshot is not a traditional superhero-vs.-villain story," says VanHook.

In adapting the comic, producer Toby Jaffe says that the producers sought to capture that. "I saw an opportunity to make something fresh for the audience," he says. "This movie is about a solider on an emotional journey to find out what happened to him, and it becomes a movie about choice: is he a good guy or a bad guy? Who does he choose to be?"

Bringing it all together is director David S. F. Wilson. As the co-director of Blur Studio, Wilson and his partner, Tim Miller, had been lauded as visionary minds as they created some of the most innovative trailers, visual effects, commercials, and game cinematics in the industry. Miller would make his feature film debut with the box office breakthrough Deadpool, and Wilson sought a story that was suited to his own sensibilities.

Wilson says that taking on the new challenge of directing a feature film pushed him out of his comfort zone – which is just where he likes it. "I was excited, mixed with a lot of terror over what I would discover about myself – but that is the most exciting part for me," he says. "I love what I have been doing for the last 15 years, but this is an adventure I wouldn't pass up for the world. Ultimately, directing is about knowing your story inside out – and I know how to do that."

"Dave brings the cinematic language of video game culture, and it's exciting to see him translate that to a long form narrative," says Jaffe. "The film has a very different visual style and visual look to what we have seen in other movies – a style of gritty, visual action that's particularly well-suited for Vin Diesel."

"There's so much technology in front of the camera on this movie, that behind the camera, it meant everything to have Dave Wilson – who has had a tremendous visual effects career – at the helm," says Moritz. "For me, as a cinema geek, it's a thrill to see what he achieved on the big screen – only somebody of Dave's caliber could've made this happen."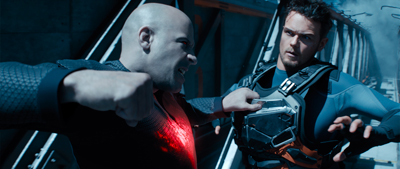 Casting The Film

Naturally, the first role to be cast was Bloodshot. "My casting director says it's half the battle for a director," says Wilson. At the same time, Wilson notes, the reality of the film business is not to tie your hopes to any one particular actor – "you just never know if that will pan out," he says.

Still, Wilson maybe could have afforded to get his hopes up a tiny bit. After all, Diesel has strong ties to Moritz and his Original Film production banner. "This character is a fresh facet 7 of Vin's personality," says Original Film's Toby Jaffe. "There is the physicality and the action, but the role also brings a certain kind of emotional gravity. There's a lot of humor and charm, but he's also a man who has suffered a loss."

"Vin came by Blur and he is obviously a very larger-than-life character," says Wilson. "I took him into our 'war room' where we pitch and all concept art was laid out. Vin's 8-year-old son, Vincent was with him that day, and he was fascinated and was asking about the scenes. Vin just let me and his son run with it! It was after the meeting, as we were heading for the door, that Vincent tugged him on the shirt and said, 'Daddy, I really want you to be Bloodshot.' And we were off to the races."

Wilson says that having an actor as experienced as Diesel helped to ease the way. "Vin supported me in all the decisions that I wanted to make," he says. "That can be tough for such a seasoned actor, but he did it wholeheartedly. That allowed me to push him to spaces where he hasn't been for a while, and I think that he has delivered something pretty special."

Shamdasani agrees, saying that Diesel was committed to making the final film the best that it could be. "Every day, Vin sat with Dave Wilson, the producers, and line producer discussing how we could do it better. He does everything he can, bringing the full weight of his experience and power to elevate everyone around him. Nothing is off limits for him – he forces everybody to be better."

Surrounding Diesel, the filmmakers cast a handful of well-known and fan-favorite actors, including Eiza Gonzalez, Sam Heughan, Toby Kebbell, and Guy Pearce.

At the center of transforming Ray Garrison into Bloodshot is the secretive defense contractor Rising Spirit Technologies (RST) and its research program headed by Guy Pearce's Dr. Emil Harting. "I think he started with all good intentions."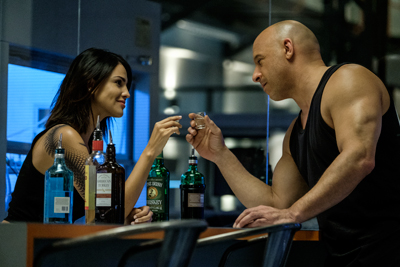 Harting oversees a program to create super soldiers designed and programmed to combat any military threat. RST uses cutting-edge nanotechnology to transform soldiers into operatives with exceptional skill. So far, he has created a small unit codenamed Chainsaw. 8 Once regular soldiers, these three have either volunteered or been specifically recruited by RST. Enhanced by technology, each is equipped with their own unique ability.

KT, played by Eiza Gonzalez, suffered an injury in service that caused respiratory failure. She has been modified with a mechanical breathing device. "It was like heavy metallic breathing," explains Gonzalez, "and I had to do a lot of work to break down the script, especially identifying the moments when her emotions show and her breathing changes. It was very complex and took a lot of time to get used to."

At the heart of the movie is an unusual push-pull love story that builds between Bloodshot and Eiza Gonzalez's KT. "Because of Bloodshot's total memory loss, this could never be a conventional love relationship," says Wilson. "I wanted a love story that the audience didn't see coming. I wanted her to represent a momentum shift. It's not at all him saving her – more her saving him, and in the end, they save each other."

"Dave has such a natural sense of emotion and how that fits into the movie's bigger questions of technology and the responsibility that comes with it," says Gonzalez. "He brings all of that into the movie – how technology is absorbing society and becoming our reality – and what that means for the layers of our characters."

"The role requires a very nuanced performance," says Wilson. "At times, she's putting on a show in order to manipulate him; at other times she's putting on a strong face to hide her feelings. And when she does fall for him, every time they erase his memory, she's still in love with him, and he has no idea who she is. She's strong in the same way that Bloodshot is vulnerable."

Sam Heughan, who has earned a legion of fans through his work on "Outlander," plays exNavy Seal Dalton, whose legs were blown off in an IED explosion; his alteration includes bionic legs and an exoskeleton with a second set of arms that gives him enormous strength. Heughan notes that although Bloodshot pushes the technology to the extreme, it's not so far off of the kind of technology that are returning abilities to today's wounded warriors. "Dalton is obviously a product of this technology, but I don't believe it's that futuristic," he says. "It's very much based in reality and the now."

Alex Hernandez rounds out the group as Tibbs, an ex-Army Ranger rendered blind in an IED accident, who has regained his sight with high-tech ocular lenses implanted in his combat vest. He says that his character recognizes the price for regaining his sight – and it's a price he's willing to pay. "Essentially, he's in servitude to this company that has its own nefarious goal, but it is offering him a new life," says Hernandez. "He'll take it."

"New Girl's" Lamorne Morris also joins the cast as Wilfred Wigans, a coder at RST who becomes an unlikely ally for Bloodshot. "He's been stuck in captivity for a while, so his people skills aren't the best, but he's always the smartest guy in the room," says Morris.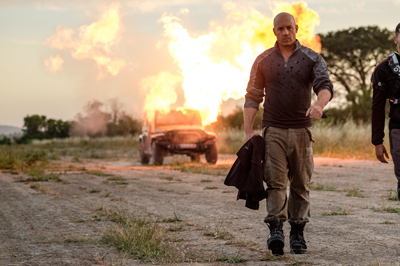 Designing And Shooting Bloodshot's Universe

Given Wilson's prolific and lauded history in computer animation, one might think that he'd fall back on those skills in directing Bloodshot. But while the film certainly has extensive visual effects, Wilson says that he sought a more natural, grounded, real-world aesthetic – from the sets to the stunts to the prosthetics.

For the sets, Wilson adopted what he describes as providing a "sandbox" in which his cast could work. "I like to get as many cameras as possible on a scene and just catch the moments as spontaneously as I can, rather than preplan everything," he says. "I feel that fluid discovery of the performance also drives a fluid and free camera style, so we do a lot of handheld."

Handheld cameras would also give a certain cinema verité flavor to the film that would dovetail with Wilson's thematic approach, Jaffe says. "Dave approached the film from a science-fact – rather than science-fiction – point of view," says Jaffe. "He approached the story as if it were happening in our world today and pushed it just a little past our reality. He created a very striking visual presentation that incorporated his interest in science combined with his unique visual perspective that he honed over years in the gaming world."

With that in mind, Wilson encouraged his design team to build sets that would appear as a fully functioning operation. During pre-production, his highly detailed previz and concept art gave his team the mental map and visual interpretation of the story.

A good example, Shamdasani says, is the RST lab. "We didn't want a big, imagined laboratory that looks like it exists a hundred years from now," he says, "instead, something that feels familiar to the audience. We just give it a heightened feel."

Set Decorator Michele Barfoot says that one helpful way of thinking about the design was to think about it taking place "ten minutes in the future." With this in mind, the design team worked largely with materials and technology that was readily available.

The design and construction team built the massive Rising Spirit Technologies prototype lab, inspired by real-world environments. Other sets included the operations center, the medical hub, the break room, the recovery room, and Harting's office.

These sets have a distinctive, graphic quality," Jaffe explains. "The movie changes modes between fantasy and reality, and those modes change as Bloodshot starts to solve the mystery of what happened to him. Each required its own, distinct look."

But before the sets could be dressed, first up was the installation of the high-tech heavy machinery – all of which comes from real life. First on set were the real-life operational robotic arms, supplied and installed by Robotic Innovations, as well as a series of fullyfunctional prosthetics and a 3D printing lab.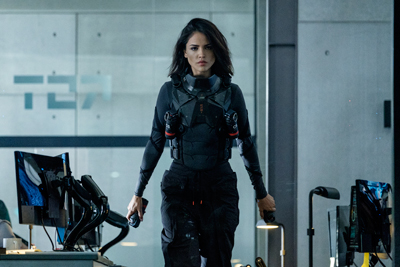 Capturing the grounded, real-world aesthetic also applied to the stunts. "Dave really wanted to capture a lot of this as real as possible and as practical as possible," says Moritz. "We were lucky enough to have some of the best stunt people in the world, people I've worked with on many of the Fast and Furious movies. There's a lot of fighting, car stunts, and motorcycle stunts in this movie, so between Eiza and Vin and Sam there was extensive training that took place; we were able to capture as much as possible in-camera and not rely so much on CGI."

The attention to detail and design extended to the characters themselves – for example, the tattoo worn by KT. "We worked for three months to perfect that tattoo over and over again until we finally got there," says Makeup Department Head Christa Schoeman. "KT's enhanced respiratory apparatus, the 're-breather,' looked like a crude concept in the beginning; eventually, we refined it to a butterfly tattoo, almost on her chest."

Even the individual scars on Bloodshot's body each came with its own backstory, reflecting his history, and each was the result of precision planning and hours of discussion with Diesel and Wilson.

When it came to the musical score, the filmmakers turned to Steve Jablonsky, whose experience with action movie scores as the composer for the Transformers series made him particularly well-suited for Bloodshot. "I always feel honored when a director trusts me with their movie, particularly if we have never worked together," says Jablonsky. "Even before I was hired, Dave explained his vision for the film. He showed me an amazing presentation that blew me away, and I knew I wanted to be a part of this. He's incredibly smart both visually and dramatically. He had great musical ideas but also let me try things. He's a great collaborator and an awesome boss. I hope to see many more films from Dave, I know he has more stories to tell."

Still, Bloodshot gave Jablonsky the chance to express very different musical themes. "I would describe this score as dark and rhythmic," he says. "The main Bloodshot theme is based on a rhythm rather than a melody. The rhythm is his inner drive, his inner motor that motivates him to become an unstoppable force."

This is best heard in the character's main music theme, which the director dubbed "The Bloodshot Train." "It's a rhythm that drives Bloodshot to do what he does," Jablonsky explains. "It's not a big heroic melody played on horns and trumpets, but rather a low pulsing pattern, almost like a heartbeat, that we hear whenever Bloodshot is about to do something insane. As we progress in the film the theme becomes bigger and more intense, but at its core you will always hear the main seven beat pattern, The Bloodshot Train, driving him."

Bloodshot is a registered trademark of Valiant Entertainment LLC.

Bloodshot
Release Date: March 12th, 2020