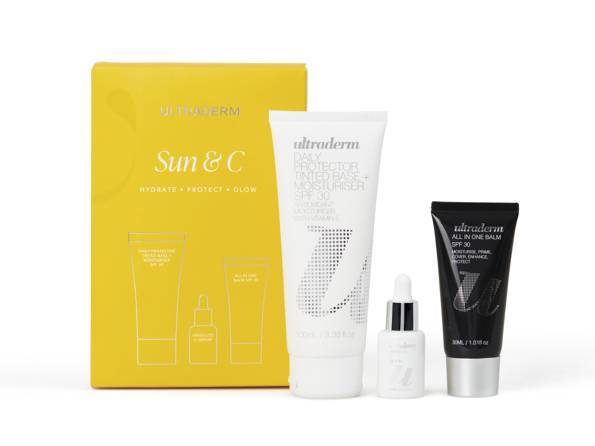 Limited edition Ultraderm Sun & C Kit includes two full-size sun protectors for daily UV defence and collagen-boosting Absolute C Serum for antioxidant support. Valued at $156, Save $57.
Kit includes:
Daily Protector Tinted Base+ Moisturiser SPF 30100mL
All In One Balm SPF 30* 30mL - Choose from Nude, Latte, Honey and Angie
Absolute C Serum UltraMini 10mL (*All In One Balm is now SPF 30 and is packaged in a flip-top lid tube).
Ultraderm Sun & C Kit
RRP: $99
Available at selected beauty salons, clinics and spas Australia wide or via www.ultraderm.com.au
#ultraderm #ultradermskincare #ultradermstockist #austra lianskincare #cosmeceutica !skincare @ultradermau
ABOUT ULTRADERM: Pauline Valle created Ultraderm in 2009. Ultraderm is a cutting-edge cosmeceutical skincare brand based in Australia. Twelve years on and Ultraderm's innovative approach and superior ingredients have proven to be the perfect solution for many salons and clients, and it has gone on to become a market leader within the beauty industry. The Ultraderm range of exceptional home care products provide the first step in delivering healthy, youthful looking skin while their salon partners provide the care, expertise and enhanced treatments to further boost the results. Every product in their range is ethically formulated with zero animal testing.
Ultraderm, it's all about U