Glowing Skin Is In
Say hello to the Ulta3 Multi-Masking range with seriously active natural ingredients.
Masking: the most commonly searched skincare term earlier this year according to Google. Surprised? Probably not! Sheet masks are big news in the beauty industry.
As ulta3 continues to deliver the latest on-trend, high quality cosmetics at a great price, now theyare taking their range to the next level and into skincare.
Say hello to ulta3's first ever multi-masking range with seriously active natural ingredients. This prep and prime range of masks for the face and body - made in Korea the world leader in skincare, they also are vegan and cruelty free.
With everything you need for glowing skin, the range boasts both sheet and hydrogel masks for the face, eye, lip, hands and feet!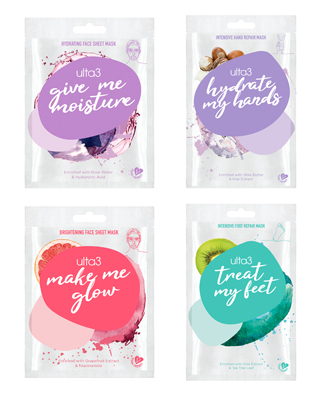 These affordable, at home pamper products add a prep-step into your beauty routine. In fact, every product in the range is only RRP: $5.95, so using multiple masks as a complete skincare solution for face and body won't break the bank.

Inspired By Colour.
ulta3 exists to empower the fashion focussed to realise their vision of beauty at an everyday price.
Hydrate My Hands
Intensive Hand Mask
Give your hard-working hands some TLC with the Hydrate My Hands mask. Containing super moisturising ingredients Shea Butter to soften rough and dry skin, Kiwi Extract to help fight dark spots that are ssociated with both sun damage and ageing.

Treat My Feet
Intensive Foot Mask
Give your feet some serious TLC with the Treat My Feet mask which contains moisture-rich ingredients such as Kiwi Extract to soften skin and Goldthread Extract to soothe irritation.
Make Me Glow
Brightening Sheet Face Mask
Formulated with Grapefruit Extract and Niacinamide to promote healthy collagen production, the Make Me Glow mask brightens complexion and reduces the apperance of dark spots. Packed full of active skin-loving antioxidants, this mask also works to keep your skin plump and smooth.
Give Me Moisture
Hydrating Face Sheet Mask
Enriched with Hyaluronic Acid, Natto Gum and Rose Water to lock in moisture and boost elasticity, you'll have a smooth complexion with softened lines and wrinkles in no time! Packed full of active skin-loving ingredients the Give Me Moisture mask is the perfect hydration boost.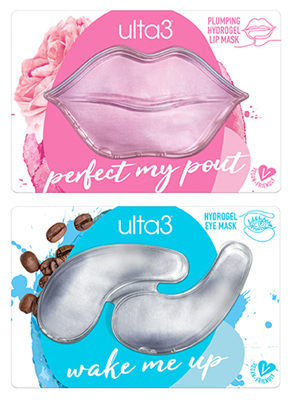 Perfect My Pout
Plumping Hydrogel Lip Mask
Infused with Niacinamide for skin soothing Rosa Centifola Flower Extract for skin conditioning and Natto Gum for skin softening, Perfect My Pout hydrates and plumps skin for super soft lips.
Wake Me Up
Hydrogel Eye Mask
Enriched with brightening and hydrating ingredients such as Cucumber Extract and Caffeine, you'll look instantly rested with the Wake Me Up mask. It's designed to cool and de-puff the skin while injecting moisture to give you under-eye area a bright and lifted appearance.

Wonder Balm
Lip Care Mask
This deliciously silky balm is enriched with Vitamin E and Sunflower Oil to hydrate lips for a super soft pout. Use daily to apply a generous sweep of product overnight for intense hydration. Use alongside Sugar Sugar Lip Scrub for the ultimate lip revival.
Sugar Sugar
Exfoliating Lip Scrub
Kiss dry lips goodbye with this seriously sweet, yet gentle exfoliating lip scrub. Use prior to makeup application to ensure lipstick glides on and stays put for a flawless finish.

Review: This Ulta3 mask range is absolutely EPIC; with the right mask for your concern these products are soothing, rejuvenating and hydrating with no harsh, irritation or drying. It was hard to narrow it down but my favourites are: the Intensive Foot Mask, Brightening Sheet Face Mask and the Hydrogel Eye Mask. Ulta3 has created selfie-worthy products at a very reasonable price providing a luxurious partner for your skin, the Ulta3 Multi-Masking range is a must-buy.
- Brooke Hunter
The ulta3 multimasking range is available at selected pharmacies, Australia-wide and online at www.ulta3.com.au
For stockists call: 1800 181 040