THE WAR WITH GRANDPA
Based on the novel written by Robert Kimmel Smith. The War With Grandpa" stars Robert DeNiro, Uma Thurman, Rob Riggle, Oakes Fegley, and Christopher Walken. Directed by Tom Hill and the screenplay was written by Tom J. Astle and Matt Ember. The film is produced by Marvin Peart, Rosa Peart and executive produced by Tre Peart. The novel has sold over 1.5 million copies
Peter (Oakes Fegley) and his Grandpa Jack (Robert DeNiro) used to be very close, but when Grandpa moves in with the family, Peter is forced to give up his most prized possession, his bedroom. Peter will stop at nothing to get his room back, scheming with friends to devise a series of pranks to drive him out. But, Grandpa doesn't give up easily and before long, it's an all out war!
The War With Grandpa began it's journey to the big screen with 11 year old executive producer Tre Peart. "I read the book three years ago as a school assignment. The rule in my house was that if a movie had a book attached to it I had to read the book first. So, after reading the book I was excited to see the movie. I looked around in YouTube, NetfliX and Vimeo – and NOTHING! So, then I brought the movie to my parents, luckily for me they are movie producers. They thought it was a good idea. And here we are now," says Tre Peart.
The fact that THE WAR WITH GRANDPA was standard reading for Tre's class and that so many of the kids responded it to it the same way Tre did gave the project a kid's stamp of approval.
Producers Marvin Peart and Rosa Peart decided early on to bring Tre along during the whole process of making the movie.
Marvin Peart says, "I wanted to encourage him. I wanted to give him a life lesson. I didn't want him to think that just because he was kid that his contribution was any less valuable. I wanted to treat him as if a 50 year old woman brought me a project and said, "Hey, I think this would make a great project. Let's develop it together. It was his idea to cast Robert De Niro. It was his idea to cast Rob Riggle. I mean, he's given input on the pranks, and he has given notes on the script all along. He has read every draft, and he is very much a part of our producing team.".
Rosa Peart adds, "Tre has earned his executive producer credit. He is legit."
Tre Peart may just turn out to be the youngest executive producer ever. "We are waiting for confirmation, but the Guinness Book of World Records contacted us and said that by the time the movie is released he will be the youngest producer on record," says Marvin Peart.
The producers chose director Tim Hill to bring the The War With Grandpa to the big screen. Tim's big screen credits include "Hop", "Alvin and the Chipmunks" and "The Sponge Bob Squarepants Movie".
Casting the actors was a little harder than they imagined. Marvin Peart explains, "I felt that Robert DeNiro was the only person to play Ed. To the point of, if we didn't get him, the would not be a movie. Some movies you can interplay and interchange. I felt that Robert DeNiro was the perfect actor for the perfect role".
Rosa Peart adds, "It was hard to get Robert DeNiro to say 'yes'. First it was scheduling thing, then it was he wasn't sure about the project. And, we are a small, independent film company. It wasn't the biggest budget. But in the end he came around due to our persistence."
The filmmakers saw hundreds of submissions for the role of Peter. Rosa Peart says, "It was hard. We had a lot of submissions. We wanted a kid that was still a kid at heart, that wasn't too dramatic, or too goofy, or someone that could represent a true 11-year-old and Oakes was it."
Christopher Walken was a "big get" for producer Marvin Peart. "As much as I liked him as an actor, it wasn't until we had the reading in New York, at the Loft in Tribeca, where the entire cast came around, we read the script through, and every time Chris Walken opened his mouth, there was a laugh at the table. So much so, that then, you see Robert DeNiro sort of puff his chest out…It was almost like a heavy weight prize fight between these two great actors. And it was just this reading, but, you know, it really brought the movie to life. And it really said to us, as I was saying to my partner Rosa, "I think we really have something here."
Peter (Oakes Fegley) enlists the help of his friends Emma (T.J McGibbon), Steve (Isaac Kragten) and Billy (JulioCesar Chavez) to force his Grandpa out of his room. Grandpa Ed (Robert DeNiro) fights fire with fire and gathers up his friends Jerry (Christopher Walken), Danny (Cheech Marin) and Diane (jane Seymour) to join the battle. While Peter's family, father (Rob Riggle), mother (Uma Thurman) and sister (Laura Marano) are blissfully ignorant of the goings on.
Christopher Walken says, "When Jerry finds out that the boy is giving Ed a hard time he know he can't let him get away with it. So, he instigates fighting back."
Cheech Marin adds " We come out to support Ed. He didn't really want to move in with his daughter. But he is shamed into it and ends up taking over his grandson's room unbeknownst to him. When the grandson gets together with his friends and plots revenge I join Ed's side."
Peter and his friends devise numerous pranks on Grandpa. Oakes Fegley explains, "One of the first pranks, and probably my favorite is when Peter replaces Ed's shaving foam with plaster. I also drive a remote control car with a loud speaker and wake him up in the middle of the night."
Oakes also gets to squirt Robert De Niro with mustard and ketchup as their characters get into a fight with condiments. "That scene was really fun to shoot. First I squirt him and then he squirts me. Dealing with continuity was hard because we tried to match the mustard and ketchup every take" says Fegley.
One of the ways they battle is an intense game of dodgeball at the trampoline park.
"This is one of the climatic scenes in the movie. It's a dodgeball game in a trampoline bouncing house. The brought us all down to the bouncing house to see how decrepit we really were. And what we could actually do. I saw all these stunt men doing back flips, bouncing off the walls and said 'someone's going to get killed in this house'' jokes Marin.
Walken explains, "It's terrifying. I had never been on a trampoline before. This dodgeball scene we are playing. The kids are much better than we are. And, it's true I am getting older . When I fall down it's much harder to get up."
Fegley says "The scene at the Sky Zone filming trampoline volleyball was so much fun. The kids are very athletic, and the grandparents, the oldsters, as they call it, are almost counter-opposites of each other. Robert DeNiro, Jane Seymour, Christopher Walken, Cheech Malrin. Just saying those names in very…WOW. It's really fun but bouncing all day gets tiring."
Marvin Peart explains, "The most fun was watching Walken, Marin, Seymour, and DeNiro on the trampoline like 10-year old kids. And watching DeNiro jump on the trampoline inbetween takes, just keeping loose and limber was…I thought I was seeing a mirage. At some point, I didn't think it was even real. This is Robert DeNiro. One of the most revered actors of all time, and he is out there jumping on a trampoline. It was a moment."
The Sky Zone scene didn't appear in the book. It was a creation of screenwriter Dave Johnson. He says "I took my nephew to a Sky Zone a few years back. I thought 'this needs to be in a movie". The scene is exactly how I thought it would be. The one they used in the movie is better than the one I went to with my nephew. I wanted to get out there and jump around. Watching them all jump around made me giggle".
Marvin Peart describes his movie prank, "My favorite gag in the movie is when Peter puts the airbag device underneath Walken's chair, as he is playing Santa, and was setting it up for DeNiro. The thing goes off and Walken goes flying in the air, the whole backyard goes crazy and the whole family gets drawn into this as collateral damage. The war is now front and center, and the whole family knows what's going on."
Joining the WAR WITH GRANDPA cast are Laura Marano as Peter's sister Mia; and as Peter's friends T.J McGibbon, Isaac Kragten and JulioCesar Chavez.
"There are four on my team. Emma is played by T.J., Isaac plays Steve and JulioCesar plays Billy. It's been really cool to work with them and we have had a lot of fun, even off set. They are all really fun, and everything about them is great," says Fegley.
Tre Peart agrees, "They are all really cool people. When they are not on set, we play video games and we even saw a Shakespeare play 'The Comedy of Errors'".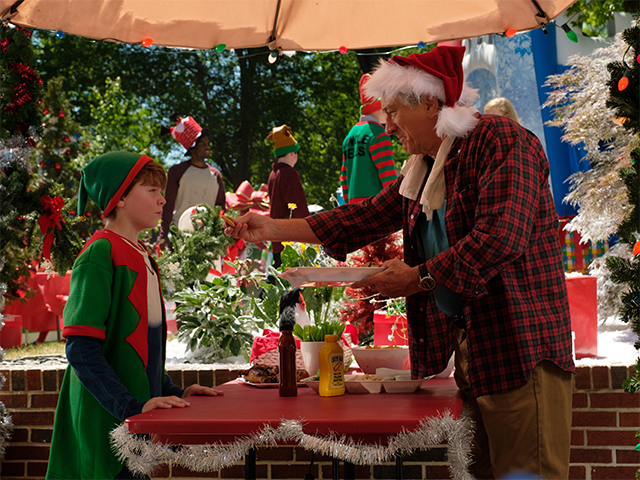 Family Films.
Recent family films in recent years have fallen in a narrow space. Family movies like "Home Alone' and 'Gremlins" have been replaced by animation and Marvel. The filmmakers hope to broaden that chasm.
Marvin Peart explains, "One person would say that it is an undeserved market opportunity. But a pure family comedy can be remade or translated in a hundred different languages, a movie like this because everyb kid can understand the dread of too much time with grandparents let along they are coming and taking your room. A lot of families are dealing with consolidating their family, someone passes, or gets too old to care for themselves, or both parents are working and need a babysitter that they can't really afford and it makes sense for the grandparents to come and live with them."
Rosa Peart agrees, " This is a movie for the whole family. Grandma, Grandpa, parents, kids. Everyone can enjoy and you don't have to worry about covering your kid's eyes. You can just sit back and enjoy.
And, there is always a moral to the story.
Fegley says, "It's a comedy, so it is fun. But it has a moral behind it as a grandpa and his grandson, that you should respect your elders, and that you don't have all the time in the world with them so, you should have fun with them while you can."
Tre Peart adds, "And, I hope they get that war in not a good thing. War is not a cool thing. Even if it is a small, turf war. Even if it is a war over a room. It's not worth it. You could lose people that you love.