ThermaClear Clear skin - we can have it now!
Breaking News - ThermaClear's new Acne Clearing Device, clears skin in days at the touch of a button (for those with mild pimples to moderate acne).


Clear skin can be an ongoing battle for many of us. Waking up in the morning and seeing a newly emerged pimple can be annoying, and for some heartbreaking, often leading to feelings of embarrassment and selfloathing.
Acne is the number one skin condition in Australia. Over 3.5 million Australians suffer from mild to moderate acne, ranging from teens to adults in their 50's.
So what can we do about it? Topical skin creams may work for a while, but inevitably leave your skin feeling dry, sore, and sun sensitive.
ThermaClear is the big news on the health and beauty scene in the USA, and is now available in Australia. This new 21st century technology clears skin with HEAT (Heat Enabled Acne Therapy) - no chemicals and no drying astringents. Lotions and cleansers can take up to eight weeks to work and they don't all get rid of the pimples you already have. And let's face it. Those are the spots that really matter.
The Only "2-Second Miracle"
ThermaClear is the only professional grade personal acne therapy device for home use. The Two second per pimple technology neutralizes acne causing bacteria under the skin. The benefits are:
No side effects
Treat pimples as they emerge (and before they surface)
Two second treatment per pimple
Easy and safe to use
Clinically proven
Safe to use during pregnancy
Suitable for all skin types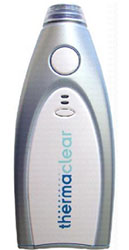 How ThermaClear Works
ThermaClear's Thermal Pulse Technology™ is similar to laser treatment technology used by dermatologists to treat acne. With no topical chemicals or medicine involved ThermaClear heals without over drying or irritating skin, and is both easy and safe to use.
ThermaClear technology works by delivering a gentle controlled burst of heat directly onto individual pimples. The healing thermal energy penetrates the skin to neutralize the underlying bacteria that cause pimples - attacking acne at its source and accelerating the healing process so you get CLEARER SKIN FAST (up to four times faster). With no chemicals, no prescriptions and no antibiotics. It only takes eight to ten seconds to charge up and only two seconds to fully recharge.
ThermaClear can treat just one spot or a whole outbreak and can produce amazing results within as little as 24 hours, and is designed to treat pimples just as they appear.
Available online Now www.thermaclear.com.au and in Pharmacies and Selected Department Stores early 2009



FAQ
How quickly will I see results?

Clinical Studies have proven that pimples treated with ThermaClear heal faster. Most people see results in just a few days-some in as little as 24 hours - For best results, treat a pimple as soon as you feel it forming and this may stop the pimple from developing altogether!
How do I use ThermaClear?

ThermaClear is so easy to use. Simply turn on the device and wait for the beep telling you it is ready. This takes less than ten seconds. Then place the treatment tip on a pimple and press the pulse button. Treatment time for each pimple is only TWO SECONDS! After a brief recharging period, you are ready to treat the next pimple. For best results treat each pimple one to three times a day, otherwise once in the morning and once at night. Continue treatment as long as redness or inflammation is present.
What does a treatment feel like?

ThermaClear's Thermal Pulse Technology™ produces a short pulse of thermal energy, which causes a mild tingling sensation. That means the device is working to neutralize acne-causing bacteria from above, while stimulating your body's own acne-fighting proteins from below.
Can ThermaClear be used with other treatments or skin care routines?

ThermaClear can be a great addition to any skin care regimen since it treats blemishes in a totally new way. You don't have to give up your favorite products to use ThermaClear.
Who can use ThermaClear?

Anyone who has mild to moderate acne.
ThermaClear should NOT be used by people with severe nodular or severe cystic acne. ThermaClear is not recommended for whiteheads and blackheads. If you are uncertain what type of acne or pimple you have, go to Thermaclear.com.au to view photos and explanations of the different types of acne. If you are using prescription medication for acne or have heat sensitive skin, consult your physician before using ThermaClear. Young children should always be supervised by an adult when using the device
Is ThermaClear safe to use if you are pregnant or breastfeeding?

ThermaClear is safe for women who are pregnant and breastfeeding - a convenient and quick alternative to medicated acne treatments.
ThermaClear comes equipped with a durable, high-grade, Advanced Nichrome Tip. Replacement tips are available and it is recommended to replace the tip once a year or if it becomes worn.
* Mild acne is defined as several inflamed (red) pimples
· Moderate acne is many inflamed (red) pimples and pustules (elevation of skin filled with pus).
Clinically Proven
The ThermaClear was designed by Laser Physicist Luiz Da Silva Ph.D. Dr Da Silva is one of the co-founders of Therative who developed the ThermaClear and has been involved in medical device research and development for over eight years. Dr Da Silva is currently on the scientific advisory board of several Universities and has over 200 publications and 40 patents to his credit.
An FDA-reviewed clinical study proved that blemishes treated with ThermaClear's Thermal Pulse Technology™ cleared up to four times faster than those not treated with the device.
Testimonials
Real People Get Real Results With ThermaClear

"When I started using ThermaClear I was amazed at how quickly my pimples went away. And since I have been using the device regularly pimples that feel like they are forming under my skin never breakthrough. It's a good feeling to know that I am doing everything I can to fight blemishes and my skin is clearing up. I like being in control of my skin, I feel like I can even get my baby skin back"
- Vicky V.
Best investment.... won't be disappointed!

I have tried EVERY product, scrub and wash in the market. I kept checking outThermaClear online but didn't know if it was worth it. All the $$$ I spent on the others, I could've had THOUSANDS of ThermaClears! Got it Tuesday it's now Thursday and my face is completely clear. AMAZING PRODUCT!! Thanks ThermaClear!!!
- Iris, NJ 10/04/2008
"Initially I brought ThermaClear home for my son, but I felt that I should also try it. I have been very pleased with the results, it is so easy to use and my pimples seem to fade so much quicker than before. As a former esthetician, I was initially skeptical that this would be just like another topical treatment. I was wrong, ThermaClear is making a big difference in the health of my skin, I will definitely recommend it to others."
- Susanne D.
Order now and discover ThermaClear for yourself
www.thermaclear.com.au

ThermaClear is imported and distributed by Ultramedix Australasia Pty Ltd and can be purchased online. Retail distribution to selected pharmacies and department stores will begin early in 2009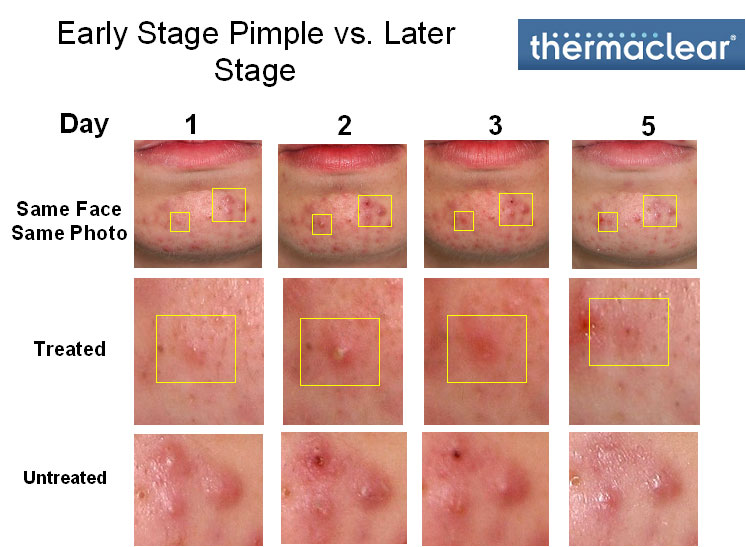 * Disclamer: Please note, this image illustrates typical results, results may vary.