Reinventing a Dickens Classic
Cast: Tilda Swinton, Ben Whishaw, Hugh Laurie, Dev Patel, Peter Capaldi
Director: Armando Iannucci
Genre: Comedy, Drama
Rated: PG
Running Time: 116 minutes

Synopsis: The Personal History Of David Copperfield re-imagines Charles Dickens' classic ode to grit and perseverance through the comedic lens of its award-winning filmmakers" giving the Dickensian tale new life for a cosmopolitan age with a diverse ensemble cast of stage and screen actors from across the world. Emmy® winners and Oscar® nominees Armando Iannucci (In the Loop, The Death of Stalin, HBO's Veep) and Simon Blackwell (In the Loop, HBO's Succession) lend their wry, yet heart-filled storytelling style to revisiting Dickens' iconic hero on his quirky journey from impoverished orphan to burgeoning writer in Victorian England

The Personal History Of David Copperfield
Release Date: March 26th, 2020
About The Production
A lifelong fan of Charles Dickens, Armando Iannucci had a creative spark a few years ago while re-reading the author's acclaimed eighth novel, David Copperfield, which was first published in 1850. "I thought, 'I want to make this as a movie,'" says Iannucci. "It felt so contemporary, but also because the adaptations I've seen are all so serious and centered on the drama and the plot. There is a lot of plot and drama, but to me those are the least interesting things about the story."

The "hilarious scenes in the book," says Iannucci (like David getting drunk for the first time) were the most exciting to him to explore. "There are moments of almost slapstick comedy, like when David joins the law firm and has to negotiate his way around the creaking floorboards. And when he falls in love with Dora and imagines seeing her face everywhere, even in the clouds. It's a very surreal, yet very real book. I wanted to get that across in the movie."

The Personal History Of David Copperfield, his third feature film, wasn't Iannucci's first stab at Dickens: In 2012, he wrote and starred in the BBC TV special Armando's Tale of Charles Dickens, a re-evaluation of the author "without the Victorian seriousness." And after years spent ingenuously turning dense political narratives into comedic farce via projects such as In the Loop, In the Thick of It and HBO's Veep, Iannucci turned once again to his frequent collaborator and co-writer Simon Blackwell.


"The modernity of David Copperfield has always been lost [onscreen] the minute people put on their bonnets," says Blackwell. "It's one of the funniest books I've ever read. It's also a very long, just over 600 pages, so when you have to fit it into a film or series, the tendency is to take out the comedy because it doesn't carry the story. But it's genuinely funny. You never think, 'Oh, I can see why that would have been funny in 1850.' It just is."

With FilmNation Entertainment on board from the outset as co-financier and sales agent, and Film4 joining as co-financier in the latter stages of development, pre-production got underway as Iannucci and Blackwell finished the script and honed their vision for bringing The Personal History Of David Copperfield, and its indelible characters, to life.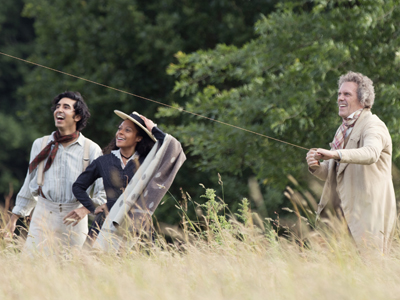 Casting the Perfect Players

Assembling the ideal acting ensemble was the crucial first step to bringing this story to life. It's a process that Iannucci says had a non-negotiable edict of color-blind casting. "I wanted as varied a cast as possible," says Iannucci, whose heart was set on Oscar-nominated actor Dev Patel for the lead role of David. "Dev was the only person I could think of and he was the first person I spoke to about it. I'm so relieved he said 'Yes' because I didn't have a Plan B!"

But Patel's casting was just the first step in a mammoth undertaking. Faced with the daunting task of filling fifty speaking parts, Iannucci reunited with casting director Sarah Crowe, with whom he worked on the 2001 TV comedy The Armando Iannucci Shows and who won the first BIFA award for casting for her work on Iannucci's The Death of Stalin.

"We are really fortunate to have gotten such a brilliant cast," says Blackwell of the luminary set of performers Crowe was able to match so expertly to Dickens' timeless characters. "Peter Capaldi as Mr. Micawber, Tilda Swinton as Betsey Trotwood, Hugh Laurie as Mr. Dick. Just the anticipation makes you smile" says Blackwell. "It's an absolutely glorious cast."

As the nine-week shoot of The Personal History Of David Copperfield loomed, Iannucci locked in a slew of other essential collaborators, including his production designer from In the Loop and The Death of Stalin, Cristina Casali. "This was a much bigger proposal," admits Casali. "I thought Stalin was quite a big number – and it was – but this one, because we were on the road quite a lot, offered a whole new set of challenges."

One of the biggest was, of course, figuring out how to re-create the Victorian Era in three wildly disparate settings: Casali says the London scenes had to conjure "busy and dirty," while Dover was more "coastal" in its feel and Canterbury had to be "quite genteel."

Achieving this required extensive scouting around England for the perfect locales, including for various London-set vignettes. This process took the production to a myriad quaint sites, such as Bury St. Edmunds, the historic market-town and civil parish of Suffolk. "There's a massive coaching inn there," says Casali of the historic hotel style, which supported Europe's inland transport infrastructure through offering food and rest for horses and travelers. "We got quite excited about this because coaching inns had a massive effect on people before they were replaced by trains," she says.

For the Rookery, where David is born, the production team found a home in Walsilngham, Norfolk that easily captured the spare beauty of the scene. "It's a lovely warm, beautiful, golden place," says Casali of location, which contrasted seamlessly with the next phase of David's life when he's sent to "horrible, busy, brutal London" to work in a bottling factory. For that, the production shot in a pumping station in the East London district of Wapping. Casali says Iannucci's vision also included a nontraditional approach to re-creating the era's lush Victorian wardrobe. "David Copperfield is normally quite dark and contrast-y, but we wanted to represent it as if the story is alive, busy, beautiful and rich. So we worked on creating colours and ensembles for each character that slightly clash, which is lovely," she says of the incredible work done by costume designers Suzie Harman and Robert Worley "Armando wanted to create something unlike anything you'd ever associated with a traditional Dickens adaptation."

The Story

In The Personal History Of David Copperfield we hear David narrating his own life story, which opens in Victorian England inside the Rookery housing slums. He is born to Clara (Morfydd Clark), with the help of well-meaning housekeeper Peggotty (Daisy May Cooper) and his eccentric aunt, Betsey Trotwood (Tilda Swinton). David's early years are happy and peaceful as he spends time with Peggotty's family in Yarmouth in their unusual home" an upturned boat situated on the beach" where he lives out idyllic summers with Peggotty's brother Daniel (Paul Whitehouse) and his adopted children, Ham (Anthony Walsh) and Emily (Aimée Kelly).

Upon his return, David discovers that his mother has married Edward Murdstone (Darren Boyd), a cruel man with an equally fearsome sister, Jane (Gwendoline Christie). David and Murdstone quickly begin fighting and David is banished to work at a bottling factory in London where the pay is paltry and the conditions are abhorrent. His only joy comes from lodging with the kind, but poverty-stricken, Mr. Micawber (Peter Capaldi) and his family.

One day, Murdstone and Jane arrive and coldly reveal to David that his mother has died. Grief-stricken, David flees the factory to see his aunt Betsey, who is now living with her colorful distant cousin Mr. Dick (Hugh Laurie). David is then introduced to Mr. Wickfield (Benedict Wong), who acts in matters of finance for Betsey, and his daughter Agnes (Rosalind Eleazar). David attends Mrs. Strong's school in Canterbury"an effort funded by Wickfield – where he meets fellow students James Steerforth (Aneurin Barnard), who takes a shine to him, and the less trustworthy Uriah Heep (Ben Whishaw). At his graduation, David falls for Dora Spenlow (Morfydd Clark), the daughter of his future employer. David returns to London, where he becomes a proctor at Spenlow and Jorkins.

Smitten with Dora, David tries to propose but is interrupted by news that Betsey and Mr. Dick have arrived at his lodgings. The former is now ruined and must now live with Davi He suggests the notion of her obtaining a loan from Wicklow, but Uriah – now a partner – denies him the money. David, Betsey and Mr. Dick move together into a small apartment. As a diversion, David takes Steerforth to meet Peggotty and her family at the upside-down boathouse where he spent his summers as a child. Steerforth is immediately taken with Emily and, as the feeling is mutual, the two elope to France.

Back in London, David proposes to Dora, but doubts plague him. He also runs into the Micawbers, now condemned to living on the streets. Mr. Dick lends a hand, stealing Mr. Micawber's concertina instrument back from the pawn shop. David also encounters Peggotty, who tells him that Ham and Daniel have been looking for Emily all over the country. Meanwhile, Agnes has been observing Uriah at work and is convinced he's up to no good.

It's revealed that he has stolen money from Betsey and embezzled funds from Wicklow's company by forging his signature. David, in a rare moment of violence, punches Uriah. Emily is found and she fights with Steerforth's mother. She is seeking news of her son, who is set to arrive at Yarmouth by boat, sailing amid a violent storm. Sadly, Steerforth drowns and washes up on the beach. After the tragedy, some time later, David and his friends gather at a garden party. With his adventures permanently recorded, he is now a published author and a man in charge of his own destiny.

The Personal History Of David Copperfield
Release Date: March 26th, 2020