An adventurous, revealing look into the global phenomenon of living on the road and off the grid.
Director: Jim Lounsbury
Genre: Feature Documentary
Rated:
Running Time: 88 minutes

Synopsis: The Meaning of Vanlife is an adventurous, revealing look into the Vanlife community through the eyes of nomads who have chosen to live a life of freedom on the road.

A movement that exemplifies a deeper societal trend towards minimalism and authentic community building.

The Meaning of Vanlife
Release Date: Premieres on STAN April 26th, 2019


About The Film
Director Jim Lounsbury worked closely with Vanlife community stalwarts Jonny Dustow and Jared Campbell of Vanlife Diaries, to find and tell authentic stories from within the Vanlife community to examine why modern nomads have made the decision to forego traditional homes for a life on the road.

The film was partially funded on Kickstarter, and was shot in 2017 and 2018 in Australia and the United States.

Director Jim Lounsbury spent 4 months living in a van while capturing the stories (which he largely shot himself, apart from a few Australian scenes shot by Australian Cinematographer Anthony Jennings).

The majority of the photography, artwork and music featured in the documentary was sourced from within the Vanlife community.


Directors Statement – Jim Lounsbury
As a naturalist, environmentalist and filmmaker, I have long wanted to make a film that captures the adventurous spirit of those who embrace conscious consumerism and sustainable living. As a father of two young boys, I make a point of 'unplugging' from modern life and throwing my sons into nature, often for weeks at a time, hoping that they too form a love for the outdoors, and learn to love the environment as I do.

Vanlife on the surface can appear to be a fad, driven by hashtags and vans in beautiful locations. After all, the lifestyle is inherently visual. But look deeper, and you see a diverse group of people who have made a conscious decision to downsize and live a simpler life on the road. Whether they are driven by economic pressures, a trend towards minimalism and simpler living, or just escaping the capitalistic fury of modern life, one thing is certain… they are aware of their decision to redefine their expectations for life.

In the making of this documentary I also saw a darker side to Vanlife. People, down and out on their luck, being forced to live in their vehicles. Professionals forced to live in their cars in urban environments due to spiking rents. Poverty stricken grey nomads, working for pennies a month, assembling products for Wallmart. This is not what this documentary is about.

This documentary is about people who make a conscious choice to live a simpler life on the road. Jared Campbell and Jonny Dustow, founders of the Vanlife Diaries community are longtime friends, and in 2016, when Jared told me about this 'little' online community he had started with Jonny, I was curious. "It's growing like crazy, mate" he said, telling me about how he was planning to live in his van for a while, and organise gatherings for "vanlifers".

A few months later, I checked the @vanlifediaries Instagram account, and at that time it already had in excess of 130,000 followers. Now it is approaching 500,000 followers, and by Jared's own admission, has grown into a community that they struggle to keep up with. Every day brings a deluge of emails, photos and stories coming in from all over the world. This is why they decided to run van gatherings. To connect, in person, with those who were popping up on their social feeds.

In late 2016, I experienced my first Vanlife gathering, to get a closer look at the community. Within hours of arriving, I knew I wanted to make a documentary about people who have chosen vanlife as an alternative lifestyle. The first night I was there, a group of about 50 people gathered around the fire, and listened as Aunty Esther, a local Aboriginal elder, told stories about the area in North NSW, where we were camping. This was done as a partnership with Yarn Australia, a reconciliation program that helps to facilitate an understanding of cultural identity and Australia's shared history.

The whole event was alcohol free, and I watched as all 50 people, myself and my 9-year-old son included, listened with rapt attention about the trials and triumphs of living on the land. About coming to terms with sharing their land with settlers. About how happy she was to be able to share their stories.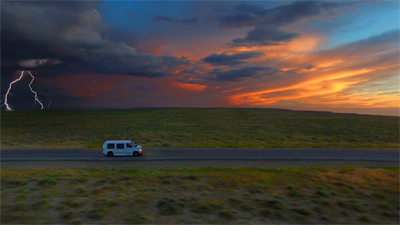 These were people intoxicated with one another, and they talked long into the night.

This is just one event of dozens that have been run by the Vanlife community over the past few years. This event hosted 25 odd vehicles (not everyone was in vans, some were in tents or slept in their cars) and 50 or so people. Other events have attracted as many as 200 or more vans in Australia, and 500 or more at 'Descend on Bend' the largest vanlife gathering in North America, which I also had the joy of visiting during the filming of this documentary.

The community is comprised of an eclectic mix of people: Professionals who are taking a hiatus from their jobs in the city, Millennials who opt to live a more carefree life without the financial burdens of rent or mortgages, Environmentalists who are traveling school to school teaching children about conservation and sustainability, social and environmental entrepreneurs, and people who are just interested in sharing stories, music and connecting with other likeminded souls.

There is a sensitivity and inclusiveness to the Vanlife community. A valuing of the generosity of others, and willingness to listen: to each other, to the people along the way, to the environment.

This film, for me, was a chance to examine why the vanlife community has struck a chord with so many. It is a chance to give the Vanlife community another avenue to communicate and share stories of people living on the fringe of capitalism, and show how people tend to build communities around the things they love to do.

I have a firm belief that wherever this many people gather, there are resonant beliefs, philosophical truths and important new ideas to be found, and this documentary has been a journey to discover and share what those are.
Jim Lounsbury, January 2019

About The Characters In The Film

Over a tepid coffee in 2015, Jonny Dustow and Jared Melrose Campbell started sharing the stories of people they were meeting on the road while living in their vans. Only a few years later, their stories had attracted over 450,000 worldwide followers, and tapped into a growing community of people living on the road and off grid.

The Meaning of Vanlife follows Jonny and Jared as they set out to connect with with 'vanlifers' around the world to discover the spirit, struggles and philosophies that define the movement. From the simplicity of sharing music and stories on the road, to a sociological discussion about why movements like Vanlife are so important - this documentary gets it's wings from the perspectives within the community itself, in an adventurous, revealing look into a global phenomenon.

The Meaning of Vanlife
Release Date: Premieres on STAN April 26th, 2019