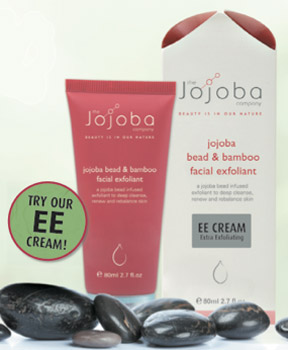 The Jojoba Company's EE Cream
Now, The Jojoba Company can reveal it has an EE Cream! EE stands for Extra Exfoliating and the Jojoba Bead & Bamboo Facial Exfoliant does just that. No doubt this will be the next big trend to unfold in beauty and skincare. You have heard of BB and CC creams, and now for the latest skin care trend there are EE creams - Extra Exfoliating creams for the skin. Our Jojoba Bead and Bamboo Facial Exfoliant is the perfect EE cream. A jojoba bead and bamboo infused exfoliant to deeply cleanse, renew and rebalance the skin.

Our EE Cream has a 2 in 1 action; it works as both an AHA and a BHA. AHAs (or alpha hydroxy acids) are the jojoba beads and the bamboo which works to remove dead skin cells and renew the skin to allow full benefit from your serums and mositurisers while not stripping the skin or vital oil content and with the addition of natural essential oils lavender, orange and sandalwood which is balanced while caring for the skin. The result is beautiful exfoliated skin inside and out.

For whom: Ideal for all skin types and gentle on sensitive skin. Benefits: A fusion of the finest Australian clays, bamboo and beads of pure golden jojoba to restore the skin's natural energy. Gently exfoliated dead skin cells leaving skin rejuventated, smooth and glowing with vitality. 97% natural.

Key Ingredients:
100% natural Australian Jojoba: antioxidant, high in vitamins A, D and E, naturally hydrating.
Bamboo: exfoliating
Shea butter: hydrating
Witch hazel: calming and toning
Vitamin E: antixoidant
Ivory Clay: hydrating
Salicylic acid: natural Beta Hydroxy Acid, deep cleanse
Jojoba beads: nourishing, exfoliant.

Usage: Apply a generous amount to cleansed, damp skin with light circular movements avoiding the eye are. Wash off with warm water. For more intensive exfoliantion, leave on for 10-15 minutes as a face mask. Use 1-3 times, per week.

Packaging: 80ml tube in a box.

Layering Steps:
Step 1: 100% Natural Makeup Remover/Purifying Citrus Foaming Cleanser
Step 2: Jojoba Bead and Bamboo Facial Exfolinat
Step 3: 100% Natural Australian Jojoba/100% Natural Ultimate Jojoba Youth Potion
Step 4: Hydrating Day Cream. Moisturising Protective Day Cream SPF 15/ Intense Overnight Renewal Cream.