The Darwin Street Art Festival: September 5th – 15th, 2019
The Darwin Street Art Festival will return to the Northern capital for its third and biggest year yet this September. Running for ten days from September 5 to 15, the festival will again invite an assembly of the most talented local, interstate and international street artists to place a permanent mark on the Darwin CBD.

Since the inaugural festival in 2017, the Darwin Street Art Festival has reshaped the once unadorned Darwin CBD with some of the country's largest and most powerful murals. The works cover a diverse range of subject matter, especially stories and issues facing the northern territory today.

The Darwin Street Art Festival will kick off with a collaborative mural between HOUSE OF DARWIN and Loona Toons on Austin Lane in the Darwin CBD. The mural has been inspired by the rugged and untamed beauty of the Northern Territory landscape.

Renowned artist, Vexx from Brussels, Belgium has been announced as the festivals first international talent with the full list of local, interstate and international artists to be announced in the coming weeks.

The festival will take place across the Darwin CBD from Smith Street and Austin Lane, through to West Lane and The Mall.

Over the last two years the Darwin Street Art Festival has seen breathtaking murals capture a broad range of subject matter, from technicolour dreamscapes, famed Territorians, social and environmental issues and more, leading onlookers to reflect deeply about the beauty of the Territory and issues affecting the top end and wider nation.

The 2018 festival saw the creation of sixteen original murals, some as large at eight storeys tall, all of which continue to be present across the Darwin CBD.

"We are so proud to present the third Darwin Street Art Festival this September. The festival attracts some of the best Australian and international street artists who will paint original commissions across the Darwin CBD," said street artist and Festival Organiser, David Collins.

Festival goers will be able to try their hand at street art by attending free spray-painting workshops and contributing to a large "paint by numbers" public mural.

The Darwin Street Art Festival will include a range of interactive and immersive experiences for the whole family.

Paint by Numbers - September 6,7,14 &15 - The Mall, Darwin CBD
Street Art Workshops - September 6,7,14 & 15 - The Mall, Darwin CBD
Wrap Party – September 15 - West Lane, Darwin CBD.
DSAF Hub – September 5 to 15 – Smith St, Darwin CBD.

The Darwin Street Art Festival is proudly presented by the Northern Territory Government with support from Apparition Media, Proper Creative, MTN, Haymes, Darwin International Airport, Ramada Suites Zen Quarter & Access Hire Australia

Visitors to Darwin can find more information on the festival and the artworks unveiled at the festival, as well as a map of where to see them at the festival's website, www.darwinstreetartfestival.com.au


Interview with Tayla Broekman
Question: What inspired you to participate in the Darwin Street Art Festival?

Tayla Broekman: This year I have taken the leap into full time art and being a part of festivals is a great way to get more experience and make a living. It's also a chance to meet and mingle with some street artists I really admire. I'm very interested to go to Darwin and see a part of Australia I've never been before. It's all round an awesome opportunity that I couldn't pass.


Question: Can you tell us about the mural you have planned to complete at the Darwin Street Art Festival?

Tayla Broekman: My mural looks at the conservation of the natural habitat of the Northern Territory. The snake featured is the White-Bellied mangrove snake, found in the mangroves in the northern areas of Australia. This piece creates a narrative around our connection to animals, and reflects determination to preserve our wildlife and their habitats. As the girl nurtures the snake close to her, she looks into the distance with determination, and awareness of the importance of the task. The background illustrates the sky and the flat vast landscape in the isolated desert of the Northern Territory.


Question: What inspired this mural?

Tayla Broekman: The theme of the festival this year is 'the Northern Territory', so I did some research on animals that can be found in that area, and I found this beautiful mangrove snake. I've been spending time in Byron Bay the last six weeks and have had some experiences that really emphasised the importance of our connection to Australian nature. I've started to feel more that ourselves, the animals and nature are all the same thing and hold the same importance on earth. My character has the snake inside her shall, without fear, nurturing in a similar way to a child. I think a lot of communities in the Northern Territory hold nature with high importance and want to keep sacred connections protected.


Question: Where do you usually find inspiration when creating art?

Tayla Broekman: My art is often inspired by my emotional response to experiences. Everything I paint is a reflection of myself in some way, mixed with external elements. If I feel heart ache I paint dark suffering characters, if I feel liberation I paint strong calm characters. I also have subtle spiritual themes running through my work.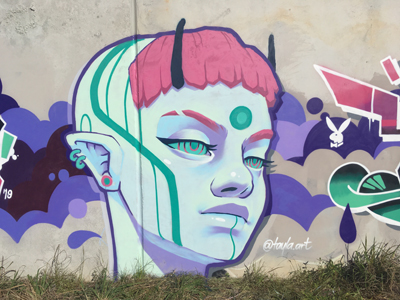 Question: Can you share your earliest memory of art, with us?

Tayla Broekman: My earliest memory would be about seven years old at school, when we had to write a diary. We were allowed to decorate it with a border, and I loved doing the borders so much that when everyone had finished their diary and was sitting back on the floor being taught by the teacher, I just stayed sitting at the table adding more and more to my border.


Question: Who or what motivated you to make your love of art, a career?

Tayla Broekman: I always felt that it was the only thing that made sense. I was supported by my family and teachers the whole way, so kept at it. Now that I'm at a point that I can travel and do so many things with these skills I've gained, I'm so glad I chose this path. I get to have lots of fun and create, and that's important for our limited time on this earth.


Question: What's a typical day like, for you?

Tayla Broekman: It's hard to say, I've had lots of changes the last few months. I'm traveling up the east coast of Australia, relaxing and painting where I can. At the moment I wake up, shower, eat breakfast, then decide if I'm going to go to the beach, or see a waterfall, or paint a wall. Generally my main drive is about painting, getting together with local street artists and finding paid work. I have mazing freedom right now!


Question: What's next, for you?

Tayla Broekman: After the Darwin Street Art Festival, I will be returning to the Byron Bay area for a job, then I'll keep traveling for a while until I come back to Melbourne to settle a bit and see what work is available down there.


Question: Can you share your socials with us?

Tayla Broekman: @tayla.art
@taylabroekman.art


Interview by Brooke Hunter