Face Oil could be used in place of:
* Makeup remover
* Scrub
* Cleansing Toner / Foam / Gel
* Masks

Benefits:
* Cleanse your skin
* Formulation of plant oils are known for their wonderful skin preserving, toning, balancing
* Oils which contain high amounts of antioxidants and essential fatty acids  Light, non-greasy
* Helps to protect skin against dryness & irritation
* Reduce wrinkles
* Improve skin elasticity and toner
How to use
* Apply 2-3 pipettes to palms, then to face
* Massage the oil into. Use gouache to massage the face according to the lines
* Put a hot towel on your face until it cools. Use a circular scrubbing motion to remove the oil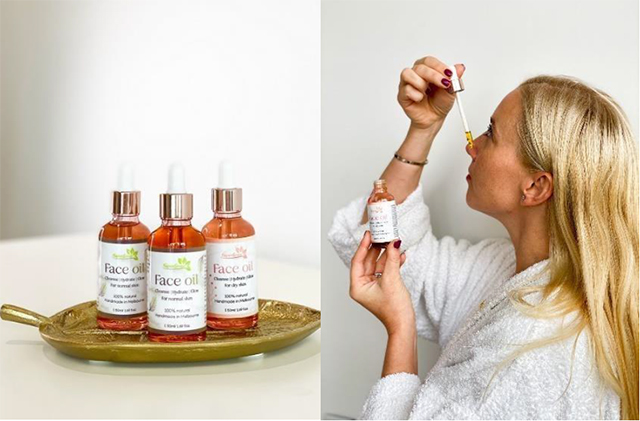 Face oil Dry skin/Sensitive/Mature skin
One bottle instead of many extra products!
Results like after cosmetologist!
The secret ingredient is love for yourself!
This oil gently renews, regenerates, and moisturizes dry skin. Its components are aimed at deep cleansing without drying out and traumatizing sensitive skin, leaving it clean, radiant and hydrated.
Ingredients: Simmondsia chinensis seed oil (Jojoba oil)*,
Cannabis sativa (Hemp seed oil)*, Persea gratissima seed oil (Avocado oil)*, Simmondia Chinensis and Terminalia Ferdinandiana (Kakadu Plum Oil infused in Jojoba Oil)*, Rosa canina seed oil (Rosehip oil)*, Rosmarinus officinalis extract (Rosemary extract)*, Hippophae Rhamnoides (Sea Buckthorn extract)*, Rosa canina - Seeds (Rosehip Seed extract)*, Citrus reticulata essential oil (Mandarin essential oil), Cananga odorata essential oil (Ylang Ylang essential oil),
Clary Sage essential oil, Chamomile essential oil, Lavandula angustifolia essential oil (Lavender essential oil), Alpha-tocopherol (Vitamin E)*
*Certified Organic
How does this oil work?
It's very simple. All the impurities that cause clogged pores, pimples and blackheads are undissolved sebum. And how do fats dissolve?
Well, remember the school course! That's right, with a similar substance, that is, oils.

Therefore, only oils are able to cleanse the skin not at the superficial, but at a deep level, while not overdrying the skin. With a massage, you dissolve sebum, impurities and everything that your skin has rid itself of itself. Steam from a hot towel absorbs oil into the fabric, leaving your skin clean and hydrated. Modern gels, foams and lotions dry out your skin, taking all the moisture out of it. Micro-cracks form, in which the infection re-enters and the process of acne / dryness / oily skin returns again.
Oils, however, remove only the excess.
Therefore, oil cleansing of the skin is the most effective in the beauty industry market. We have used only the finest oils that not only cleanse but also nourish your skin, bringing beneficial vitamins and minerals to every cell of your beautiful skin.

Supergreen Face Oil
RRP - $49.95
supergreen.com.au
Review: Did you know the winter air is more drying than summer often leading to breakouts or blemishes? This means that in winter your skin needs more nourishment and the best way to do that is with face oil. Supergreen Face Oil is made in Australia so get behind this great organic product and enjoy a clean, glowing healthy skin
supergreen_organic_store