Celeb Chef, Model and Mum Sarah Todd On 'Spring Cleaning' Your Health
Not only does Spring provide the perfect opportunity to establish healthy habits around the home, but according to former MasterChef favourite, cookbook author, globally celebrated chef and newly appointed ambassador for ClickClack, Sarah Todd, Australians can apply these habits to their mind and body to refresh and recharge their inner batteries ahead of the welcomed seasonal change.

In collaboration with ClickClack, an iconic New Zealand company dedicated to producing elegant and incredibly helpful kitchenware, Sarah Todd reveals her top five tips and tricks in effortlessly taking advantage of Spring's garden-fresh produce to rejuvenate your body and allow the strongest possible start to Spring.

Cleanse & Rejuvenate
With summer looming, it's important to cleanse and rejuvenate your body. One of the best ways to start reviving your health is to use your Sunday afternoon to make a large batch of wholesome vegetable broth to store in your fridge. When you need a cleansing kick-start or are craving something nutrient-rich, reach for your vegetable broth for a gut-healing and comforting bowl of goodness.

Add More Greens
For busy working parents or time-poor adults looking to squeeze more greens into their day, having vegetable-packed, pre-made zucchini fritters stored in your fridge can make a deliciously healthy breakfast on-the-run. In your sealed, airtight ClickClack Cook+ container, these zucchini fritters will stay fresh for up to 3-4 days.

Customise and Balance Your Favourite Snacks
Fruit and nut trail mix is always a popular on-the-go snack, because of its easy portability and power to satisfy both sweet and salty cravings. However, if you struggle to find the perfect combination, it's easy to forget you can effortlessly customise this snack to suit your appetite.

It is best to purchase your dried fruits and combination nuts separately and combine by taking into account exactly what you crave and nutritionally require on any given week. You can get creative, feel a little fancier by adding dried figs or roasting your own coconut or allow yourself an extra sense of indulgence by adding smashed pieces of plain dark chocolate. Be sure to throw your ingredients into the airtight and durable ClickClack Daily Range container, shake, and away you go!

Keep Summer Herbs Fresh
Keep your herbs fresher for longer by lining the base of your transparent ClickClack container with a damp cloth, placing your herbs on top and securing the lid closed. Not only will you have herbs throughout the week, but your fridge will also look the picture of health with the garden-fresh shades of green.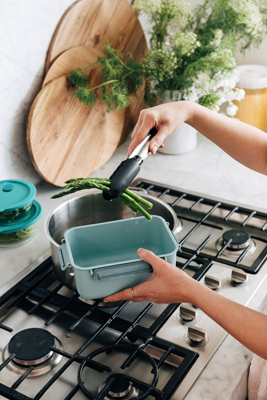 Declutter and Organise Your Pantry
Now is the perfect time to spring clean your kitchen pantry. Set aside some time to declutter and organise your kitchen shelves. Remove all items and dispose of any out-of-date or expired products. Set up your pantry for everyday use by sorting all your food items by categories.

The ClickClack Pantry Range is perfect for storing food and pantry staples such as flour, sugar, pasta and more. They're not only chic and stylish, but they're also handy and versatile. They're BPA-free, airtight, easy to stack and easy to open. Add labels to your ClickClack containers so that everyone in your household knows what belongs where and everyone can keep the pantry tidy.

Sarah Todd also encourages Australians to take advantage of the warmer months to boost mental wellbeing by spending more time in fresh, spring air and relishing the longer days with loved ones.

"As someone who absolutely loves the warmer months, I'm thrilled to share my handy hints in embracing this time of year for the benefit of boosting health and wellbeing. It's important we recharge our bodies from the inside out to help us feel our strongest, and most confident selves," said Ms Todd.

"I couldn't be more excited to partner with ClickClack and bring these helpful tips to life. The brand's innovative airtight and durable containers help me achieve what I need to in work and life, while making sure my home remains as organised as possible," she said.

ClickClack's incredibly helpful range of kitchen storage containers, available at all quality homewares and kitchenware retailers, offers a collection of stylish solutions to help Australians prepare, cook, heat, chill and store food within the home and on-the-go.

ClickClack also offers an award-winning range of gadgets - from potato mashers and tongs to measuring spoons and graters - to help you whisk, mash, measure, slice, serve and stir and cook up a storm. If it's durable, good-looking and practical, it's ClickClack.
For more information, visit www.clickclack.com.


Interview with Sarah Todd
Question: What do you love about ClickClack kitchenware?

Sarah Todd: ClickClack is a one-stop shop for stylish kitchen storage containers and an incredibly helpful range of kitchen gadgets. From fashionable and trendy utensils to help you measure, whisk, mash or grate to their see-through glass containers with perfect, airtight lids, you'll find everything you need to spruce up your pantry or fridge. More importantly, these high-quality containers are easy to use and keep food as fresh as ever! Their products have truly helped me transform my work in the kitchen into a pleasure.


Question: Did this make it easy to step into the role of ambassador?

Sarah Todd: I didn't think twice before accepting the role as an ambassador for ClickClack. For me, associating with a brand starts and ends with how their products or services add value to my life, and how I know it will add value to others. My kitchen is my office, and it needs to be functional. For me, ClickClack has helped me create a well-organised workspace.


Question: How have you been preparing for Spring?

Sarah Todd: With spring comes new life and new beginnings. For me, this season provides the perfect opportunity to 'spring clean' not only my home, but the health and wellbeing of my family. I'm a big believer that decluttering these elements to your life reduces stress and anxiety levels, improves productivity, mood and helps adopt a minimalistic approach. It's best to start with a small area of your home or life, and then move onto larger areas like the pantry, linen cupboard, or even your body through cleaning up your weekly meal choices. Once you start, you won't want to stop!


Question: Can you share your vegetable broth recipe, with us?

Sarah Todd: My simple recipe is based on the French Mirepoix using carrot, celery, onion, thyme, bay leaves and peppercorn. Just throw the ingredients in a pot of water and let it simmer for 3-4 hours. A broth like this is the base for everything, be it noodles, gravies etc. and it adds an abundance of flavours. I often use chicken or beef bones, roast them in the oven and add them to the broth and simmer for 3-4 hours.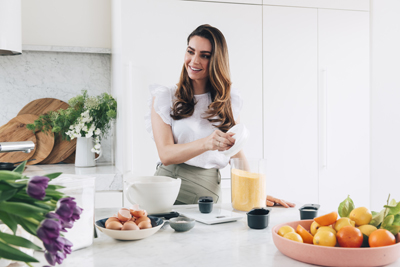 Question: What inspires you when creating new recipes?

Sarah Todd: When creating new recipes, I draw inspiration from my travels, nostalgia, childhood, colours, nature, culture and experiences. More importantly, cooking is an extension of me, there is something personal in each dish.


Question: What activities are you enjoying most, outdoors, currently?

Sarah Todd: These days I'm loving games like Giant Jenga or little bowling games. Even having a picnic at the park interests me, and is such a great day out with the family!


Question: What five ingredients could you not live without?

Sarah Todd: Salt, butter, onion, seafood and rice.


Question: What's next, for you?

Sarah Todd: I'm very busy at the moment writing my next cookbook, which will feature my spin on quick, light, refreshing and flavoursome Indian dishes. The aim is to demonstrate to my readers that there is more to Indian food than what meets the eye!


Interview by Brooke Hunter