Mannequin Death Squad Crash the Party with New Single San Fran
Melbourne punk rock duo Mannequin Death Squad are set to unleash their incendiary new single San Fran on Friday 14 June, 2019.

The product of a highly productive recording stint with legendary Australian producer Mark Opitz, the single is a perfect antidote for our times – it's a vicious attack on mindless consumerism, self-wealth obsession and denial of social responsibility.

"San Fran arose from our anger about the filthy rich, ill-intentioned leaders of the world and their way of dumbing down the population and over-medicating the young and promoting excessive materialism", explains El, who takes lead vocals on the single.

San Fran is an evolved example of the powerful punk rock sound that Mannequin Death Squad offered on their recent singles Honey Punch and Blue, releases that saw them receive airplay on Josh Merriel's Short.Fast.Loud punk and hardcore show on triple j and on numerous community stations across Australia and the UK.

The sonic assault of Mannequin Death Squad is all the more remarkable with the unholy racket being generated by just Dan and El, alternating on drums, guitar and vocals, creating a huge sound that brings to mind panoramic rock sounds bursting out of a claustrophobic, tight space – the impact is volcanic!

On working with Mark Opitz, a famed producer responsible to records by Australian icons such as Divinyls, AC/DC, INXS, Cold Chisel, The Angels and Hoodoo Gurus, MDS's Dan comments, "He is totally down to earth and a calming presence in the studio. The main focus was on performing the song and making it believable. The process of nailing the arrangement and feel of the track was up there with the most enjoyable moments we have spent in the studio as musicians".

Recently linking up with leading booking agents Harbour Agency, Mannequin Death Squad intend taking the show on the road for the rest of 2019, blazing a path of destruction through the self-satisfied conservative landscape.


Interview with El and Dan of Mannequin Death Squad
Question: How would you describe your music?

Dan: Our music is mostly described by people who come to our shows as 'energetic', 'powerful' and 'punky' with catchy pop melodies. We definitely don't consider ourselves pop punk, but we do sometimes feel like we are in a punk band singing pop songs.


Question: What inspired the track San Fran?

El: We wrote San Fran when we were jamming in a little shed by the coast with just a bass and a drum kit. It feels like the gritty undertones of that jam have managed to creep their way into the final version which is pretty cool! When I wrote the lyrics to San Fran I had pictured a selfish, privelieged and greedy individual who was blind to the fact that they were sucked into the modern materialistic world we live in.


Question: What motivates you most when writing music?

Dan: I find it really rewarding and motivating when we are jamming and a riff just clicks. You both know it's great and you can't stop playing until the song is fully written. It practically writes itself. Also adding vocals at the end is really fun to listen back to; especially when tracking demos in our home studio.


Question: If you could have anyone, in the world, attend a show, who would it be?

El: Amy Pouler, because she's hilarious and Dan named my left foot after her.


Question: Do you prefer performing live or recording?

Dan: It used to be live hands down, but ever since we set up a studio at home we really love tracking vocals. So it would be pretty even for different reasons.


Question: What is the story behind the band name?

El: Back in 2016 we found it grafted on a tomb stone in Norway whilst we were backpacking. In hindsight it probably didn't even say Mannequin Death Squad, I just think we can't read very well or Norwegians have very bad handwriting.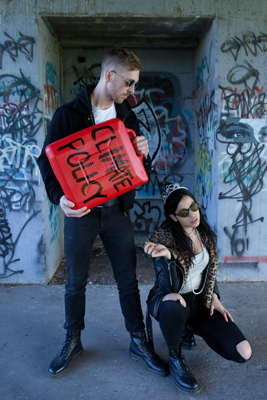 Question: How did the band come together?

Dan: We both studied music together but didn't talk the whole first year until we both realised we shared the same taste in music. One day we ended up jamming out some metal covers to the disgust of the surrounding jazz students (laughs)! It kind of grew from there. Question: Which music/artists are you currently listening to?

Dan: El is listening to Gwen Stefani and I can't stop smashing Frank Carter and the Rattlesnakes.


Question: What or who was your inspiration to go into the music industry?

El: Dan used to work at a Mexican restaurant/music venue on the coast which had a lot of touring musicians travelling through. It was definitely the first time he even thought about the industry. My sister plays in bands and has since she was young, so I grew up around it all and managed to develop my musical tentacles from a young age. Can I even say tentacles on here?


Question: If you could collaborate with another artist, who would it be?

Dan: I would love to have the chance to collaborate with Marilyn Manson. It would be cool just to give him a blank slate and see what he does with it, it would be mental. El says she would love to do a track with Allison Mosshart from the Kills.


Question: What's a typical day like?

Dan: When we are working it's pretty much the same as everyone else. But when we are in music mode it goes something like this: Wake up. Coffee and bagels. Go into home studio and work on some tracks. Eat sweet potato. Edit some video we are working on. More Coffee. Head to our favourite vegan bakery in Preston. Go to practise. Nap. Head to MDS show. Beers. Perform. Pack up. Home. Sleep. Work the next day at an ungodly hour...


Question: What has been your favourite part of becoming a music artist?

El: The unpredictable situations we find ourselves in makes things interesting. Our dream is to see the world playing music, and we have already managed to do that a bit. We have played shows around Australia, the UK and L.A which was amazing and equally painful at times (laughs). Meeting nice people is always great as well.


Question: Can you share your socials?

El and Dan: www.facebook.com/mannequindeathsquad
@mannequindeathsquad


Interview by Brooke Hunter