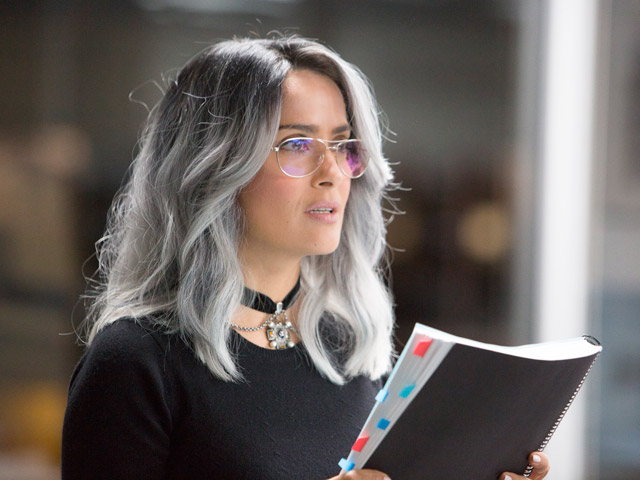 Academy Award Nominee Salma Hayek has proven herself as a prolific actress, producer and director, in both film and television. She was nominated for an Academy Award, Golden Globe, Screen Actors Guild and a BAFTA award for her leading role in Julie Taymor's Frida.

Hayek was most recently seen in the critically-acclaimed, Beatriz At Dinner, in which she starred as the title character for director Miguel Arteta and writer Mike White and for which she received an Independent Spirit Award nomination. She will also star alongside Jesse Eisenberg and Alexander Skarsgård in the upcoming film, The Hummingbird Project. Other notable projects include the recent Lionsgate/Pantelion comedy How to be a Latin Lover, alongside Eugenio Derbez, Rob Lowe and Kristen Bell, the action comedy The Hitman's Bodyguard with Samuel L. Jackson and Ryan Reynolds which opened in August, and Drunk Parents with Alec Baldwin. Hayek devoted herself to another recent passion project as a producer and actor for Kahlil Gibran's The Prophet, an animated feature inspired by the book of the same name by the beloved Lebanese artist and poet. She voices a character in the film alongside other talent such as Liam Neeson, John Krasinski, Quvenzhané Wallis, and Alfred Molina. The animated film debuted at Toronto International Film Festival in September 2014 and released domestically on August 7th, 2015.

Noted for her acting career, Hayek has also dedicated much of her time to social activism. Hayek served as spokesperson for the Pampers/UNICEF partnership worldwide, to help stop the spread of life-threatening maternal and neonatal tetanus. She also served as the spokesperson for the Avon Foundation's Speak Out Against Domestic VIOLENCE program, which focuses on domestic violence education, awareness and prevention, as well as support for victims. Hayek has been on the board of the Kering Foundation since 2009. The foundation aims to combat violence against women, focusing specifically on sexual violence in America, harmful traditional practices in Western Europe and domestic violence in Asia. The foundation also pays specific attention to refugee and migrant women worldwide.