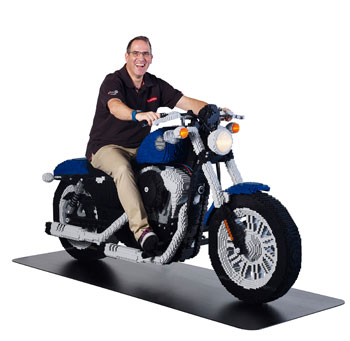 The only life-size LEGO Harley Davidson ever made and the largest ever LEGO Caterpillar 797 dump truck on display at Brickman Awesome
Melburnians will be the first people in the world to see a brand new life-size car made entirely from LEGO® bricks when it is unveiled for the first time ever at Ryan The Brickman McNaught's new exhibition, Brickman Awesome.

Following a successful run in Sydney, Brickman Awesome, presented by Toyota, will open in Melbourne on Wednesday 21st March at Melbourne Museum Plaza, just in time for the Easter school holidays. Tickets to Brickman Awesome will be available to purchase from 2pm on Wednesday 28 February at www.ticketek.com.au

Brickman Awesome marks Ryan's third exhibition made entirely from LEGO® bricks. It features 39 models – none of which have ever been seen in Melbourne before – and is made up of more than 2 million LEGO® bricks, taking over 5,000 hours to build.

Brand new for the Melbourne exhibition will be a full-scale LEGO® model of the new, eighth generation Toyota Camry. Still being worked on by Ryan – the only LEGO® Certified Professional in the Southern Hemisphere – and his Brickman team, and set to be completed just in time for the opening, the finished model will be 616 LEGO® studs long and 230 LEGO® studs wide, and will weigh over a tonne!

The LEGO® Toyota Camry will be showcased alongside a number of record-breaking models, all built in Melbourne, including the only life-sized LEGO® Harley Davidson ever made and the largest ever LEGO® Caterpillar 797 dump truck. Adding to the awesomeness is the tallest LEGO® model in the Southern Hemisphere – a NASA SLS rocket standing at a whopping 7.5m tall and built from more than 450,000 bricks! Taking more than 500 hours to build, Ryan has pushed LEGO® building boundaries by installing an in-built lighting system, giving the effect that the rocket is blasting off into space.

Ryan said: "Melburnians are in for an absolute treat at my new exhibition, Brickman Awesome. They will be the first in the world to see my brand new LEGO® creation – a life-sized Toyota Camry made entirely from LEGO® bricks! I'm a bit of a car fanatic myself – as all the brickies out there will know, I've already built a small-scale LEGO® Ferrari – so I'm delighted that we have partnered with Toyota to build a LEGO® version of their latest model.

"The build process is in full swing at the moment – the model is so big that we've had to make sure we actually have enough LEGO® bricks!

"Aside from this, there are a heap of other record-breaking LEGO® models that I can't wait to share in Melbourne, including the tallest LEGO® rocket, the largest LEGO® Caterpillar dump truck and the only lifesized LEGO® Harley Davidson ever made – they're AWESOME," added Ryan.

As if that weren't awesome enough, visitors will be forgiven for thinking they have stepped inside a zoo, as they find themselves surrounded by a LEGO® kangaroo, koala, giant orca whale and even a full-sized LEGO® Australian saltwater crocodile, weighing over 60kgs and built using more than 40,000 LEGO® bricks.

In addition to seeing the models that Ryan and his team have created, LEGO® fanatics will have the opportunity to show off their own building skills at Brickman Awesome. Visitors can help the Brickman team expand its colony of LEGO® emperor penguins and also build their very own time machines, even putting them on display next to Ryan's LEGO® models of Doctor Who's TARDIS and the DeLorean from Back to the Future!

They can also help the team smash yet another LEGO® record by contributing to Australia's longest LEGO® model – a giant snake. The Brickman team has already built the head and the tail but it needs all budding brickies who visit the exhibition to help build the belly.

"I love to see kids and adults getting stuck in and letting their imaginations run wild with what they can build, and that's why at Brickman Awesome there'll be two million LEGO® bricks just for visitors to build with and display their creations. Australia – if you're up for the challenge – show us how AWESOME you are!" added Ryan.


There will be an exclusive 24-hour Toyota pre-sale starting at 10am on 27th February.

Tickets will go on sale to the general public at 2pm on 28th February from www.ticketek.com.au
Early bird tickets start at $25 (for sessions between 21st and 29th March) and a new flexi ticket has now been introduced, allowing visitors more flexibility to attend any day or session time, for an additional $4.50 per person.

Telstra Thanks will be offering a 20% discount on exhibition tickets, exclusively for Telstra customers. Head to www.telstra.com/arts for more details on how to purchase.

Brickman Awesome will be in Melbourne from 21st March 2018 until 29th April 2018 at the Melbourne Museum Plaza, before continuing onto Perth and Brisbane.


Melbourne: Melbourne Museum Plaza
21st March – 29th April 2018

Perth
Venue and dates coming soon

Brisbane
Venue and dates coming soon

Open daily. Booking is advisable.
Interview with Ryan -The Brickman' McNaught
Question: Can you tell us about some of the 39 models on display at Brickman Awesome?

Ryan McNaught: This exhibition is very different to all our previous ones in that we have some huge record breaking models, including the tallest LEGO model in the Southern Hemisphere – a 7.5m tall rocket, it's insane and used the best part of 400,000 bricks and weighs nearly half a tonne. It's crazy! We've also got the only life-sized LEGO Harley Davidson ever made, the largest ever LEGO Caterpillar 797 dump truck and a whole series of Australian animals in the show.

There are also some models where everyone that comes along gets to help break a record, and others which people can get right up to and pose with. We've also added in a whole heap of technology into our models, so some of them have crazy lights and sounds!


Question: Are you able to talk us through the build of the Toyota Camry?

Ryan McNaught: We started by getting the details of the real car and a 3D render of the chassis from which we could design a rough model digitally. Then it was weeks of fine tuning and getting the details right with lots of back-and-forward between us and Toyota to make sure we got it right! We both agreed it had to be red - everyone knows red cars are cooler right? We began building with the front and back of the car and the wheels, which we then attached to four steel feet to keep the body of the car up off the ground. From there, it was an 800+ hour marathon of building, slowly building up and using the LEGO DUPLO toddler bricks (which LEGO can attach to) to add strength and build supports from each side of the car to the other. Once we got to the lights we got our lighting guru Justin in and he installed a system of LEDs and computer controls to light it up just like the real thing!



Question: Which of the creations, on display at Brickman Awesome, took the longest to build?

Ryan McNaught: The whole exhibition took us around 5,000 hours and the longest individual model was the Toyota Camry which took over 2 months – or 900 hours – to build, and comprises more than 500,000 bricks.


Question: Do you have a favourite creation in the Brickman Awesome exhibition?

Ryan McNaught: Probably the our 7.5 tall NASA SLS rocket. It was one of the toughest builds I've ever done, but looking at it standing up with the lights on looking like it's blasting into space makes it all worth it!


Question: Can you share your earliest LEGO memory, with us?

Ryan McNaught: It was my third birthday and I got a from my grandmother Hazel Smith, it cost 29 cents from Coles! It was a little blue ship – it was so long ago they didn't even have LEGO minifigs then.


Question: Which of the LEGO bricks do you find yourself using the most?

Ryan McNaught: The good old classic -2x4' brick! We use this part the most by far and in almost every model we create - it's just so versatile and comes in just about every LEGO colour.


Question: How many people make up the Brickman team?

Ryan McNaught: I have a team of 6 guys and girls that work under me and they're all super cool. Every one of us has build strengths and weaknesses which we can leverage to make our builds amazing.


Question: Where do you find inspiration when deciding what models to create?

Ryan McNaught: My ideas come from everywhere, sometimes reading a book, watching the news, all sorts of places.


Interview by Brooke Hunter