Celebrated Australian photographer Petrina Hicks
The Ian Potter Centre: NGV Australia | 27 September 2019 – 29 March 2020| Free Entry

Petrina Hicks: Bleached Gothic is the first major survey exhibition of celebrated Australian photographer Petrina Hicks. Over her fifteen-year career, Hicks has gained a strong reputation for her enigmatic, multilayered and beautiful photographs. The exhibition includes more than forty photograph and video works spanning the period 2003 to 2019. Seen together for the first time, Hicks's shimmering and often surreal compositions convey the inherent ambiguity and complexity of the female experience.

In her contemporary art practice, Hicks draws on the aesthetics and techniques she developed during her previous career as a commercial photographer. She recreates the allure of advertising and portraiture in her impeccably pristine images.

The tension between seduction and danger, familiarity and strangeness, intimacy and distance are present in many of Hicks's works. Women, girls, and animals are recurring subjects Hicks's photographs take inspiration from mythology and art history. In one work, a white snake coiling around a pale arm evokes biblical notions of purity, while a reclining nude cradling aged ceramic vessels is a play on a classical Greek motif.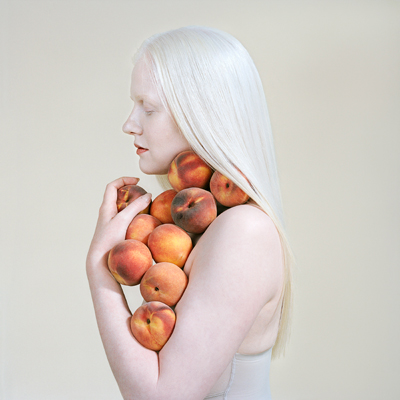 Hicks photographs her subjects against simple backgrounds and regularly returns to the same models and motifs. These include the albino singer and performer Lauren, whose flawless and ethereal appearance has become one of the most recognisable elements of Hicks's work. Also included in the exhibition are five video works that play with the concept of slow time. In these videos, Hicks moves just beyond the two-dimensionality of the photograph, stretching out a single moment in an act of durational photography. Presented side by side, the photographs and the videos appear remarkably similar, but the video heightens the viewers' sense of unease, transforming what in real life might be a beautiful moment into something menacing when replayed in a measured slow loop.


Tony Ellwood AM, Director, National Gallery of Victoria said, 'We are proud to present the first indepth exploration of the work of Australian artist Petrina Hicks, providing audiences unprecedented insight into her work and place in contemporary photography.'

The NGV has published a large-scale, beautifully illustrated monograph to coincide with the exhibition, detailing the artist's work to date.

Petrina Hicks: Bleached Gothic is on display from Friday 27 September 2019 to Sunday 29 March 2020 at The Ian Potter Centre: NGV Australia at Federation Square. Entry is FREE. Further information is available from the NGV website: NGV.MELBOURNE.
Interview with Petrina Hicks
Question: How would you describe Petrina Hicks: Bleached Gothic?

Petrina Hicks: I currently have a survey show at National Gallery of Victoria titled Bleached Gothic. This exhibition includes more than fifty photographs and video works spanning the period 2003 to 2019. Three of the photographs are printed wall to ceiling size on photographic wallpaper, the scale is quite monumental. My work explores the representations of women throughout art history, mythology and Western history, the females appear introspective, in an illusionary space representing an untouchable inner world.

I'm interested in the ephemeral or spiritual nature of people, and also drawn to classical sculpture, so the females I photograph look something between a ghost and a sculpture. It's about the lightness of someone's spirit as opposed to the heaviness of objects.

I often pair females with animals, animals representing the unknown aspects of psyche.


Question: How does it feel to have this on show at NGV?

Petrina Hicks: NGVs decision to programme concurrent surveys from two Australian female photographers who both explore the female experience feels very validating. Concurrent to my show is a survey of the works of Polixeni Papapetrou.

Working with NGV to select works from 2003-2019 really helped me to identify recurring themes, having such an experienced team cast their eye on my work was of great value.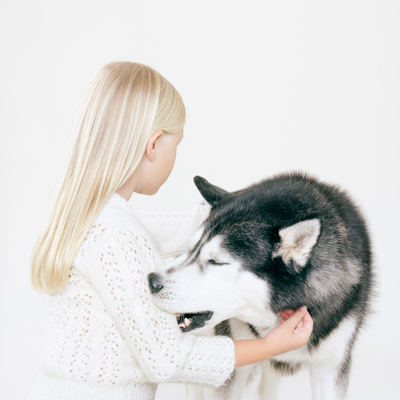 Question: Are you able to talk us through the video works included in this show?

Petrina Hicks: The video works are filmed at high speed, around 1000 frames per second, resulting in slow motion imagery. On the surface the images are appealing and desirable, however they are simultaneously grotesque, so there is a push-pull effect. The images are close-up's of a female licking a flower with excess saliva, and a butterfly perched on her mouth. They seem to suggest desire, fecundity and also reference advertising, however they quickly become overtly undesirable and uncomfortable.


Question: Could you talk us through how you find models for your photography?

Petrina Hicks: Some models are friends who have appeared periodically in my work over the years, I have at times spotted people on the street and approached them, and sometimes I will go through a talent agency.


Question: What's next, for you?

Petrina Hicks: I have a show of new work at Michael Reid gallery, Sydney next March, it's titled 'The Gazed' This show includes a work titled Cleopatra, a young teenage girl with her Olive Python, there is also a new slow motion video work titled Ouroboros that features this Olive Python wrapped around a Greek vase.


Interview by Brooke Hunter