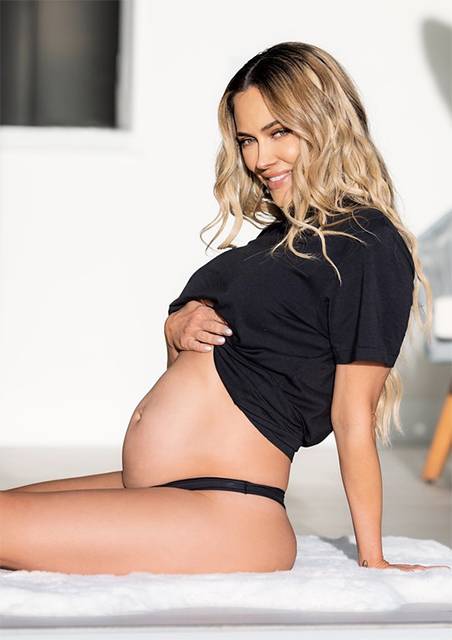 "Dancing with the Stars" beauty mogul and TV personality Peta Murgatroyd is currently pregnant with her second child and I'd love to talk to you about featuring Peta and her growing family. In addition to the new bundle of joy due this summer, Peta has a growing beauty empire, having launched a few updated products to her PETA JANE BEAUTY line on the heels of receiving New You Media's 2022 Beauty Awards for Best Self Tanner.
Peta partnered with top skin care line, South Seas, to create her own tanning line, Peta Jane Beauty. After finding success with her range of tanning mousses and tanning mist, Peta created a new gradual tanning line. All of her products are designed to be used every day, whether it's to the beach, office, or the ballroom. Three of her newer products she's working on are the gradual tanning lotion, gradual face tan and gradual tan extender.
She is the epitome of a fit mom and has a personal affinity for a picturesque healthy lifestyle. Heavily touted as a wealth of knowledge on caring for your body, Peta "walks the walk" and keeps her sculpted body in tip-top shape. With a livelihood built on the point of her toes brought Peta to a dancing pinnacle when she won ABC's "Dancing with the Stars'" coveted Mirror-Ball Trophy twice, a feat only rivaled by few including her brother-in-law, Val Chmerkovskiy.
Born in New Zealand and raised in Australia, Peta has been dancing since the age of four. Her intensive training started with classical ballet, where she studied for 12 years under one of the renowned Kirov Ballet's former principal dancers, Madame Lubov Nikonorenko. She added to her dance repertoire with training in contemporary and Spanish dance. Since beginning ballroom dancing, she quickly became an Australian State Champion which led to her move to London to further her career. Peta is married to former "Dancing with the Stars" pro, Maksim Chmerkovskiy and they have a son, Shai.