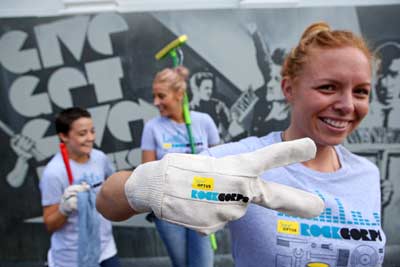 Optus RockCorps burst onto the Australian Music Scene
Global volunteering phenomena to bring The Script, Labrinth & Guy Sebastian together for money can't buy concert

There's a new trend gaining momentum around the world and today it hit Australian shores. Optus RockCorps is a partnership that rewards four hours of volunteer work with tickets to see exclusive, live concerts with some of the world's biggest musical acts.

Money literally can't buy these tickets. Young people donate four hours of their time volunteering in their community to earn a ticket to the Optus RockCorps concert, which will take place on April 11th at the Hordern Pavilion, Sydney.

Nathan Rosenberg, Head of Brand & Services, Optus said, "The mantra of Optus RockCorps is simple. "Give, Get Given". We're asking people to roll up their sleeves, volunteer just four hours of their time to worthy causes in their community and in return we'll reward them with a free ticket to an awesome concert on Thursday 11th April."

Rosenbergcontinues, "Today we're also announcing the amazing concert line-up. Optus RockCorps will be bringing Irish alternative rock band, The Script and British singer-songwriter Labrinth to Oz with Optus RockCorps ambassador Guy Sebastian also taking to the stage to perform for our young volunteers in a show of gratitude to them donating their time."

Optus RockCorps ambassador Guy Sebastian has a special message to the young people thinking of volunteering their time to the new initiative. Sebastian said "It's not every day an opportunity to be part of an initiative like this comes along - Australia has never seen anything like Optus RockCorps. For myself and the volunteers, we can combine our love of music with the genuine act of social good to make adifference to our communities."

Stephen Greene, RockCorps Co-founder and CEO said, "Optus RockCorps uses the power of music to inspire youth to engage in their communities. We believe in the power of youth to change the world, all they are lacking are the tools and opportunities to do so. Optus RockCorps will provide these tools and act as the bridge between communities in need and youth who want to contribute proactively to improving them.

Greene continues, "RockCorps is a global youth movement. More than 130,000 volunteers have attended over 40 live concerts around the world and we're excited to be working with Optus to bring this to the young people of Australia next. The first volunteering projects kick off this weekend and by April more than 50 communities will have experienced the change just four hours of a young person's time can bring."

To mark the launch of Optus RockCorps in Australia, four Sydney-based muralists created "Give, Get Given" inspired murals, using the themes of music and volunteering, to show their support. In just 4 hours muralists Judd Shoppee, StuartBarber, Evan Cremer and Dallas Clark transformed their blank canvases into their own interpretation of Optus RockCorps.

Tickets for the Optus RockCorps concert are neither on sale nor part of a competition; volunteers over 16 years old must help an association for 4 hours with a project specifically organised by Optus RockCorps. Register from today at www.optusrockcorps.com.au or by calling 1800 ROCK 1800.