Spring Clean you Skincare Regime with Olay!


Winter is almost over and what better way to get your skin glowing in time for spring than with a skincare overhaul with Olay. Thisseason, Olay has your skincare regime sorted with a complete skincare lineup for smoother, brighter more luminous skin. With theOlay boutiques there is a product for suit every skin type, no matter your age or your budget. Post winter skin can feel pale andlackluster but try these products and your skin will be glowing and ready for spring in no time!
Step 1 - Cleanse:
Olay Definity Illuminating Cream Cleanser (RRP $19.99)


* Ideal for skin that is dull, uneven and dry. This product hydrates to instantly illuminate skin thathas become dehydrated over winter
* Contains Olay's Essential Glucosamine Complex for luminous skin
* The rich hydrating formula gently removes all residue - even small traces of dirt and make-up
How to use: Wet hands and face, squeeze product into hand. Gently massage over skin. Rinseoff with warm water
Step 2 - Exfoliate: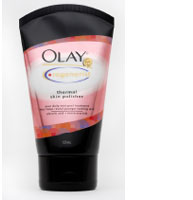 Olay Regenerist Thermal Skin Polisher (RRP $19.99)


* A unique self-heating treatment that combines the power of micro-crystals and Regenerist's exclusive Amino-Peptide complex for professional results similar to a mini-peel
* Regenerist Thermal Skin Polisher contains specially designed Exothermic Mineral Activators to self-heat theproduct, which warms the skin and relaxes the pores for a deeper clean
* Say goodbye to a dull, pale complexion and enjoy smoother and renewed skin in one easy step
How to use: Wet hands and face, squeeze product into hand. Gently massage over skin. Rinseoff with thoroughly water. Gentle enough to use every day
Step 3 - Treat: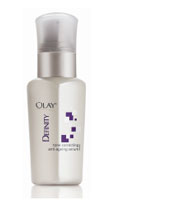 Olay Definity Tone Correcting Anti-Ageing Serum (RRP $39.99)


* A smooth, luminous formula that instantly helps transform the look of dull skin, ravaged by theelements during the winter season
* Hydrates and moisturises the skin to help in its natural ability to self repair, diminishing the lookof discolourations, dullness and dark spots - leaving the skin noticeably brighter
How to use: Smooth over entire cleansed face, neck and any areas where discolouration and brown spotsmay occur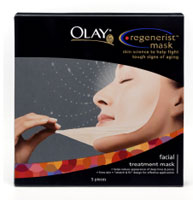 Olay Regenerist Treatment Mask (RRP $39.99 AUD)


* Contains concentrated anti-ageing serum to firm and smooth your skin
* Revitalises the skins appearance - restoring its youthful vitality
* The "stretch and fit" design on the masks fit the skin surface closely to help reduce theappearance of fine lines and wrinkles
How to use: Unwrap the sachet and take out the mask. Unfold the mask and gently place onyour face stretching it out to cover your entire face. Sit back and relax. The full benefits of themask can be enjoyed in a very short time - with noticeably visible results in just 15 minutes!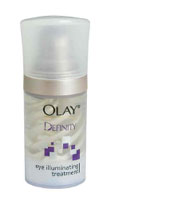 Olay Definity Eye Illuminating Treatment (RRP $39.99 AUD)


* Olay Definity Eye Illuminator helps to restore puffy eyes for a look that's highly defined andluminous
* The dual action formula illuminates the complete eye area and smooths the look of fine linesand wrinkles
* Strengthens the delicate skin around and under the eyes, firming skin's outer layers due to ahydrating, intensive clear gel containing Definity's Essential Glucosamine Complex
How to use: Pump the treatment onto the tip of your ring finger. Place small dots around theeye area and gently massage until the intensive clear gel and serum combine and arethoroughly absorbed into your skin
Step 4 -Moisturise: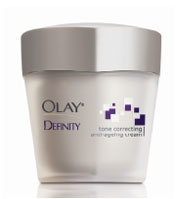 Olay Definity Tone Correcting Cream (RRP $39.99 AUD)


* This luxurious cream hydrates dry skin and refines its texture for skin that is silky smooth
* Contains the highest levels of glycerin in the Definity range for maximum hydration
* Best when combined with Definity Illuminating Cream Cleanser and Definity Tone CorrectingAnti-Ageing Serum
How to use: Smooth over entire face and neck gently, paying particular attention to areaswhere discolourations and dark spots may occur
Or Step 4 - Moisture and add a touch of sheer colour: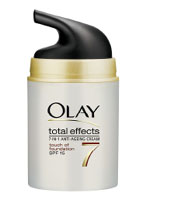 Olay Total Effects Touch of Foundation (RRP $30.99 AUD)


* An all-in-one product that offers a double punch against the 7 signs of ageing whilst offering atouch of sheer colour with broad spectrum SPF 15 UV protection
* Provides an immediate, almost flawless-looking radiance that suits the majority of skin tones
* For glowing healthy skin no matter the season!
How to use: Pump a small amount of Total Effects touch of Foundation into you palm - a littlegoes a long way. Smooth over entire face and down to the jaw line and neck area for completenatural coverage. Make sure to blend carefully for a gorgeous sheer touch of colour
All Olay products are available from most grocery, mass, pharmacy and specialty outlets.For stockist details please phone 1800 028 280 or go to
www.rightolayforyou.com.au
to receive your own personalised Olayskincare recommendation from Olay's new online consultation!
Exclusive survey reveals: 85% of Australian women find buying skincare products overwhelming and confusing
1
...
It's time for Olay to make the process a whole lot simpler!
Buying skin care products can be a very daunting task for many women. In fact, exclusive research conducted by leading skincarebrand Olay has revealed that as many as 85% of Australian women admit to finding the whole experience overwhelming or confusing!
There are a number of reasons why the experience leads to such confusion: 65% of women say it's due to being confused about whichingredients are best suited for their skin, 64% say it's due to not knowing what the different ingredients are supposed to do, whilst63% are confused about which product would be best for their individual skin type. All this confusion leads to one thing - incorrectproduct choices, so it's no wonder that four out of five women have ended up buying a product that was wrong for their skin or theyjust didn't like using.
Olay are determined to make the skincare purchase a whole lot simpler for Australian women and this month will be introducing anonline consultation tool to help to take the guesswork out of purchasing skincare - www.rightolayforyou.com.au. This onlineconsultation tool will allow consumers to have their own skincare consultant right at their fingertips and all from the privacy of theirown home.
To receive their personalised recommendation, consumers will simply have to answer a series of questions about their skin type, skinconcerns and lifestyle. On completion consumers can print their own personalised Olay skincare regime which can then be taken instore to purchase the best Olay products prescribed for their individual skin needs.
Jolie Egan, Olay PR Manager explains, "Given the tough economic times, consumers are even more conscious of buying the rightproduct for them, and expect it to deliver results, regardless of the price. Purchasing the wrong skincare product means you not onlywaste money, but you also jeopardise the condition of your skin by using the wrong products for your skin type. Right Olay For You isdesigned to help women select the right Olay products for them - taking the frustration and confusion out of buying skincare andoffering consumers with a way to achieve their optimum skin condition - whether it be softer, more hydrated or more luminous skin."
The site provides:
o Personalised content which is tagged to match specific beauty needs and skin concerns whether they are wrinkles, saggingskin or acne
o The opportunity to fast track personalised consultations, depending on whether consumers are looking for a specific producteg. a new cleanser, mask or moisturiser with UV protection
The Right Olay for You Website is now live!
Go to
www.rightolayforyou.com.au
to find out how to love the skin you're in.
1
Reference to Olay Survey conducted 17-19 April 2009 by Galaxy Research, amongst 550 females ages 16 years and older throughout Australia