Neraida Bega was born and raised in Albania until the age of 8 years old when she and her family were forced to flee the country via boat due to the Kosovo War. Relocating to Italy, she found a fondness for the arts and became prominent in theater and a classically trained pianist. Though she loved the may ways she could express herself with the arts, her initial professional goals led her to medical school, where she would train to come a Dental Technician.

When given the opportunity to audition for her first role, Bega jumped a the chance, and would soon after leave her home of Italy to relocate to the United States to pursue her acting career. Since, the uniquely beautiful actress would sign with Wilhelmina Models and land roles in the Borderlands 3 video game, Dog (starring Channing Tatum) and Marvel's wildly popular series, WandaVision. The actress has utilized her heritage: Greek, Turkish and Albanian, to secure her space within a crowded industry. She can speak Albanian (her first language), Italian, Spanish and learned to speak English as her fourth language upon arriving in the states 6 years ago.

Neraida is married to actor and stuntman, Mike Chaturantabut who is best known for his role as Chad Lee, the Blue Ranger in Power Rangers Lightspeed Rescue. He is also to credit with getting Taylor Lautner into acting after becoming his martial arts coach, and is responsible for training over 275 World Champions, as well as superstars Jaden Smith, Willow Smith, Boo Boo Stewart, Usher and Apol.de.Ap of the Black Eyed Peas.


Interview with Neraida Bega
Question: Can you tell us about your role in APEX Legends: Escape?

Neraida Bega: Ash is Apex Legends' 19th playable character, and she features a highly aggressive set of abilities that players can use in a match. Her abilities include throwing a spinning snare that tethers players, she is able to warp across the map towards enemies. Ash also wields a sword in a variety of her animations. It was perfect for me because swords are my specialty, and it was really cool being part of the character creation and doing all the motion capture for Ash!


Question: What or who inspired your love of acting?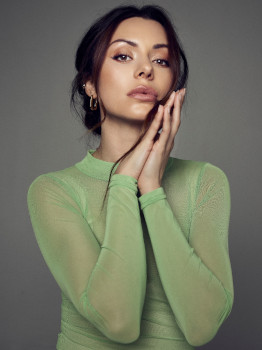 Neraida Bega: I grew up with a family full of artists, actors, and musicians. I started playing piano, violin and performing music on stage in front of audiences when I was 5. I always enjoyed the feeling that came with it.

However, I also loved anime and the best part for me was the martial arts. I loved all the action! I remember watching tons of anime, action movies, superhero Marvel/DC films, The Matrix, James Bond films, etc. and I would start dreaming and imagining myself in these tv shows and movies. I always felt like I belonged there. I was so in awe.


Question: How has moving to the US influenced your career?

Neraida Bega: My acting career officially started when I moved to Los Angeles! I am forever grateful that the United States provided me with an O-1B Entertainment visa which opened the doors for me to live here and pursue this career. It's a huge privilege for me to be living here as America has so much to offer.


Question: What moment in your career stands out the most?

Neraida Bega: My first year in the US was a rough one. I barely spoke English and I knew nothing about the industry. So, after I booked my first job ever and saw myself on tv, I was so happy and so proud of myself for being able to work in the entertainment industry and getting my first pay check in the United States! That was a BIG deal for me! This confirmed that I had chosen the right path!


Question: What's your favourite part of your job?

Neraida Bega: Acting. Also, being on set and having the opportunity to meet and work with so many different talents and creatives.


Question: If you could work with any other actor or director, who would it be?

Neraida Bega: Denzel. Meryl. Hopkins. Spielberg. Nolan. Denzel. . . I can't choose just one, oops!


Question: What advice do you have for aspiring or actors?

Neraida Bega: If you really want to pursue this career then you have to take it seriously and commit 100% to it. Not halfway or 90% but 100%. Work hard for it, learn as much as possible about the craft and the industry. Enjoy it and love the process. Don't listen to the naysayers.


Question: What's a typical day like?

Neraida Bega: My daily schedule changes constantly and I don't really have a typical day. I have routines that help me stay on schedule each day. I wake up around 5:30 every morning and do a quick workout for 15 - 30 minutes. I do my martial arts and action training later in the day, which is separate from this. I write in my journal, and I prepare my food for the day. This way I keep a healthy diet and I know what I am putting in my body. When I'm not working, I am either studying, doing acting rehearsals, going to acting class or teaching. In the evenings I love watching shows or a good movie.


Question: What's next for you?

Neraida Bega: I'm working on an Ai (Artificial Intelligence) character for a project. I'm very excited about this type of role, I love these kinds of characters . . . and that's all I can say about it for now! I'm in the mix for a few other projects and we'll see what happens!


Interview by Gwen van Montfort